5 Ideas For a Summer Evening in Katowice
Summer in the city can be fun. And especially a warm summer evening. Here are our five ideas for spending an evening in and around Katowice. There's something for fans of the city hustle and bustle, and for lovers of tranquility. Pro tip: a car won't be needed.
1. New Dworcowa Street
The renovation took a while, but this season we can finally enjoy this new Dworcowa (pedestrian) street. Before, when Dworcowa was still open to car traffic and parking, there were just random passers by. Now it's changed.
In recent years the old railway station building has been slowly getting back its old charm and filling with new restaurants. And this year, when the renovation has been finally done and Dworcowa has been converted into a pedestrian street, there are finally more places with an outside patio to sit down and enjoy.There's a sushi place, a Thai restaurant, burgers, and – starting from this season only – there are also a mediterranean restaurant and Neapolitan pizzeria.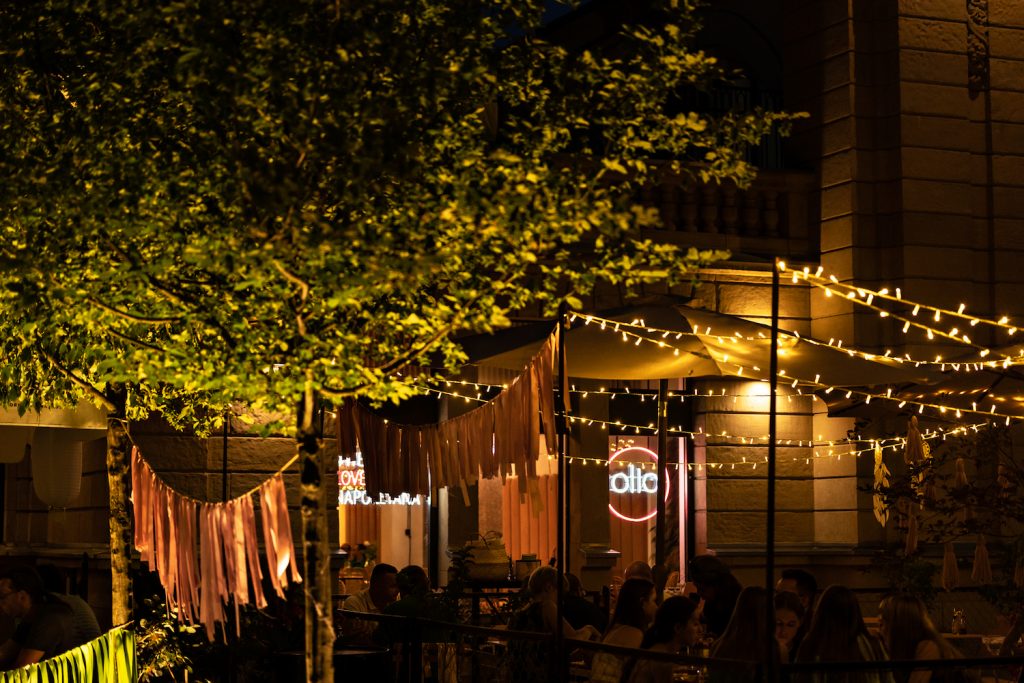 All of them are perfect for an evening out or informal dinner with friends but they close quite early – around 10pm. After, you can cross the street to the Absurdalna multitap for a nice craft beer or go for…
2. A late evening stroll around the center
Don't get it wrong. We're not encouraging you to wander around town late in the city, but to head in a more "party" direction. Are we talking about famous Mariacka Street? If you're a nightlife person, then definitely yes. This place has its charm, especially in the summer.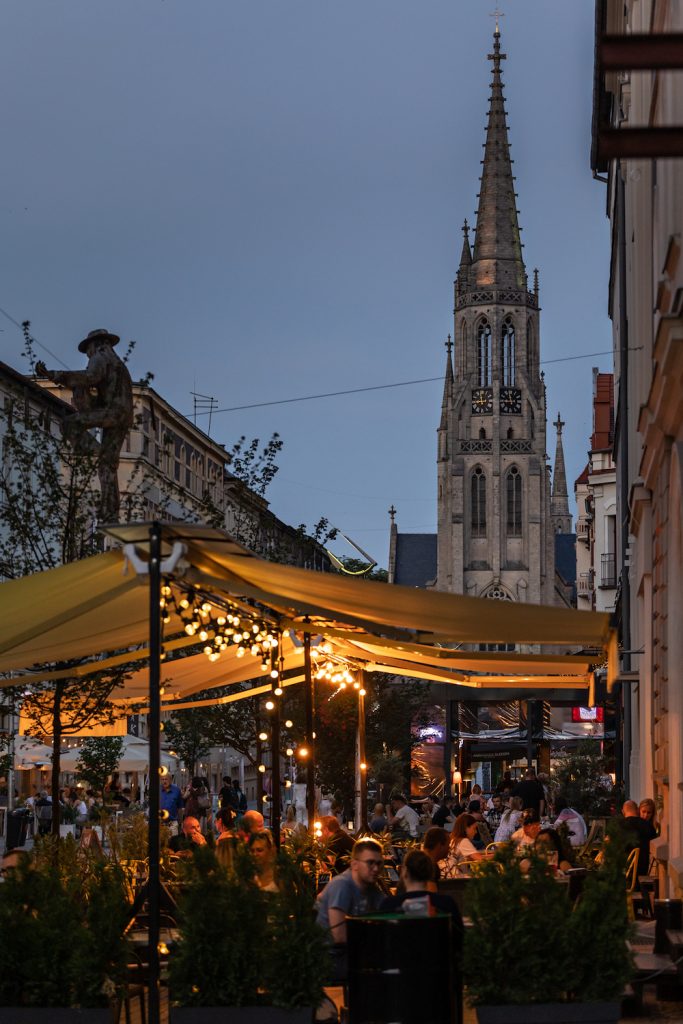 But nightlife in Katowice isn't only Mariacka. There are more climatic streets nearby: Staromiejska, Mielęckiego, or Dyrekcyjna (this one in particular). We've already shared with you some of our favorite places for a night out here. Apart from these, in the summer you can sit in the patios of: Klubokawiarnia SARP, Spanish tapas bar LaFirinda, or Italian place called Pizza z Pieca. Go directly to one from the places above or just go for a short walk and choose the place that attracts you the most.
3. An evening chill on the terraces of Spodek
Would you like to combine see sighting the city with eating something fancy and having fun? So go a little longer walk to the Culture Zone and stop by the famous Spodek arena, at Centrum Kato.
Centrum Kato is a summer pop-up concept combining food and drinks, cultural events, and many more open-air attractions. Every week from Wednesday to Sunday you can lay down on a deck chair, grab a snack from one of the food places, listen to live music, and even dance if you fancy. On Sunday afternoons you can join free yoga classes and in the evening an open-air cinema.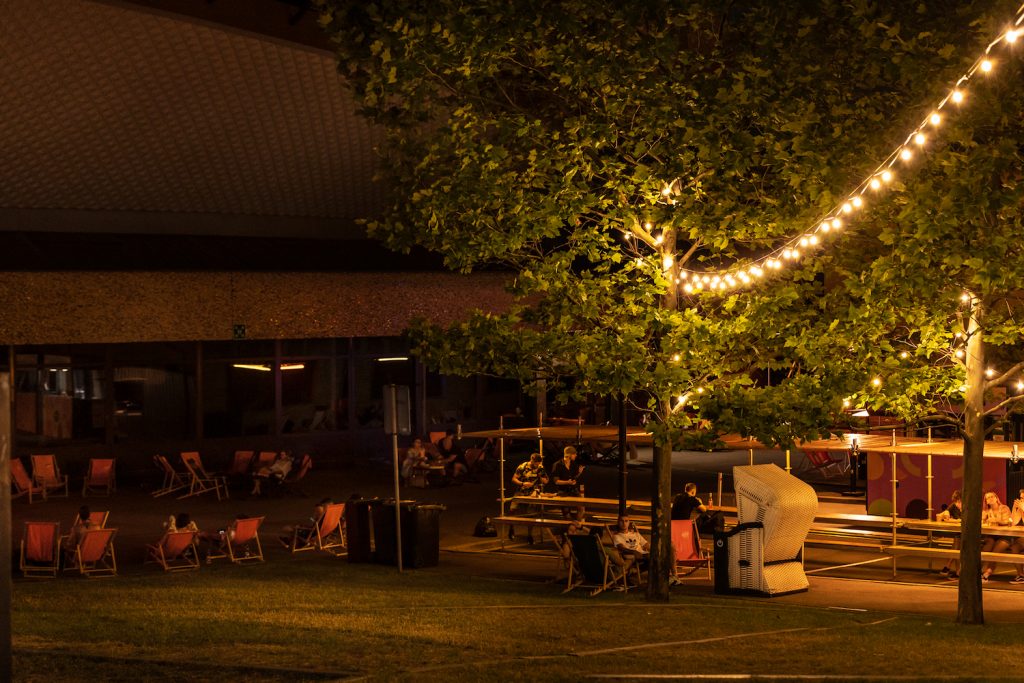 And when visiting Centrum Kato you can (well, we think you even should) go for a night walk to the Culture Zone nearby. A Silesian Museum, International Congress Center, or NOSPR building look even more impressive after the sunset!
4. Lazy time in the greenery
If strolling around the city center on a hot day center isn't your thing and you prefer to escape somewhere greener, opt for a Forest Park and Muchowiec Airport. There, you'll find lots of places to lay down on the green grass and watch airplanes above your head. And, when hungry later in the evening, you can grab a pizza (or other simple snack) and a refreshing cocktail.
You can choose from Sezo'novo (more details here) or Latem – they're both next to each other. But this time we encourage you to walk some more minutes to reach another open-air destination called JAZBAR. Off the beaten path, JAZBAR offers a wood-fired pizza, selection of wines and refreshing drinks, and good music (also performed live). Here you can check more info and follow their events.
What is also important, you can reach Muchowiec Airport by city bike in less than 15 minutes. All the city stations and bike availability wait here.
5. A green walk around the park
Long summer evenings are a perfect walk scenery. In Silesian Park nearby you can lose yourself and stroll for hours watching the sun slowly setting behind the trees. We've written about the park before, so you know it's a truly green oasis just minutes from Katowice.
Go to the park on a late sunny afternoon and take a ride on the famous cable car called ELKA. You'll see the entire park from above. Opening hours and price list are available on the park's website.
After the sunset you can still keep walking, especially to a Japanese garden with its falls and cherry trees. In the summer it remains open until 11PM. And after the walk, to soothe your legs (and stomach), visit a Przystań Restaurant and Brewery with its good food and exquisite local beer.
---
With all these ideas at hand, summer in the city is pure fun! Do you agree?