The Best Bars And Pubs in Katowice For a Night Out
A glass of craft beer, an extraordinary cocktail, and a unique atmosphere. Katowice by night is much more than just the well-known Mariacka Street. Get to know our top nightlife recommendations in Katowice.
Upojeni Multitap
What's a multitap? It's a pub with a really wide selection of craft beers on tap. We like this place a lot. It's located almost at the market square, but it's hidden in a courtyard so there are no random passers-by. You know which gate to enter by their neon sight (and you know we like neon sights!). The place has two floors, so if all the tables on the ground floor are already occupied, chances are you'll find a free spot upstairs.
You can check the current selection of beers on tap here: https://upojeni.ontap.pl/. If you're familiar with beer terminology, all those names and percentages are sure to tell you something. If you're a newbie, the great staff will advise and help you choose something. Also, Upojeni has a really good selection of bottled beers.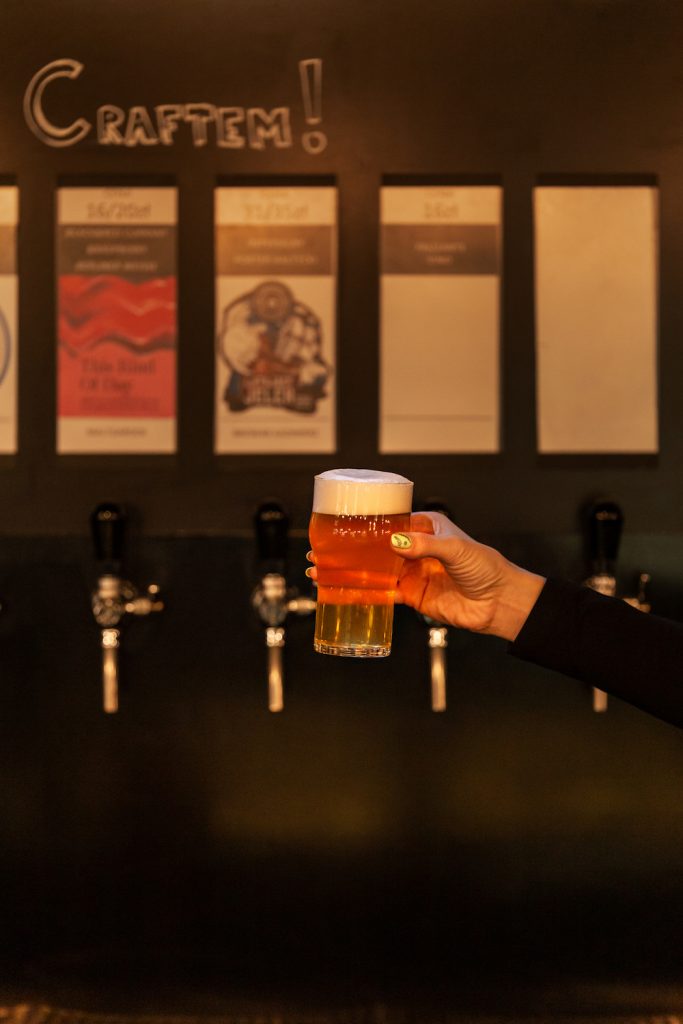 We like Upojeni not only for the beer and the vibe, but for two more things:
food. Here food isn't only an appetizer with your beer. It's equally important! For more, go to their Facebook site.
an (almost) outdoor patio. Why almost? Because the inside courtyard is protected by a glass roof. And that makes for a perfect place for a hot, but rainy day when you really want to have your glass of beer outside.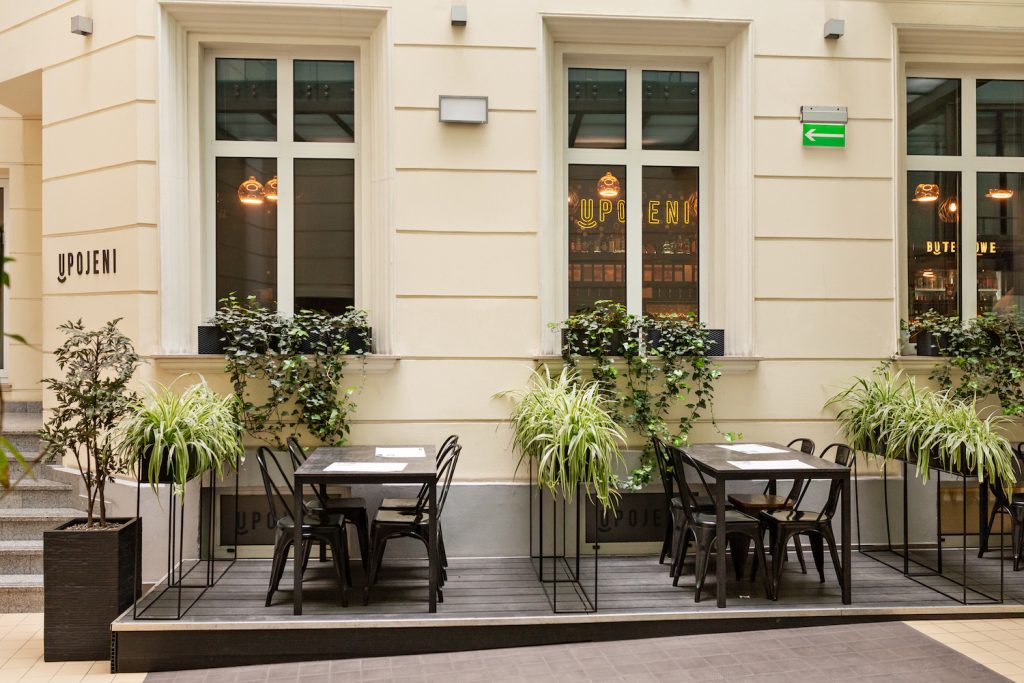 Upojeni Multitap
św. Jana 10 (in the courtyard)
Absurdalna
It's another multitap that specializes in beers. It's located on Dworcowa Street which has recently been fully restored and converted into a pleasant pedestrian zone with many eateries. But let's go back to Absurdalna: the place is really big, so there are many more chances to grab a spot than on crowded Mariacka Street that's just around the corner. Also, the selection of craft beers is just amazing.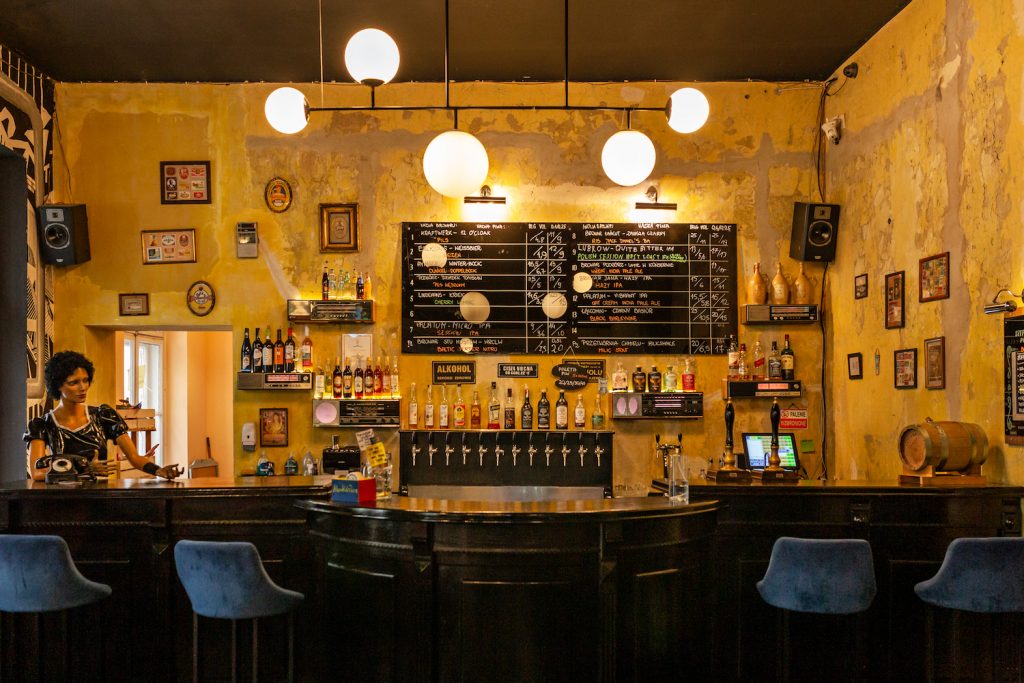 There are always more than 10 different beers on tap and the current offer can be found here. Of course you can ask for a recommendation or get a tasting set of more beers in smaller glasses. It's great if you want to try more than just one variety or you can never decide.

Absurdalna isn't only a beer (and food) place. They also organize cultural events, concerts, exhibitions, and beer events. Make sure to pay them a visit but also to follow their Facebook profile (so you'll get informed about the upcoming events).
Absurdalna Multitap
Dworcowa 3 (on the corner with Dyrekcyjna)
Biała Małpa
Those who still don't have enough beer can take a short walk to 3 Maja Street. Biała Małpa is a classic on the craft beer map of the city. They usually have as many as 30 different beers on tap! Anyway, click on this link and see what selection they have today.
In the same courtyard, there's also the younger sister of Biała Małpa, a joint called Biała Małpa Mexico. Here you can make your evening even more perfect by adding delicious Mexican food to your refreshing beer. We already posted about this place when recommending these top outdoor places for summer. Biała Małpa is one of these must-visit places if you spend summer in the city. Their courtyard looks more like a beach than a patio. It's just pure magic!
Biała Małpa Multitap
3 Maja 38 (in the courtyard)
Old Cuban
If you'd like to teleport yourself to the tropical island of Cuba for one night, the only thing you have to do is to take the tunnel between Mariacka and Wojewódzka. Really, we're not joking!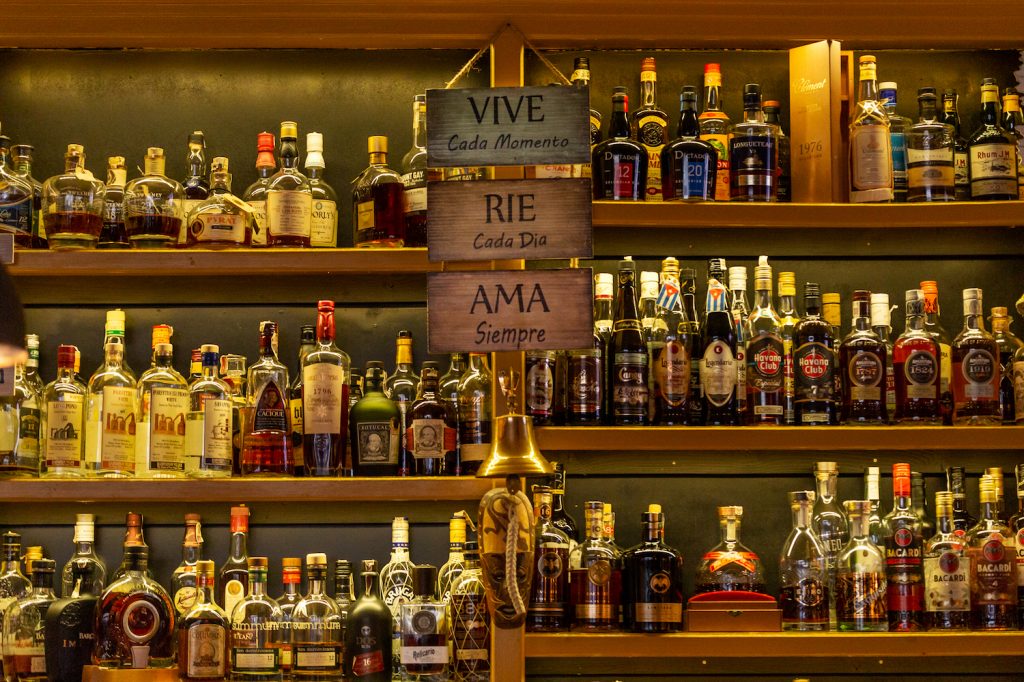 In our humble opinion there's no better place for rum lovers in Katowice. This cocktail bar with a Caribbean soul specializes in rum cocktails and offers a wide range of their own concoctions. There's much more to try than just a mojito or daiquiri. Of course, gin and other spirits' lovers will also be satisfied. The bartenders at Old Cuban can prepare any cocktail you like. Sitting at the bar and watching them at work is pure fun. If you prefer to stay outside, they have a lovely patio also. 
We really love such places – tiny but with a particular charm. And the atmosphere at Old Cuban is so hot that it'll warm up any evening. Just look at these hilarious things hanging on the wall – they prove we're right!
Żółte Drzwi
The place may look humble from the outside: there is just a yellow door (literally "żółte drzwi" in Polish). On their social media sites they mysteriously say: "Come and see what's behind the Yellow Door". And after opening the door you'll have no doubts this place will treat you well.
Leather sofas invite you to linger, but definitely the most impressive part of the entire place is the bar filled with bottles and mirrors. This is the place for those who like to sip their cocktail slowly while listening to good music and enjoying the company of friends. Żółte Drzwi is also a good choice for a nice coffee and a bite to eat during the day, but evenings and nights are definitely the best time to go. They know that there's no party without music so they invite DJs and make weekend evenings unforgettable.
Amfora
Last but not least, here comes our beloved Amfora. We've already mentioned Amfora in some of our recommendations, but it definitely deserves to be listed here too. The place has everything we expect from a good restaurant: nice and spacious interiors, a lovely and sunny patio, exceptional customer service, and good food all day long. It doesn't matter if you're in the mood for a big meal or just a small appetizer with your drink, you'll find it all here.
But… today we're not focusing on food but cocktails, so it's definitely worth mentioning that Amfora, apart from being one of the best restaurants, is also one of the best bars in the entire city! Their cocktail menu starts with a list of originals where every ingredient really surprises your taste buds. If you can't imagine what a hibiscus-flavored cocktail would taste like or what wonders the addition of rose or pomegranate can do, here you can find out. This Middle Eastern inspiration can really be tasted in every sip. But still, if you prefer to order a well-known cocktail, go ahead. The bartenders at Amfora are able to prepare literally anything. They're professionals!
Amfora Restaurant and Cocktail Bar
Francuska 1a (entry from Starowiejska St.)
We really hope our recommendations will make your evenings unforgettable. If you search for more tips and advice in and around Katowice, take a look at this blog section. Visit also our Instagram and Facebook sites.
Have a great party!