Green Spots For a Walk and Picnic in Katowice. Forests, Parks, Reserves
Where can you take a walk in Katowice? How do you escape the hustle and bustle of the city and have a picnic on the grass? Our city offers places for a lazy afternoon stroll as well as an active weekend forest outing. All you need are comfy shoes and your favorite snacks when you take a break. Off we go!
Out of the city for nature enthusiasts
Here you'll leave the rush and work behind to be one-to-one with nature.
Las Murckowski – the forest
You like wandering among trees with no extra attractions, and your favorite pastime is finding a small clearing for a little rest? Las Murckowski is the perfect place to be.
This nature reserve is part of a vast forest complex covering the southern area of Katowice, Tychy, and Mysłowice. It's situated near the Murcki neighborhood and borders the mine of the same name. The reserve's landscape advantages include the slopes of Wzgórze Wandy [Wanda hill], brooks, and an ancient beech forest. It's also the habitat of many species of mammals and birds.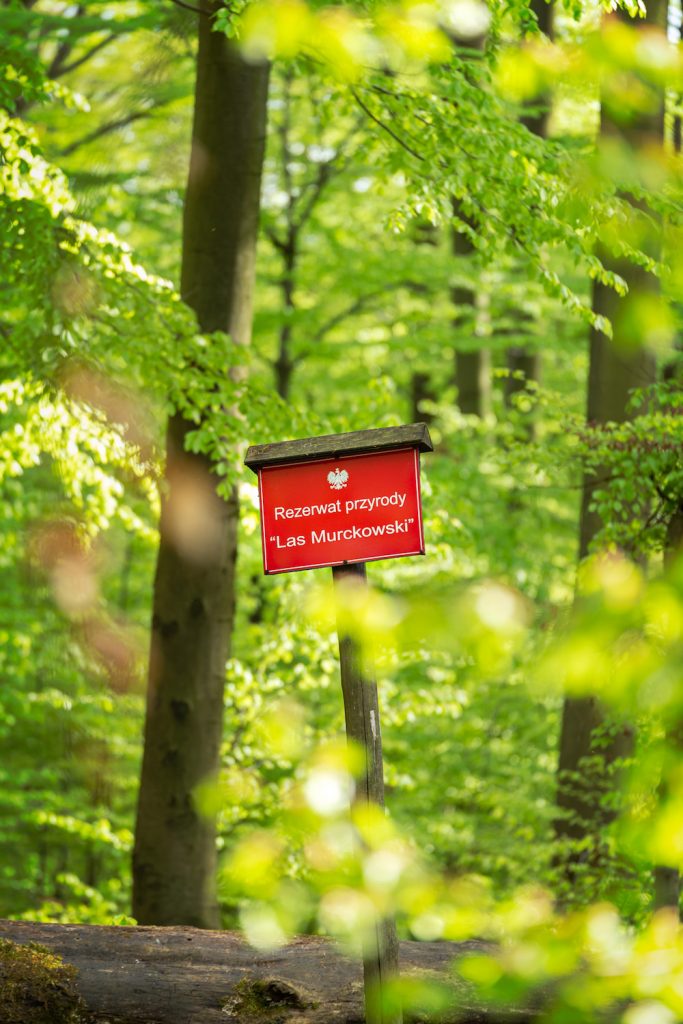 How to get to Las Murckowski?
The reserve is situated just over 10 km south of Katowice center, so going by car is the easiest and fastest way.
Public transport will take about 40 minutes: first no. 1, 4 or M10bus from Aleja Korfantego to the Katowice Murcki Bielska stop, then 10 minutes on foot.
By bike it'll take more or less the same amount of time, but you can visit the southern parts of the city on the way.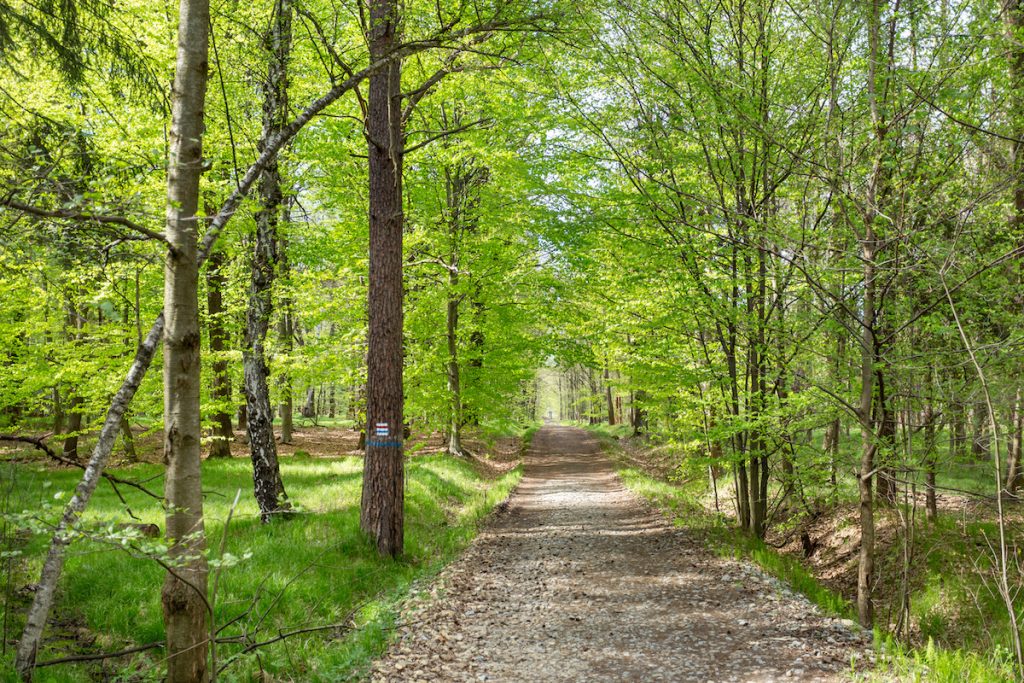 Dolinka Murckowska – the little valley
Near the Las Murckowski reserve is Dolinka Murckowska – a lovely leisure area in the Przyrwa brook valley where your forest walk in the reserve can be crowned by a picnic.
Through the Dolinka little valley runs two tourist routes, so it's a perfect stop on a longer walking or biking excursion. Here you'll find no amenities, just peace and quiet, go ahead and rest at the pond surrounded by nature.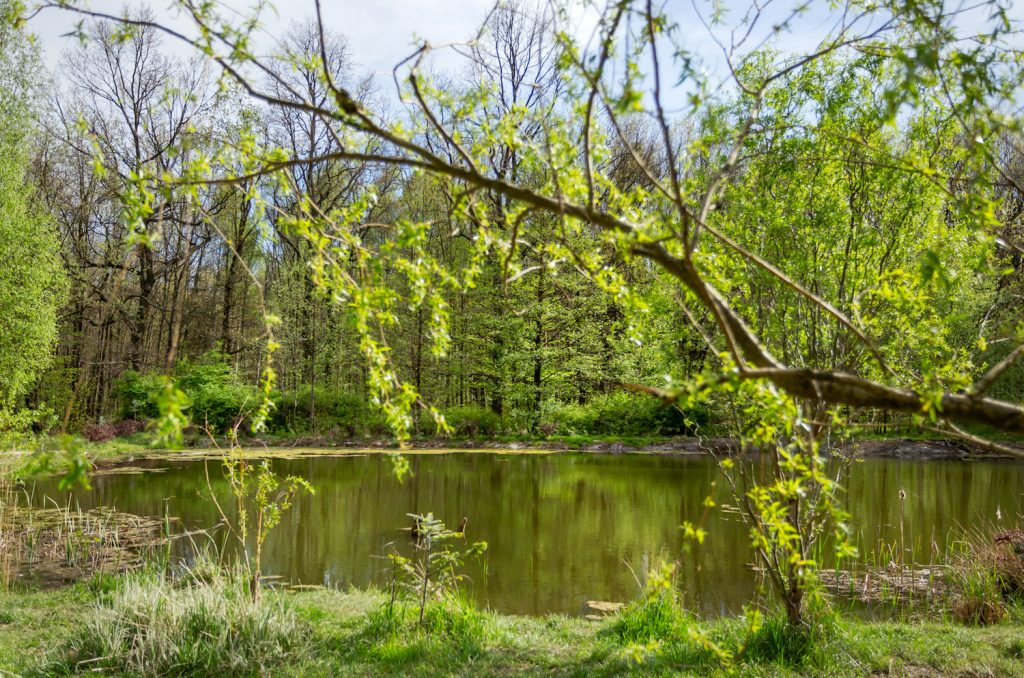 How to get to Dolinka Murckowska?
It's best to visit the little valley while walking in Las Murckowski – it's nearby.
Public transport will be the same as going to Las Murckowski (see above).
Your picnic supplies are best packed into your bike basket and taken on two wheels, reaching the little valley for your well-deserved rest.
Rezerwat Ochojec – the reserve
Despite its location within the Katowice city limits, it's a precious nature area. This botanical reserve is one of the few places in Poland where you can find twisted-stalk, aka watermelon berry (Streptopus amplexifolius), a very rare mountain plant. It's also a habitat for unique flora and fauna specimens.
Rezerwat Ochojec, along with Las Murckowski, are parts of Lasy Murckowskie [Murckowskie Forests]. Its southern border is defined by the black hiking/biking route starting at the former Katowice Ochojec train station. Outdoor enthusiasts will find this uncrowded place ideal.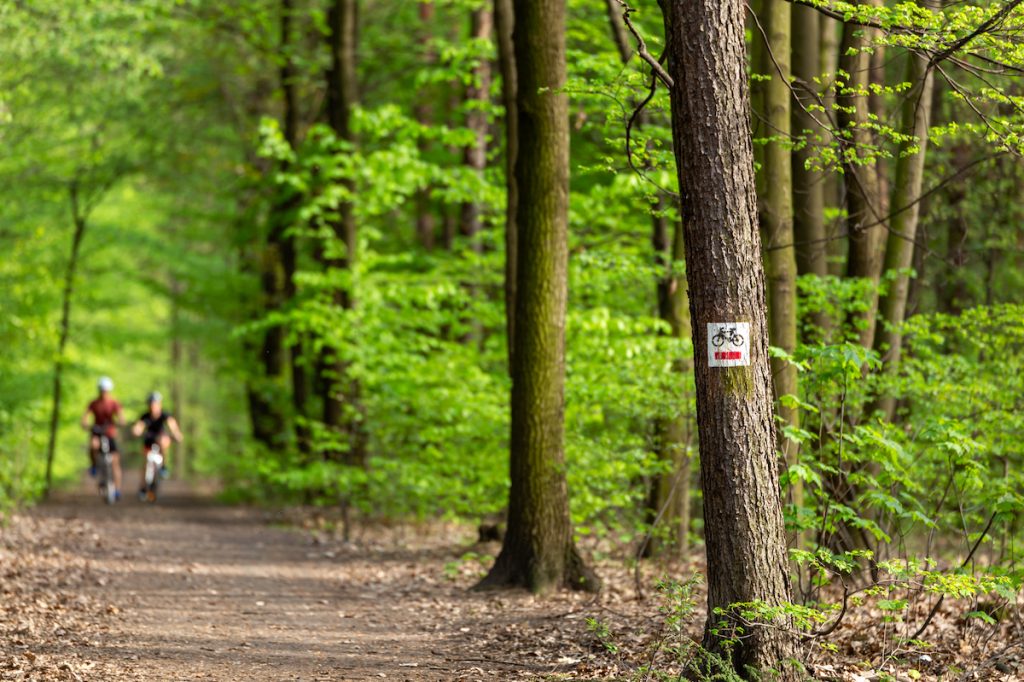 How to get to Rezerwat Ochojec?
From the city center it's closer than Las Murckowski – take a bus from the center to the Ochojec district and then have a 15-minute walk.
By car it'll take you about 15 minutes.
By bike it'll be 30 minutes, but going through the beautiful green areas of Park Leśny and the Źródła Kłodnicy nature preserve – an attraction in itself.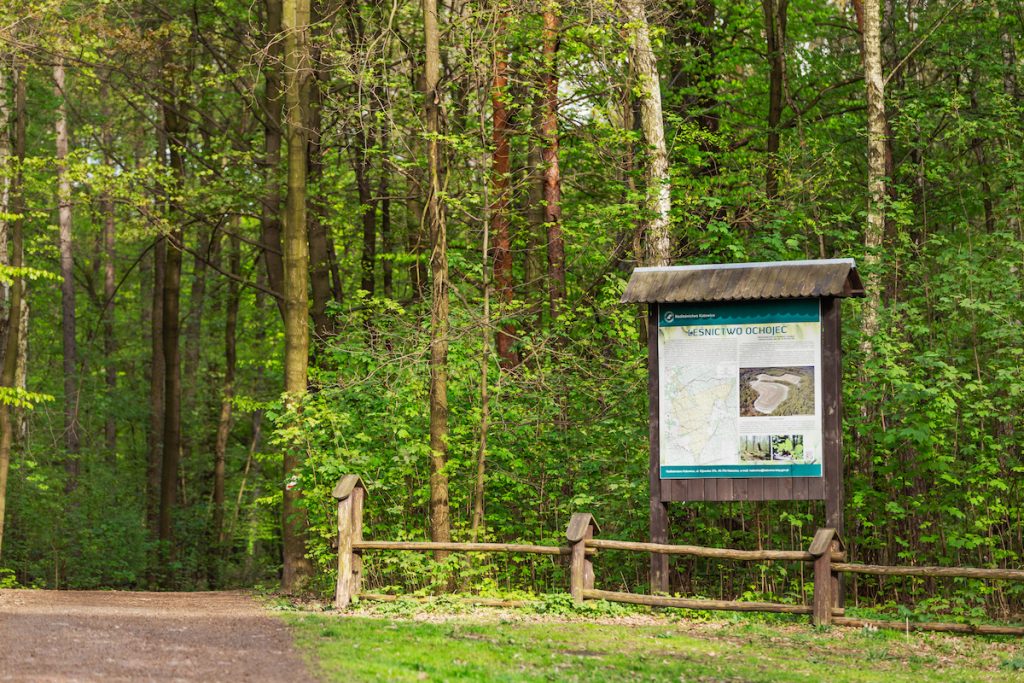 A green oasis in the city for fans of urban parks with amenities
A beautiful stretch of nature and peace at the arm's length, any time, any season.
Park Kościuszki
A perfect spot for those living in the center and hoping to take a walk after work to enjoy sunny weather and take in the greenery. The park, actually in the city center, is very green and quiet, and exceptionally beautiful all year long. Laid out following an English garden this 73-hectare area is the largest park within the city limits. Breathe, there's room for everyone.
It doesn't have a long list of attractions and that's good – even on sunny weekends, you'll avoid large groups craving organized entertainment. However, it does have a lovely wooden 16th-century church, former parachute tower, a multitude of little pathways, and benches. At the main entrance is the Patio Park restaurant, so you can take a walk with lunch and dessert (whenever time allows). The park is so close to the center that you can reach it with your favorite take-away coffee still hot.
It's best to visit in the morning when the sun is rising – a most beautiful place.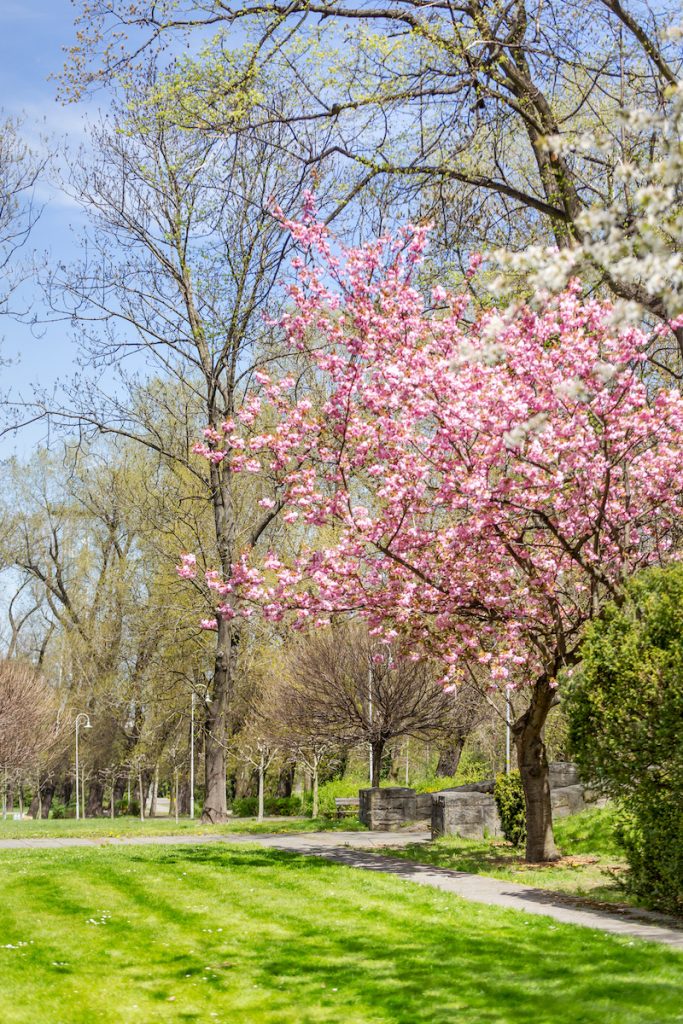 How to get to Park Kościuszki?
From the city center it's best on foot. The walk from Plac Miarki square will take about 15–20 minutes.
Trams stopping at the park are those going to Brynów: nos. 14, 16, 36, 46, 66, tram stop Kościuszki Szpital.
Park Leśny and Dolina Trzech Stawów
Park Leśny is the forest area stretching from the center of Katowice as far as its southern borders. It includes Dolina Trzech Stawów [The Valley of Three Ponds], favored by all Katowice residents in the summer. The large area and extensive attractions foster all kinds of open air activities.
The sport attractions here are described in this post, so now we recommend neglecting the busy roller-blading path and taking a walk deeper into the forest – there are several cycling and walking trails including the Katowice Hiking Route. Having finished a stroll you can return to "civilization", walk through Dolina Trzech Stawów and choose one of them to rest at, a refreshing drink in your hand (for some places and inspirations click here. You can also bring your own provisions and sit around on the grass observing the planes taking off from the Muchowiec airport and flying overhead.
How to get to Park Leśny?
Take no. 110 bus from the center (PKP Railway Station) – your destination is the Muchowiec Park stop; it takes less than 20 minutes.
By bike it takes about 15 minutes. It can be rented and returned on arrival (no problems finding a bike station).
Walking is a bit of a longer adventure – about 45 minutes along Francuska Street (it's still a walk, and you learn about the city on the way).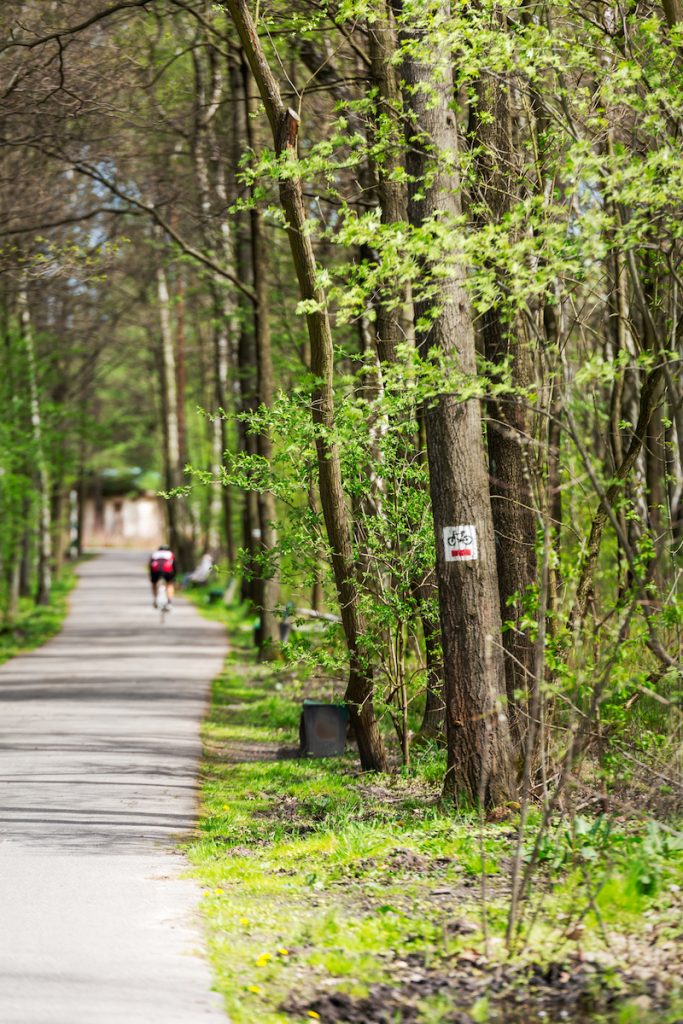 Park Śląski and Rosarium
The Silesian Park is one of the largest urban parks in Europe! Officially, it's within the Chorzów borders, but neighbors Katowice and is gladly visited by its residents. Easily accessible. In season it's filled with people from all over Silesia who often take a walk in the park after visiting the ZOO or the Legendia amusement park.
Therefore, we recommend going off the beaten track and among the trees, climbing towards the Planetarium for instance. After the walk, have a summer picnic in the Rosarium which is the largest rose garden in Europe (!) as well. In the summer it's quite possible to happen upon food trucks or free yoga lessons. When the weather is nice the park hosts breakfasts on the grass – lazy, peaceful, and relatively quiet for one of the largest European parks. There's also a Japanese garden to enjoy.
How to get to Park Śląski from Katowice?
The residents of Osiedle Tysiąclecia simply take the underground passage under Chorzowska Street. From the city center the walk will take almost an hour.
It's most convenient to take tram no. 6, 11, or 19 from the market square. Your destination is Park Śląski Wejście Główne – Silesian Park The Main Entrance, but you can go 2 stops further, get off at the Silesian Stadium and "walk back" towards Katowice – through the less crowded area. Important! Now (2023) the trams are suspended and there's a temporary bus no T10.
By bike it'll take less than 20 minutes – all along Chorzowska Street; you take the convenient bicycle path and there are many urban bike stations in the park (rent away!).
What are your favorite green places in Katowice and around? Which are you going to enjoy this summer?