Top 8 Katowice Outdoor Bars – Perfect For Spring and Summer In The City
Whether all you have time for is a morning coffee, a quick lunch or a whole day of weekend leisure with your friends, it must be delicious. Summer deserves a celebration and Katowice offers many perfect spots!
Our team's delight with the sun, good food, and refreshing cocktails is so high that we started searching for fun beer gardens and patios in the early spring, still wrapped in our scarves. Deeper into the spring and summer season, we went even further to explore the gastronomic summer in the city. We tested, tasted, went back, and mid-season we seem to be ready to recommend our strong favorites. Let us, therefore, announce our subjective ranking of the 8 outdoor spots in and around Katowice. Enjoy this year's gracious summer to its fullest!
The Center
Summer in the city can hit hard. Walking a scorching street we pant for a slice of shade and a drop to drink. We often feel like popping out of the office to enjoy the sunny afternoon. Fortunately, you don't need to leave the city center. Here are several places perfect for breakfast, lunch or meeting with your friends.
Taj Katowice
We have a soft spot for Thai cuisine in particular, and Asian food in general. A steaming bowl of spicy Thai curry might not be an obvious choice in the heat of summer, but consuming it with a panoramic view over the city can change your mind.
We love popping into Taj (Thai) for a mid-week lunch and turning our office-pale faces to the afternoon sun – this comes recommended. Between 12 and 4pm, you'll pay 22 PLN for a two-course vegan or classic meal, and the lunch menu is fixed for each day. The menu is extensive enough to find something for any time and any occasion.
A large patio with panoramic views makes you stop staring at the plates (nicely colorful as they are) and gaze over the beautiful buildings and the blue sky. During a hot afternoon in the city center, it's worth at least having a refreshing drink at Taj. And the selection of drinks is impressive – you can choose from various lemonades and cocktails, also these are completely alcohol-free, which might not be obvious in many other places.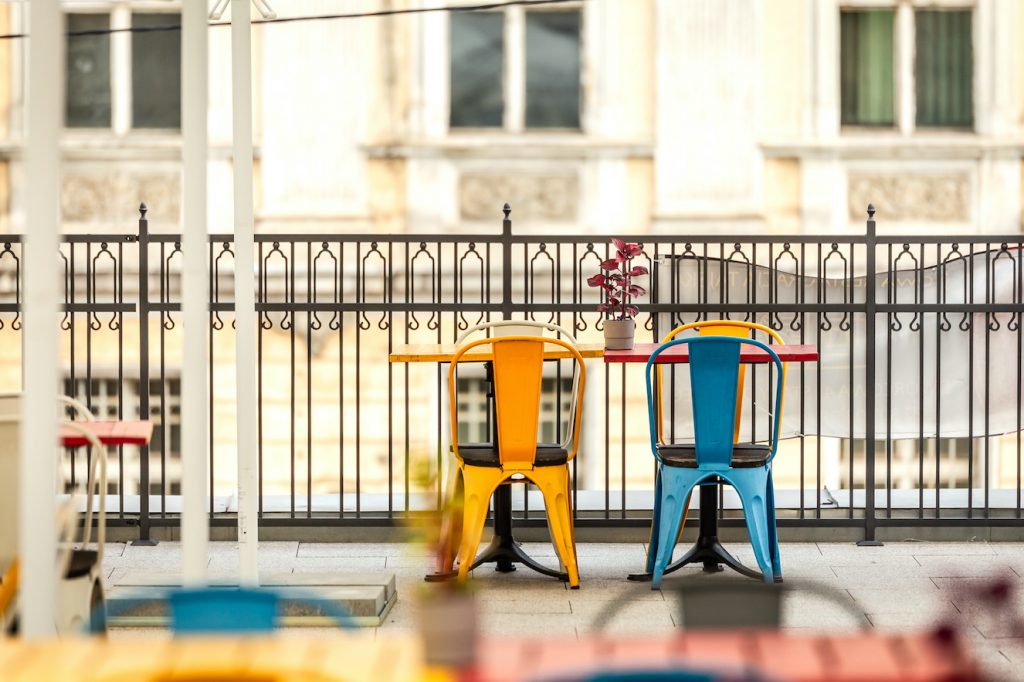 Address: Dworcowa 4
Menu here
Amfora
We do love this place! We love it so much that it's inexplicable that Amfora hasn't been presented in any of our previous reviews. The reason may be that this unconventional place escapes stereotype, but we'll no longer keep this one a secret. Especially, because it does have (unknown to most) a beautiful cosy patio.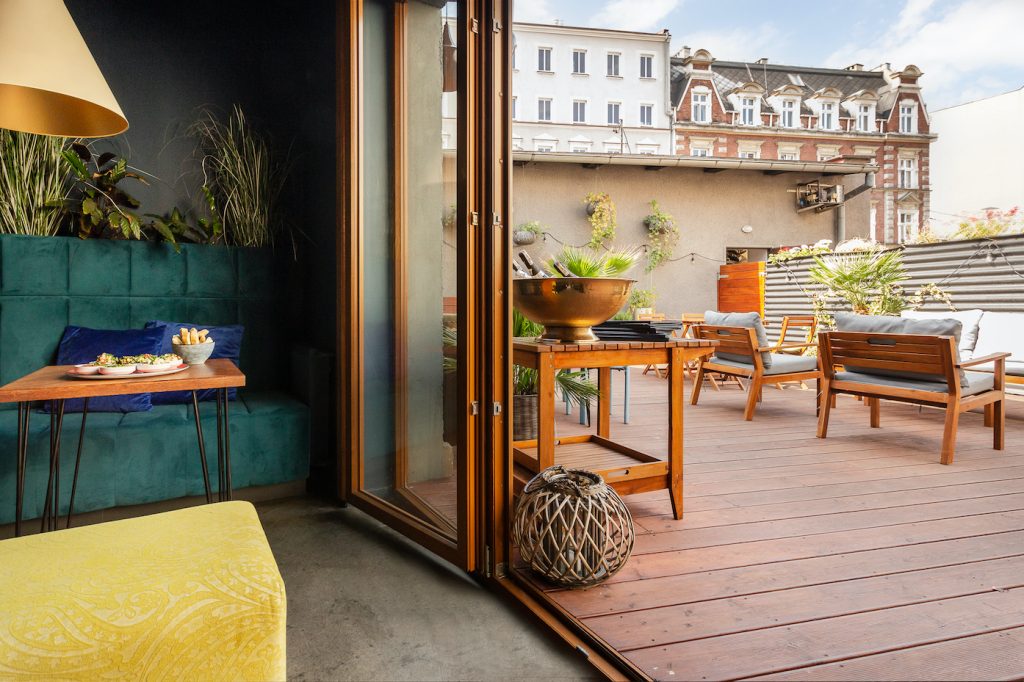 It's in the city center, but somehow off the beaten path. It's a stone's throw from Mariacka Street, but yet free of crowds. It's only us, the sky above and whatever lands on our table. Not whatever, really, because Amfora's cuisine is a Middle East mix with roots reaching from The Caucasus to Israel. We love their aromatic dishes, unconventional lunch combos, and weekend breakfast buffet. It's common knowledge that everything tastes better outdoors, which gives us the driving Amfora appetite.
Recommending Amfora, we mustn't forget about their absolutely divine cocktail bar, it's as magical as their kitchen. Our favourite bartenders prepare their original drinks. Watching them in action is a pleasure, but they will forgive you for taking a place on their cosy terrace. Feel invited, but don't tell everyone, because it is our secret spot;)
Address: Francuska 1a (entrance from Starowiejska Street)
lunch: 12:00pm–5:00pm, starter + main course: 32 PLN
current menu here
Cafe Kattowitz
It's rare for a place to be so elegant and so relaxed and friendly at the same time. Cafe Kattowitz is the quintessence of taste, both in terms of interior design and its ambiance (dominated by claret, gold, dark wood, and decorative wall paper), as well as for dishes served by their kitchen and libations from the bar.
A small yet very cozy sidewalk cafe resembles the quaint cafes you'll encounter in the most beautiful European cities, where you sit for a while to read a newspaper or have a chat with a next-door neighbor. Enjoying this place as we do, we often pop in to have a piece of Viennese cheesecake (could there be a more classic dessert?) and take a lazy look over the city. We also like coming here for a traditional Sunday dinner, which becomes celebrative every time in this stylish environment.
Gastronomic fashions come and go, preferences change, but places like Cafe Kattowitz will always remain one of the best showcases of the city.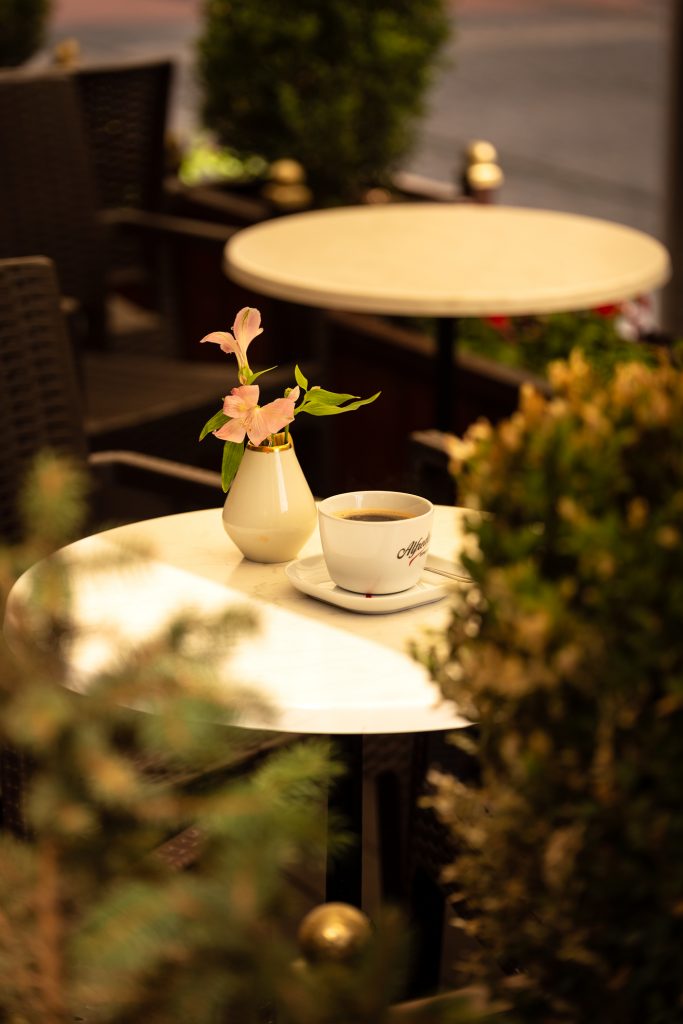 Address: Świętego Jana 7
Current menu: check here
Biała Małpa [The White Monkey]
Palm trees and sand in the city? In the courtyard, between the city center buildings? Of course! The Biała Małpa Pub has proven over and over again that all you need to do is go into a courtyard on one of the busiest streets and… disappear on the beach.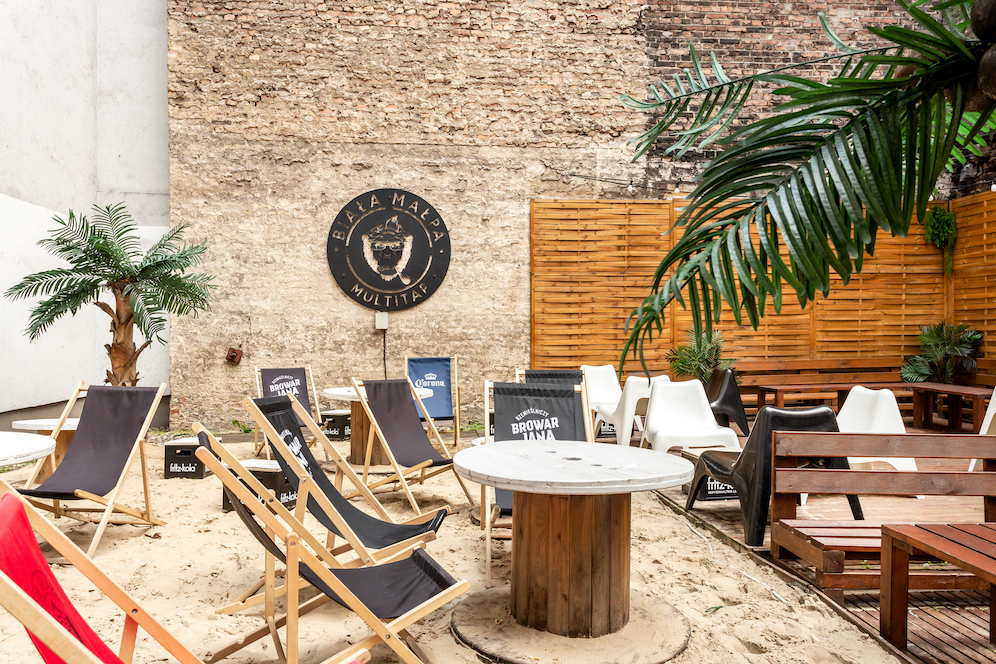 Biała Małpa is well known to craft beer enthusiasts as one of the first multitaps in the city. Obviously, nothing quenches your thirst better than a sip of this refreshing beverage. Over 20 types of beer on tap plus a well-stocked fridge. Biała Małpa doesn't rest on pouring beer and it's just released its original brand, in collaboration with the craft brewery Szpunt. They are real enthusiasts and professionals.
Still, you don't need to be a beer drinker to have a good gastronomic reason to visit this place! In the same courtyard, for two years now, there's been Biała Małpa Mexico, sharing their patio with the multitap. Their menu includes typically Mexican tacos, empanadas, nachos, burritos, quesadillas, plus drinks and a few kinds of tequila.
Calling this place a bar with a patio would be a terrible understatement. It's a real beach oasis! You can't count on finding any sea in Katowice, but the warming Mexican cuisine and a pint of cold craft beer will compensate for sure.
Address: 3 Maja 38, in the courtyard
Biała Małpa Mexico menu: click here
By no means is it the only pub with a garden in the center. Each of our beloved pizza places described in this post has its own space outside as well. We all know that pizza and Aperol Spritz taste best when served outdoors. There are also beautiful patios at Kafej in the Koszutka district and Cafe Byfyj in Nikiszowiec, which we visited on the occasion of the breakfast article.
The Valley of Three Ponds / Katowice Forest Park
There is more to life than work. The (still) long summer evenings and the (always too short) sunny weekends invite escapades away from the center. The Valley of Three Ponds and Katowice Forest Park are surely favourites of Katowice residents in the summer.
Sztauwajery
A classic, of course. But to not mention Sztauwajery in the summer is like to forget the Louvre in a guidebook to Paris. This concept resembles the very container holding a bar and a small food place. Plus, the wonderful natural surroundings, views over the ponds and kayaks, green grass, deck chairs, and good music. And we've got this.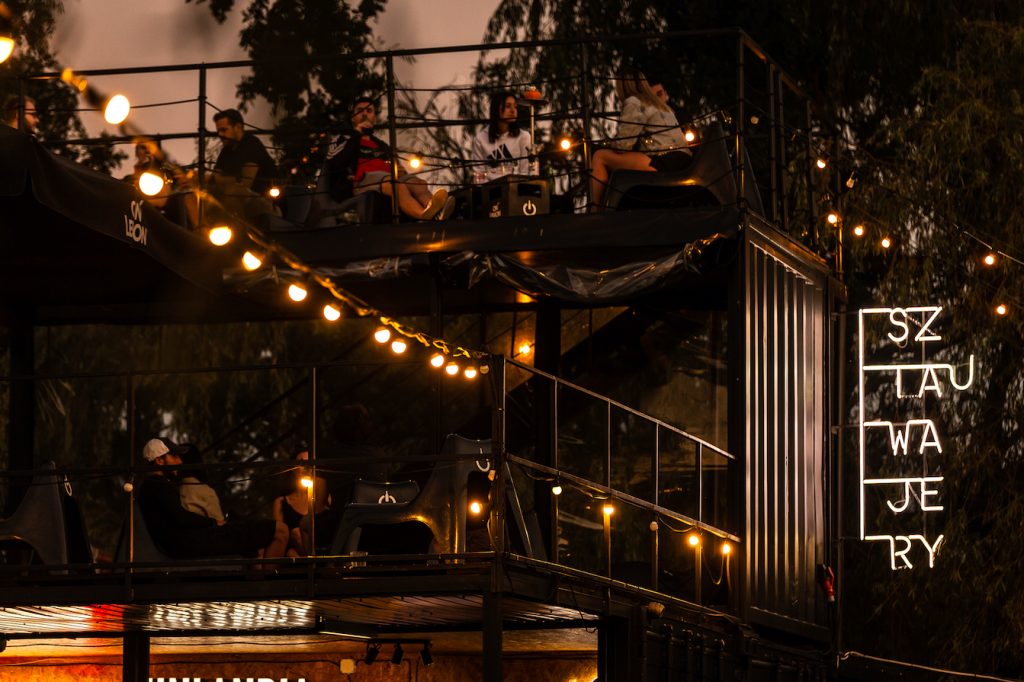 In spite of appearances, they not only hold crowded concerts, but also host an outdoor summer cinema and yoga lessons. Their gastronomic repertoire includes beers, cocktails, coffee. There's also a craft ice-cream truck and something new in 2022 season: pizza sold by pieces.
On weekend nights, when Sztauwajery becomes a place to be in the city, it's hard to find a vacant deck chair, although keep your eye out, there are a few. Therefore, we prefer to pop in during the day, when it's an oasis, where you slowly sip on your beer, lounging and staring at the willow trees dancing in the wind.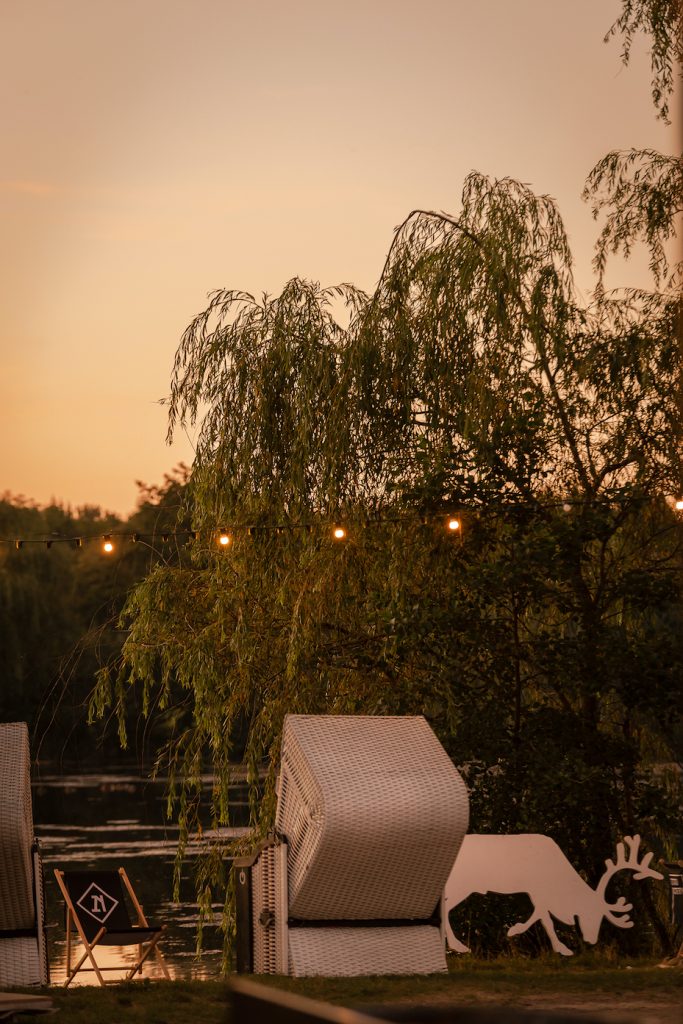 Address: gen. Kazimierza Pułaskiego
Upcoming events: check here
Woda Beach Bar [Water Beach Bar]
Nearby, at a smaller pond called "the swimming pond", the Water Beach Bar has been there for two seasons now. Its name isn't an overstatement, we're actually on a sandy beach at the water's edge. Such conditions of nature are surely to everyone's liking in the summer.
You can have a wood-oven pizza, refresh yourself with a beach beverage, and relax on a deckchair. Every weekend, they hold free yoga lessons, and Thursdays are reserved for stand-up comedians. They also organize concerts and dance events.
Interestingly, Water Beach Car hasn't only thought about grown-up attractions. Every summer Sunday, they organize entertainment for kids. A lot's going on. And that's great, because a hot weekend calls for places like this.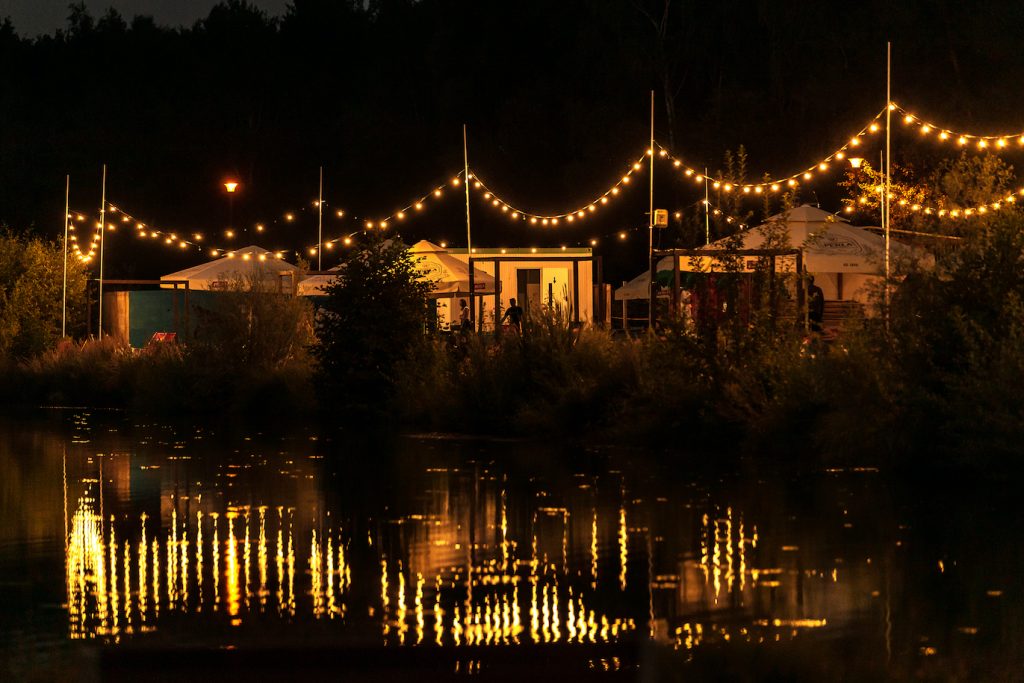 Address: Lotnisko 80
Upcoming events: click here
Sezo'novo
This place is good to open a ranking of any review. We've mentioned it among the best pizza places in the city. It used to complement 'novo (now closed and missed), and is our main focus today.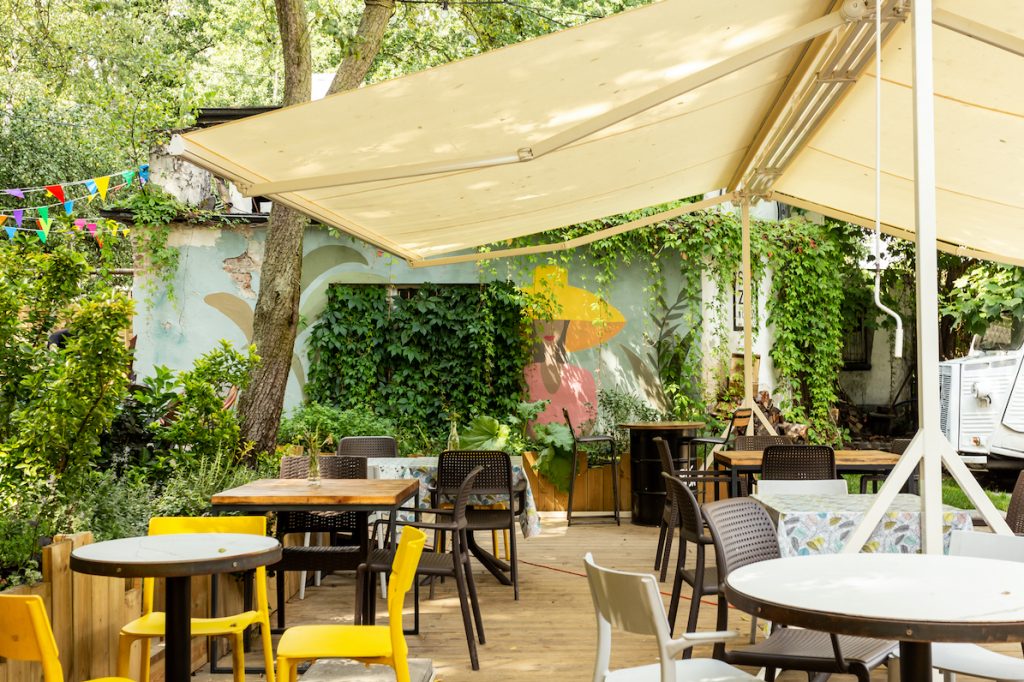 For several seasons, Sezo'novo has been one of the favourite summer spots for Katowice residents, proven by the long wait time for a seat and your order alike. Little wonder, considering the combo of delicious wood-oven pizzas, refreshing drinks, the greenery, space, and a cool overall atmosphere. Such places make you come back for more.
This season, Sezo'novo has changed a lot: it extended the patio and added more seats. When the weather is nice, you'll probably have to wait a little while, and you can make it a good while by sipping a cocktail. It's worth eating and drinking here, especially after the sport challenges of the nearby rollerblade and bicycle routes.
Address: Francuska 180
Open: only in good weather. Follow daily alerts on their Facebook
Cuisine: Italian. There's delicious pizza, salads, pasta, and sometimes other specials.
Silesian Park
For its size, greenery, as well as walking and bicycle routes, Silesian Park is one of the best places for summer visits. However, its gastronomic base had always left a lot to be desired. Beer, swirl cones, pizza, and fast food – made up most of the gastronomic fare until last year. Fortunately, the Park has finally got a tasty and picturesque alternative.
Browar Przystań [The Harbour Brewery]
This place started back in the 1950s. Hardly anyone knows that there used to be a popular "Przystań" cafe, visited by the most prominent political and public figures of Silesia. In the 1990s, Silesian Park slowly lost its prestige, and "Przystań" was shut down for the next 30 years.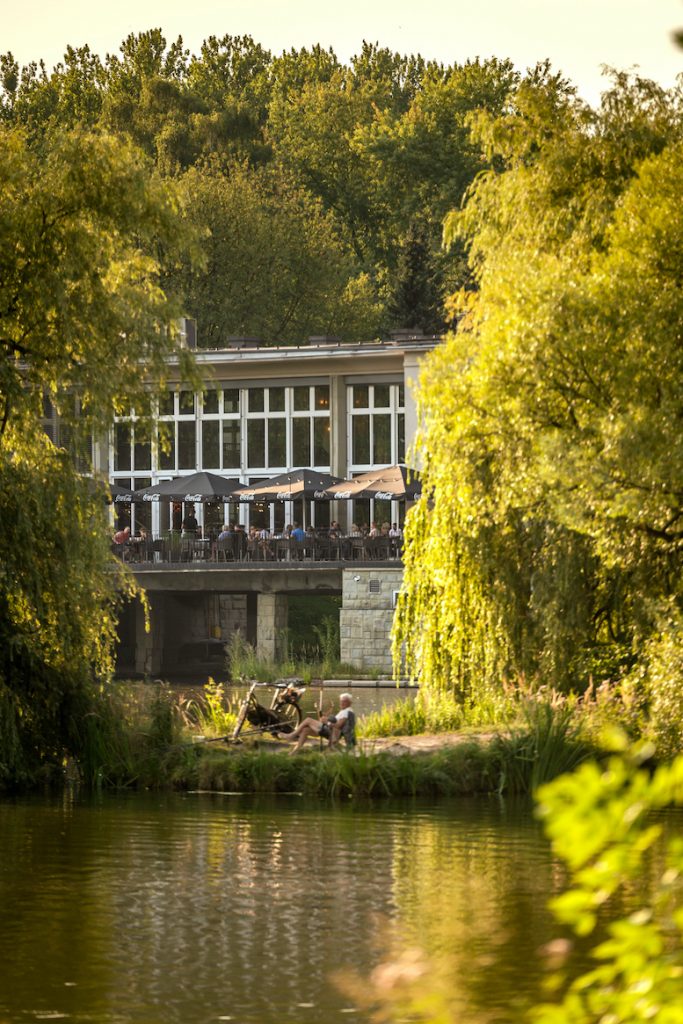 Today, the place has gained a new life – there's a restaurant with an open kitchen and its own brewery. It serves craft ice-cream and delicious desserts. The space is multifunctional and ready to host large events, but that's not our focus now. The real gem of "Przystań" is the terrace overlooking the pond, which reflects trees, clouds, and at night the terrace's lighting.
The place looks great from the terrace, where you can taste the in-house brewed beer, as well as from the other side of the pond, in full view. Going to visit Silesian Park, try to avoid the crowded boardwalk and ice-cream stands. Take a walk in the forest and complete your trip with a glass of beer on the "Przystań" terrace.
Address: Al. Klonowa 4
We recommend the beer tasting 4×250ml
More info: browar-przystan.pl