Rental Apartment in Poland. Investment Case Study
What is a rental property in Poland and how does a rental apartment should look like? How to invest well and what return can you expect? Check our rental apartment case study.
This guide is a case study of our investment in 1-bedroom rental apartment next to the market square that we renovated, and we rent out as Wellcome Home. We show you step by step what's important when buying an apartment, planning, renovating, and applying the finishing touches. We also provide the average investment and return calculation.
Do you prefer to watch it as a video? Check it on our YouTube:
1. Choosing a Flat For An Investment
What's most important when choosing a flat for an investment?
Number one: LOCATION. It's absolutely essential, as this is what tenants look for: students, office workers, and other professionals. Good-located places will always be attractive. If not for the long term, then maybe in the future for the short term for tourists. That's why our flat is just a step from the market square;
Number two: BUILDING. Is it new or old? After a renovation? Is there a plan for an urgent staircase renovation? Are there empty buildings nearby? Everything is important. Our building is over 100 years old, it's beautiful, and in very good condition, with a renovated facade, a wide and comfortable entrance, and a very high, impressive ceiling;
Number three: NEIGHBORS. Do you, as an investor, know who lives in the building? Who will be your tenant's neighbors? We do, we know who's behind each door. Potential tenants ask us often if we know the neighbors – it's a huge advantage when we say we do;
Number four: MONEY. Financial expectations for the return on investment and an increase in value. This is what each investor asks: how much am I going to earn? In Poland, it's quite reasonable. According to recent data, the average for the end of 2022 was almost 7 %. This is the third-best result in Europe. At the end of this guide, we'll show you the simulation and we'll tell you why long-term increases in the value of the property can be more important than a short-term return;
Number five: FLAT PREPARATION AND OFFER. How to plan well, renovate, decorate, and rent it out? We'll talk about this step by step.
2. Building And Common Space Of A Rental Property
The tenant receives a set of keys from us, including a blue key fob that opens the intercom. If possible, we make a master key that opens all the doors (entrance, common space, flat – but it won't open another neighbor's flat). It is both convenient and safe.
Conveniently, on the first floor, we made a storage room. Most of our tenants are foreigners who come here with a suitcase – if they don't want to keep it in the flat, they can keep it here. There's also space for a bike. Katowice is a bike city, which is always great.
All the apartments in the closed corridor belong to our company. Thanks to that we're able to keep it clean. Here we have a closet where we keep the vacuum cleaner – each tenant from this floor can use it. Part of the closet is closed, we keep cleaning supplies and tools for our maintenance team there.
3. Layout Of A Flat For An Investment
The apartment is a one-bedroom and has about 35 square meters. When well-designed, it's more than enough, there's space for everything that's important. By comparison, a comfortable studio flat should have 25-30 square meters. We still see twelve square meter flats on the market. You definitely can't arrange a good space in that tiny area.
This flat has a unique, long layout. But still, we have a corridor with huge closets for storage space, a living room, and a kitchen. There's a bathroom and of course a bedroom with a workspace.
The living room is open to the kitchen. There's a nice place to eat (in this case, our architects chose a kitchen island). The bedroom is separated from the living room with a glass wall – the space looks light and open, a wall would close in this space. And now, we have lots of light and interesting architectural designs. In the bedroom, there's also space for a large bed, a closet, and a desk.
4. Furnishing Of A Flat For Rent
The couch in the living room can be converted into a double-size bed – in case you have guests for a sleepover. Inside there's storage – for extra pillows or other things.
These closets in the corridor go all the way up to the ceiling (and the ceilings here are really high, over three meters!). They have clothes rods with hangers and shelves. There's also an ironing board and iron, and a drying rack. And something interesting: a washing machine! If there's no space for it in the bathroom, feel free to put it in the closet and even in the kitchen.
In the kitchen, there are all the most important appliances: a cooktop with 4 knobs and a ventilation hood, an oven, a dishwasher, a fridge with a freezer, and a kettle. We don't clutter up our apartments, we only put what's necessary for a tenant, but if they need anything else, we can add it. There are pots, pans, dishes, and silverware. Cook, eat, and host friends. Just like home!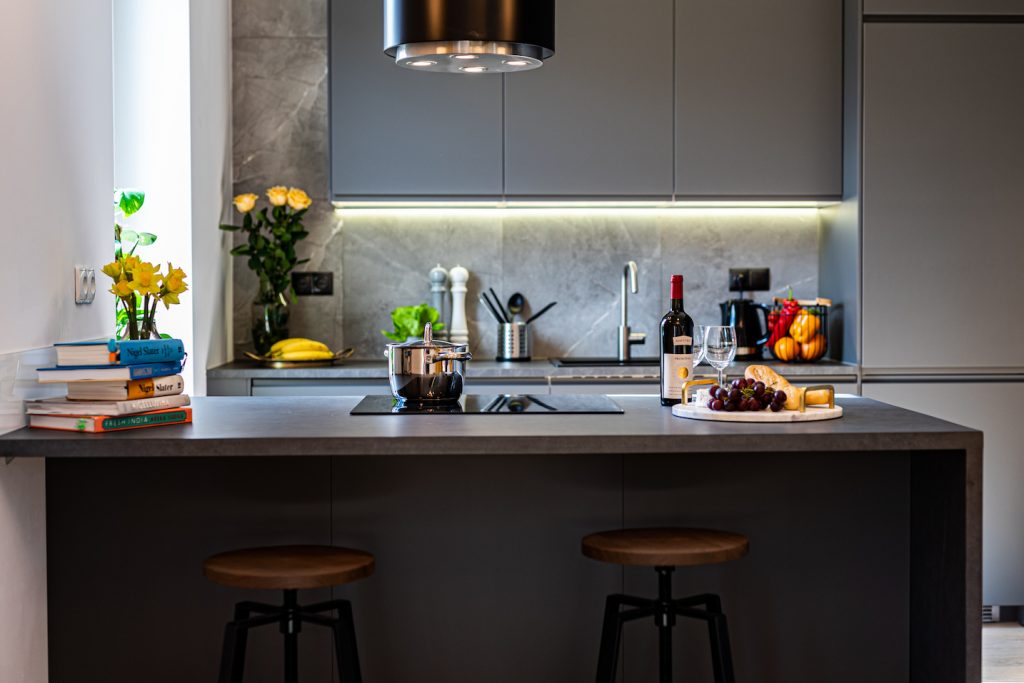 What's critical? All the appliances must be easy to use and the kitchenware easily replaceable – all that's broken or simply worn out, must be replaced.
The bathroom is functional and easy to keep clean: with built-in cabinets, flat surfaces, a walk-in shower cabin without any nooks and crannies.
In the apartment, there's central heating (it's standard in Polish households) and air conditioning – summers in Poland are getting much warmer. A long-term tenant will spend all four seasons in the apartment, one day it can be minus ten degrees and another plus thirty. Blinds and curtains are equally important. In the bedroom we put in blackout curtains, it's useful when you sleep and work remotely. In the kitchen, they give more privacy but don't block the daylight.
We put in a lot of effort to prepare a good workspace: a comfortable desk and chair, a good number of sockets, including one for wire internet. Of course, we also have high-speed WiFi, as in every Wellcome Home apartment.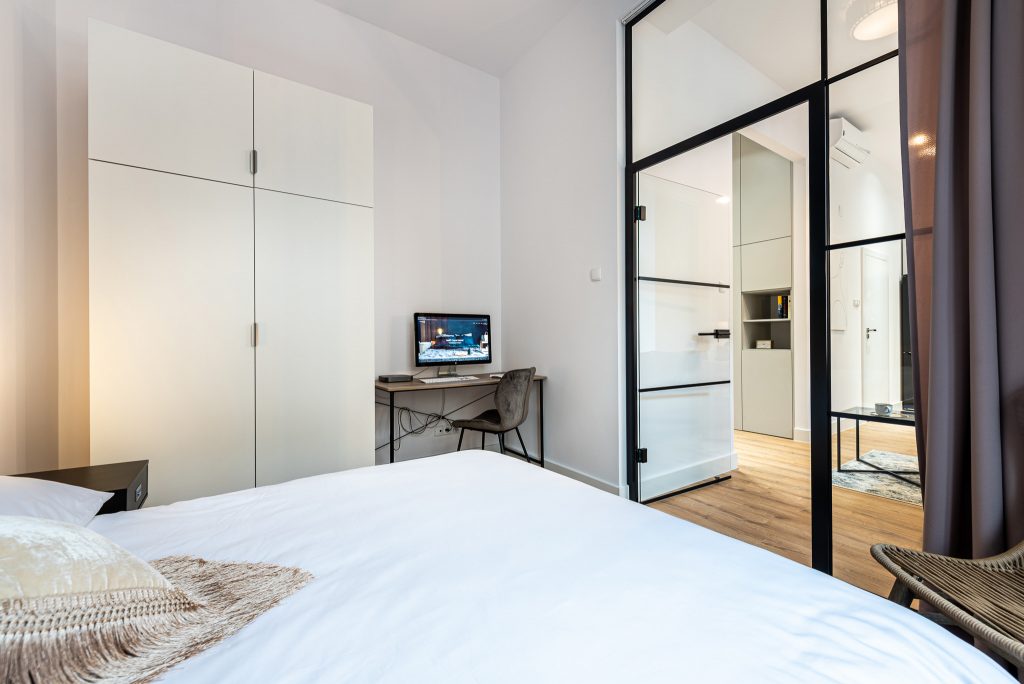 5. Designing For A Flat To Rent
Are our apartments attractive? There's no accounting for taste so the biggest challenge for our architects is simplicity. We don't know who's going to move into the flat, so we make it with a cohesive and universal design. Light colors, simple forms. Lighting can do miracles. Floor lamps, bedside lamps, desk lamps – each of them create a separate space.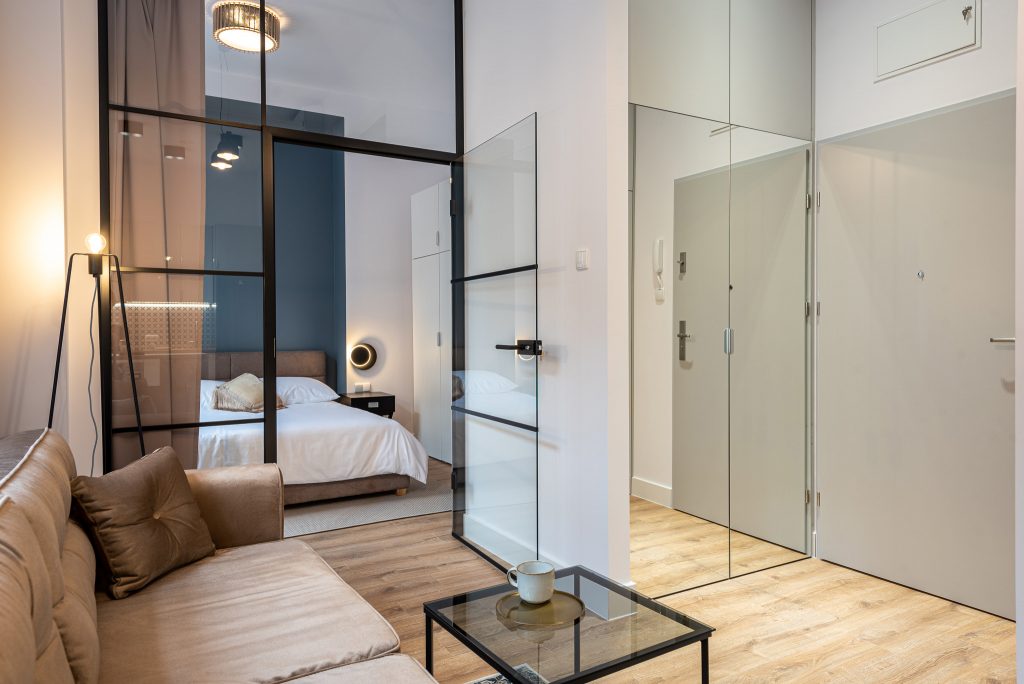 We choose good quality materials that can last years. That quality pays off. We don't use marble, golden knobs, and other materials that increase the cost of renovation. This would make the rental price uncompetitive and the flat would be hard to maintain. It has to be comfortable for both sides – the tenant and the landlord.
We don't overdo the accessories – a simple accent in the bedroom, one extra color, or a simple painting. The atmosphere of the apartment will be created by a tenant, it's their home for the next months or even years after all. If we cram the flat full of decorations, there will be no space for their things. And for us, it will be much more difficult to keep the flat clean. And cleanness is our priority!
Of course, when we have a photoshoot, we home stage, but we keep it simple and minimalistic.
6. Rental Apartment Maintenance
And here we get to something that goes beyond just the flat. The apartment is one thing. You can invest lots of money and put in new fancy appliances, and expensive devices. What's the point if a tenant doesn't know how to use it, they don't need it, and it will be difficult to maintain?
What should we remember when designing a flat for an investment?
we make sure that the tenant has access to the fuse box and knows how to use it in case of emergency. Of course, we support our tenants in that;
we remember about regular check-ups and service, we turn on the heating and make repairs;
we regularly check the utility meters and share them with tenants through a special online file. Thanks to that, we can monitor the tenant's payments and a tenant doesn't have to sign utility providers' contracts.
As you can see, a flat rental doesn't end with just finding a tenant and giving them the keys. A flat as an investment is work in itself for years, that's why you have to react fast and take care of it. Thanks to that, not only will a tenant be happy and will stay for years, but also the flat will be in much better shape for the long term. And service is much more than just emergencies, I know best. But this is another story.
7. Rental Investment Calculation
Let's talk about money. What return on investment can you expect?
A second-hand market is quite difficult to give you exact numbers, but let's make a simulation based on the current offer from Katowice: you can get a 95 square meter apartment in the modernist building in the very city center for 550 000 PLN and divide it into three separate studio apartments. The renovation, finishing, and total furnishing would cost around 490 000 PLN. Remember, it's a secondhand property, so it'll require more resources. Formal issues and taxes will take around 13 000 PLN.
Concerning the current medium rental prices in Katowice, you can easily expect over 6% return on investment annually. This is the value true for June 2023, remember it may change over time.
But is the rental income the main parameter you should look at when investing? Well… When buying a property, you truly invest in something else: in its increase in value over time. According to the data, property prices in Poland have doubled since 2006! And this is only the average. In Katowice, property prices needed less much time to double. This trend will continue in the future. And this should be the main reason why you invest in real estate market.
SUMMARY
We know that choosing a flat as an investment is a very difficult decision. You must have specific knowledge about the market and a high commitment. If you feel that we can help you with anything, let us know! We're here to guide you through the entire investment process in Poland.