Silesian and Polish Food in Katowice. The Best Local Restaurants
Where to search for authentic Silesian and Polish food? A traditional Polish housewife would tell you that at home, of course. Fortunately, you don't have to cook well to eat well, at least in Katowice. What do you definitely have to try in our city?
A soup called żur (or żurek)
Everyday home cooking in Silesia is very simple and rather cheap. In the past we rarely had meat and the diet was based on bread, potatoes, and of course żur.
Żur (in the rest of our country known as "żurek") is a traditional sour soup made from a soured rye flour (a kind of sourdough) topped with meat or sausage, mashed potatoes, and hard-boiled egg. Sometimes it's served in a round loaf of bread, fancier restaurants will serve it topped with crumpled bacon and a poached egg. There are many variations, but the homemade rye starter is a must!
You'll get żurek in every Polish restaurant all across the country, but here in Silesia we cherish this dish more than anyone and we serve it best. If you live here (or at least visit our region) you definitely have to try our żur. But where?
The place that never fails and you can't miss is Żurownia. In this restaurant, you'll get the best of Silesian food at a very affordable price. Żur is a dish you just have to try here, but don't stop there and order kulebele for a main dish. They are a kind of big potato dumpling stuffed with local delicacies (pulled beef, a fermented pickle, and smoked bacon). And of course, add a large local craft beer to your order.
Once you become a fan of Silesian food, go back another time, for another dish from their menu. Żurownia plays with tradition and mixes it the modern way. Next time you can try a Silesian-style ramen soup of soured rye flour tortillas. Simple, but delicious.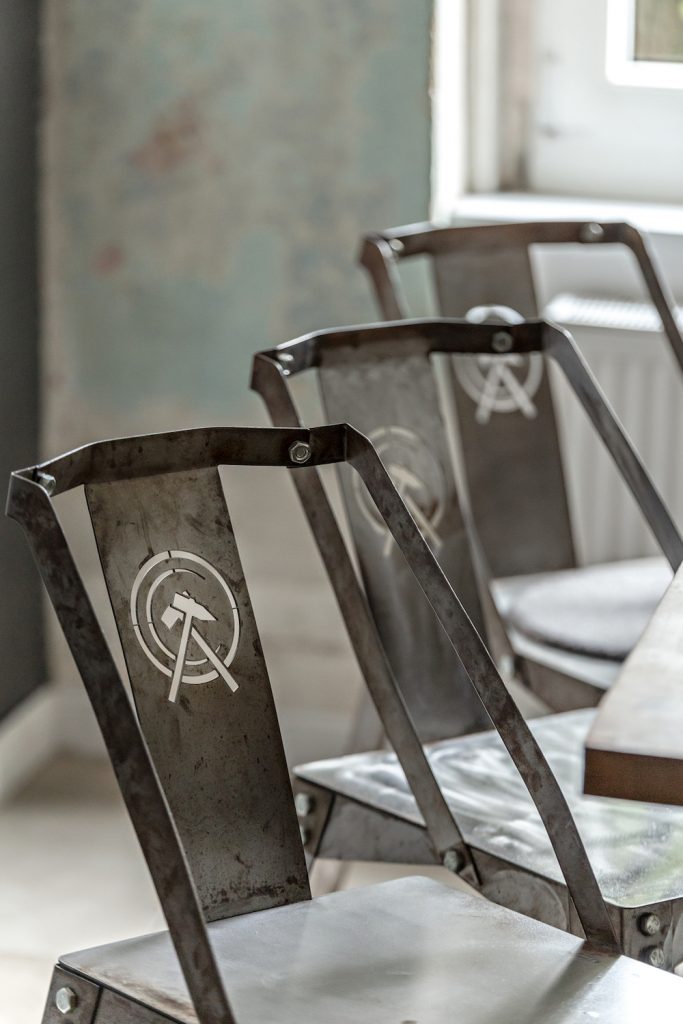 Żurownia
Ligonia 16 Street, Katowice
A Silesian dinner: rolada, kluski, and modro kapusta
Translation please? Sure, but let us explain the context first.
As you already know everyday food in Silesia was rather simple, but Sunday was a different story. That was a day of celebration when a big dinner used to gather the whole family around the table. The soup was traditionally a slow-cooked broth (rosół) with homemade egg noodles, while the main dish was a beef roulade (rolada) served with potato dumplings (kluski śląskie), a red cabbage side dish (modro kapusta in Silesian), and a thick sauce.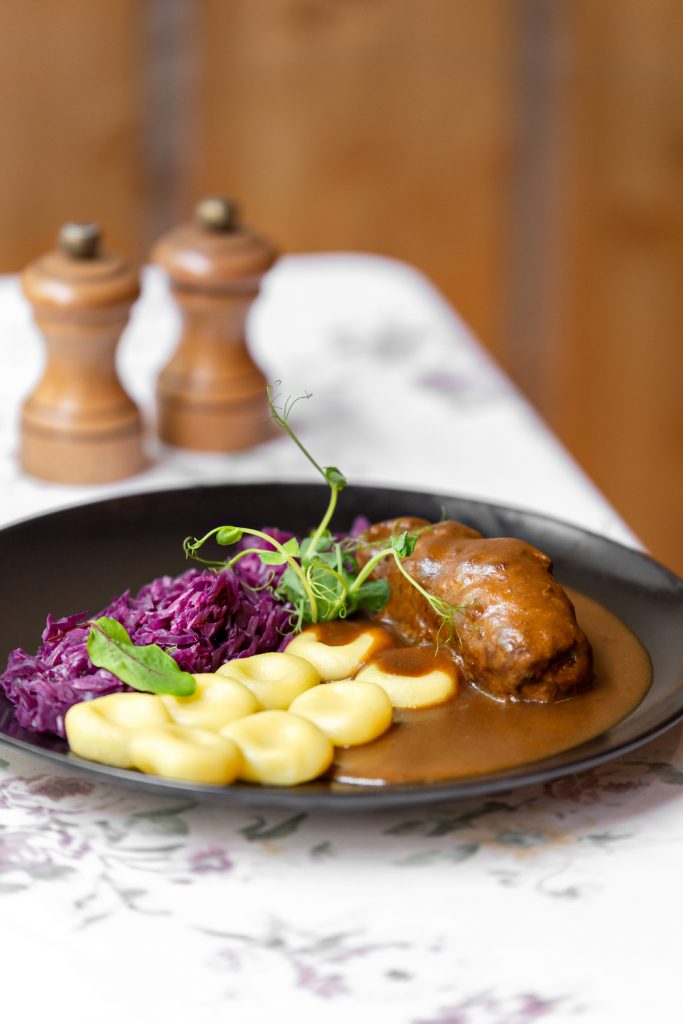 While in the past it was a Sunday staple, recently we stopped cooking that way every week. We all love it, but we find it too difficult or too time-consuming. Fortunately, there are some places where we can get a traditional Sunday dinner that tastes like home cooking. And we're gonna share that info with you now!
For a Sunday dinner, we invite you to the most picturesque and famous neighborhood of Katowice called Nikiszowiec. If you still don't know that place, head to this article. But now, let's go back to the main topic – food. We're gonna dine in a restaurant called Śląska Prohibicja.
Here, we truly recommend not only the Silesian dinner but any other dish from their menu. The place pays tribute to tradition but isn't afraid to interpret it in an original way and mix it with modernity. Everything you try here will be tasty. Śląska Prohibicja isn't only a restaurant but also a deli shop. They serve take-out, make deliveries, and they also organize bigger gatherings. The restaurant doesn't disappoint when it comes to cuisine, but it's also an exceptional place when it comes to location, atmosphere, and interior design. And such features matter no less than the food itself.
Psst: and if you like the kluski, you can eat as many as you like. 🙂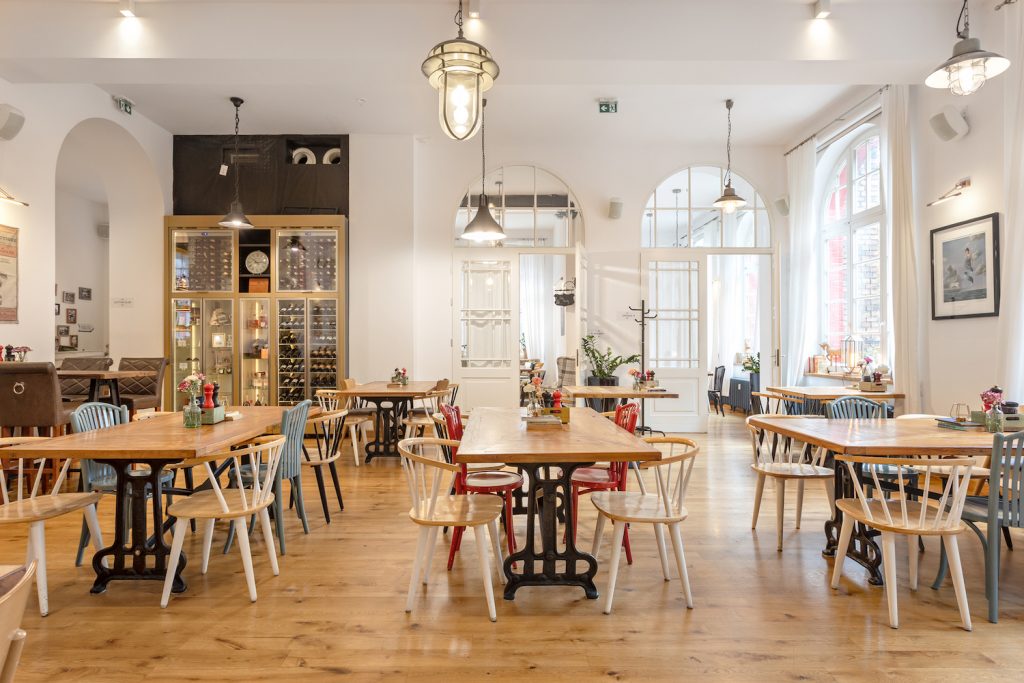 Śląska Prohibicja
Krawczyka 1 Street, Katowice
Top quality Polish cuisine
Another place that serves really delicious and authentic Polish food is the Tatiana restaurant a few steps from the market square. Why such a name in a Polish place, you think? Before we answer, let us tell a little about their history.
Tatiana is probably the oldest restaurant in Katowice. It's been working (without any break) since 1900, which is over 120 years now! Throughout all these years it changed its name and owners, passing from national to private hands. One of the changes was the transition from Russian to Polish cuisine (and the mystery of the name was solved!).
The current owners bet on local cuisine. Their dishes are prepared just before serving and they've always maintained high quality. The menu changes seasonally, so it's worth visiting them regularly and checking what the kitchen is preparing for us this season. The classics such as rosół, żurek, duck confit, and beef tartare are always on the menu. A classic Silesian dinner is also available all the time, so if you prefer to stay in the city center rather than go to Nikiszowiec, go to Tatiana! You'll never regret your choice there.
Pro tip! If you plan to visit them in the evening (or on the weekends) better book your table in advance. The place can be really crowded as Tatiana is frequently visited by both Polish and foreign guests.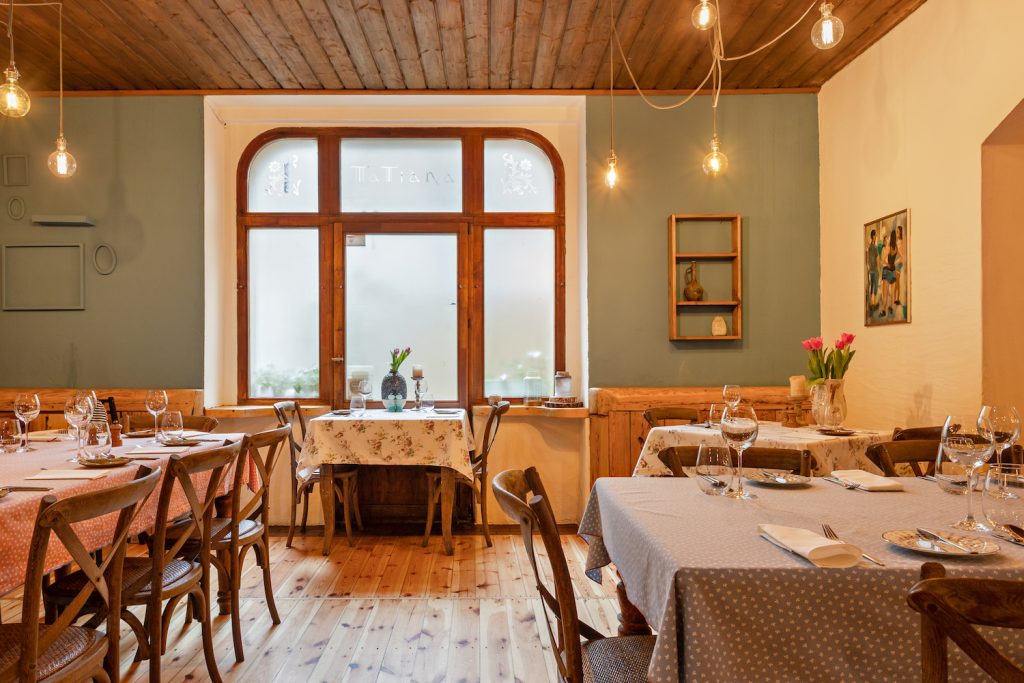 Restauracja Tatiana
Staromiejska 5 Street, Katowice
Schabowy, please!
In Poland there are really a lot of fans of the classic pork chop. And we? Well, even if most of our days we try to have a plant-based diet, we really enjoy having a juicy pork chop with a golden, crispy coating.
A pork chop, traditionally served with a bone, is a Polish classic. And if you ask Poles about the meat dish that they have most often, schabowy will be on the top of the list. Most of the year it's served with mashed potatoes and coleslaw, and in the summer you'll usually get it with boiled new potatoes and fresh cucumber salad.
If we crave a crisp pork chop we always head to Cafe Kattowitz. Quite often we have a Silesian roulade and dumplings combo here. It's delicious and not too expensive. And after lunch or dinner, we happily say "yes" to one of their desserts. Most often it's a Vienna Cheesecake, but you can try another Silesian delicacy called szpajza. Szpajza is a cloud-light mousse, traditionally with a lemon flavor. And on a sunny day we just love to sit on their patio and have a cup of coffee (do you guys remember this guide?).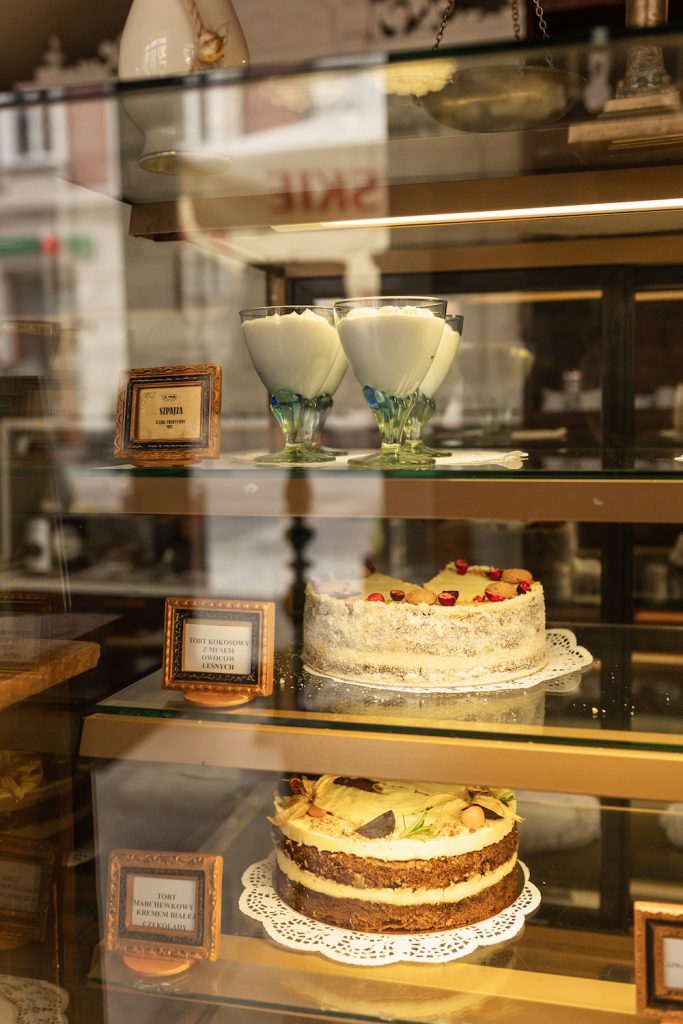 Cafe Kattowitz also serves breakfast with coffee for 1 grosz and the breakfast menu is quite wide – from toast and English breakfast to a typical Polish one: sausages and scrambled eggs. There are many different options at Cafe Kattowitz, but if we were to choose one, it would always be a pork chop.
We also love this place because of its particular and very chic interior. Any reason is good to visit Cafe Kattowitz!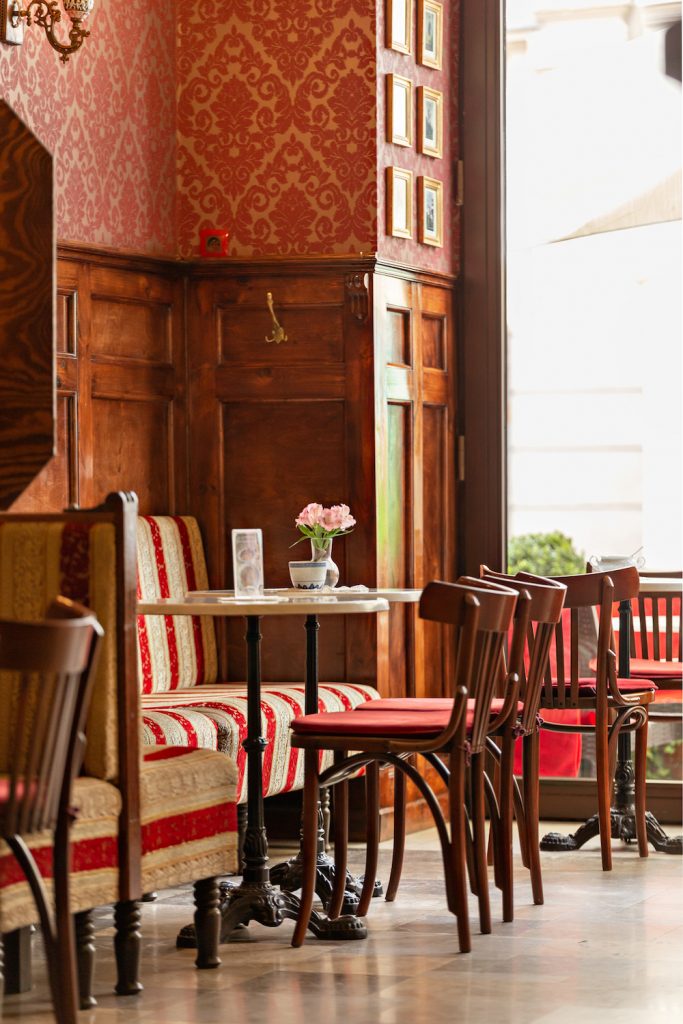 Cafe Kattowitz
Św. Jana 7 Street, Katowice
Last but not least: pierogi!
Who thought we forgot about pierogi? No way! We leave the best for last. Pierogis (how foreigners use to say) are the most famous Polish dish ever!
They are served countrywide with hundreds of different fillings but the most popular ones are: ruskie (with potatoes and cheese), with sauerkraut and mushroom, ground meat, and – when in season – with fresh berries and sour cream. And they are simply delicious!
The secret to the best pierogi is a lot of filling, a nice topping (caramelized onion is heaven), and a really thin dough. Really good, soft pierogi have to be prepared and cooked right before serving. Forget about frozen stuff! That simple dish is, unfortunately, time-consuming so rather than preparing them at home we like to grab a bunch of pierogi from our favorite place.
And in Katowice there are two that specialize only in pierogi:
Pierogi Świata
It's our second recommendation you can't miss! The name, Dumplings of the World, already suggests they serve not only Polish staples. So after you try all classic ones, bet on some different ones. After, you can tell us which one you like more. For us, Polish ones are always the best option!
Jagiellońska 4 Street, Katowice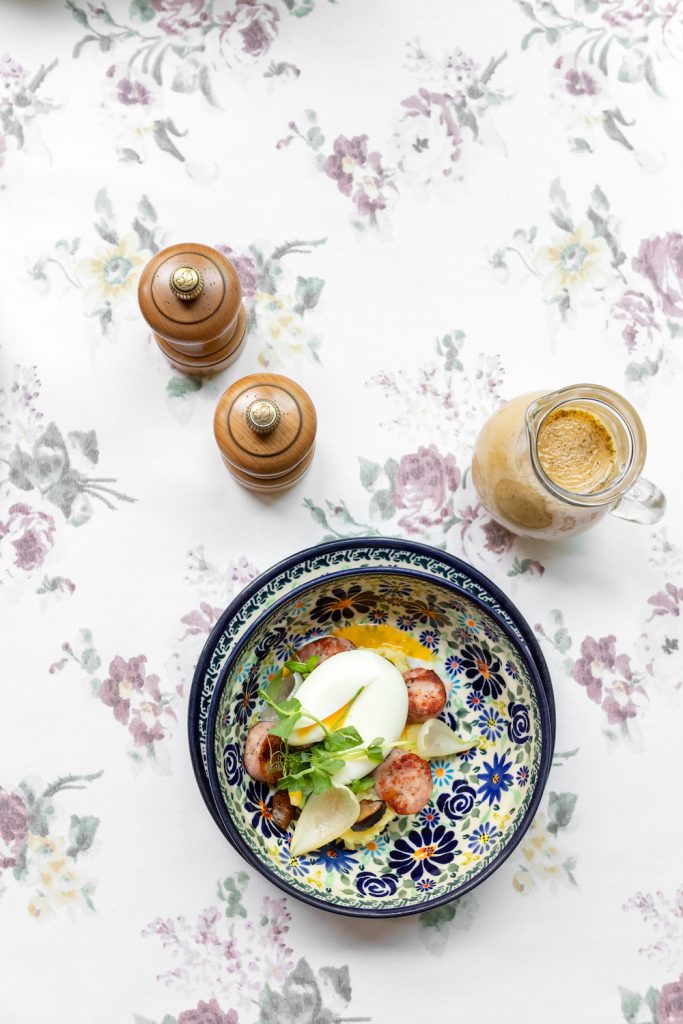 Which of these places will be best to try pierogi, żurek or Silesian rolada? We can't choose just one. The best we can recommend is to visit all of them, tasting different things, and searching for your favorite. And if you have time just for one, don't worry. Any of them will be worth your visit!
Smacznego!