How To Be Eco-friendly in the City Center? Part 2
The rising environmental awareness and resulting anxiety about the condition of our planet make us willing to change. We are ready for action and want to participate in the fight to improve the quality of our life. Where to start? The best and the simplest way – at home, revising our daily habits.
In our previous article (link here) we were convincing you about the importance of careful planning in changing our habits. You could learn where to find local suppliers and seasonal produce, and how to avoid things going to waste. We might have even persuaded you into drinking tap water? Today we are taking another step, encouraging you to give a second chance and go to the green side of the force. How? Read on!
Cut down on plastic
Have you ever wondered how many kilograms of plastic are "produced" by a statistical European? According to WWF, 31 kg. And only 30% is recycled. How to declare a private war on plastic? The simplest way possible – reducing the amount you use.
Take reusable lunch-boxes to work. If you cannot be bothered with the glass ones, heavy and easily damaged, get a bamboo box. It can also be taken to a restaurant – ask the staff to pack your leftovers, and they surely will. Do not put a straw in your glass – you will probably only use it to stir your drink once.
If you must use disposable cutlery, choose the wooden kind. They are not only eco-friendly, but also much more appealing.
Try and eliminate disposable packagings, especially plastic carrier bags. Going shopping, take your own reusable bag and keep it at hand – in your purse, in your car. Cut down on plastic bags as well – a bunch of bananas or some oranges can well be put in your shopping trolley on their own.
The environmental awareness is also on the rise among retailers – slowly, products sold by weight are starting to be packed in paper bags. And some shops will even fill in your own boxes. This solution is already used by the retail store of Gospodarstwo Agroturystyczne Pliczko [Pliczko Agrotourism Farm] at Hetmańska Street in Katowice. You can buy groats, flours, seeds, and a multitude of other quality products. Looking for similar places, join the Zero Waste Katowice group on Facebook – they happily share information and promote local initiatives.
Pliczko shop sells products by weight and packs them into eco-friendly paper bags or your reusable boxes.
Give a second chance
We do not mean interpersonal relationships (although it is always worth a try), but your relationship with the things you own. We do buy much more than we need: food as well as clothes, devices, gadgets.
Obviously, the most sensible way would be limiting the purchase. But – easier said than done. Once you have decided to part ways with something, give it a second life by selling or simply giving it away – put it up on popular online services.
Planning redecoration, take another look at your furniture. Could repainting the fronts or changing the upholstery on the chairs give them a totally new character? Browse the flea markets, where you can hunt some truly unique items.
Renovation of old furniture is on the rise. If you have never tried and do not know where to start, learn! For example at the DeKato cooperative at Warszawska Street in Katowice; they regularly organize workshops on all things manual. Be inspired by the omnipresent online DIY tutorials and ideas.
We all know about recycling, and upcycling? As the only city in Poland, Katowice has an upcycling showroom – UPstore, where the strangest things are remade into new designer's gadgets – from furniture, lamps, all the way to jewelry. Pop in there to find your inspiration. Maybe you will spot something you like?
At DeKato cooperative old furniture is converted into masterpiece.
Sort your waste
But how? In my apartment house? On the tenth floor? Well, yes. Most of the home-improvement stores sell graceful recycling bins, which easily fit under the kitchen worktop. They can be heaped up, using an empty corner behind the fridge or the kitchen door.
The Katowice cooperatives increasingly care to provide recycling containers at their developments. Recently, also the bins for organic waste have been put up. Surely, it might be more problematic than sorting plastic, but taking out a small package on your way to work should not be that troublesome?
If you don't know where to start sorting your home waste, let it be a separate, larger garbage bag – glass or cartons stuff most of your bin, and they do not need taking out as often as the organic waste. And then, once in a while, carry downstairs this bag of paper or glass bottles (well, there is no Prosecco on our taps yet…).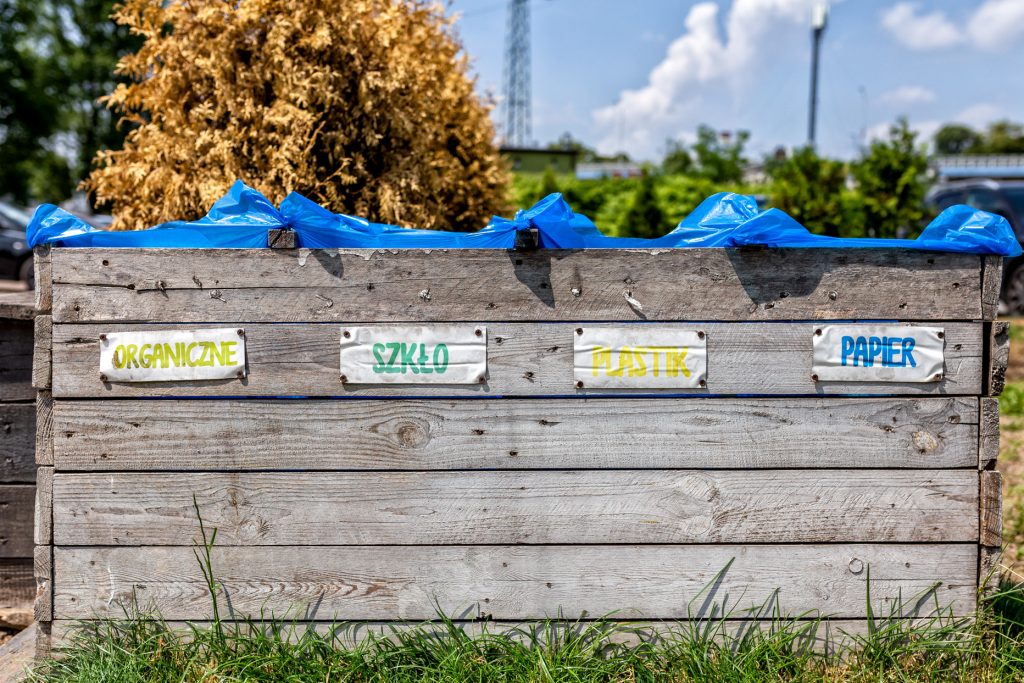 Get moving
Sport is good for you, right? How about sometimes, when the weather is nice, you leave your car behind and cycle to work? It is good for the environment, it is good for your health and fitness. And no worries about finding a parking spot…
Going from point A to point B, rent a bike – there are several tens of City by Bike stations in Katowice and the network is expanding. Reaching any place in the city by bike should not be a problem. Rental fee is truly symbolic and it is all within one convenient phone application.
If the weather is no good (too hot, too cold, pouring rain), take a tram or a train. Most of the Silesia agglomeration is well-communicated, so there is no point in holding on to your car habits. Recently, the entire Metropolitan Association of Upper Silesia and Dąbrowa Basin (GZM) has introduced one common ticket – metrobilet. Train, tram, bus – all in one package!
A lack of paper ticket shouldn't be an excuse. All you need to do is to download one of the handy apps, that allows you to check public transport schedule and buy a ticket directly on your phone. Our favorite apps are: jakdojade.pl, moBILET and mPay (all available in English). Download them and see how easy it is!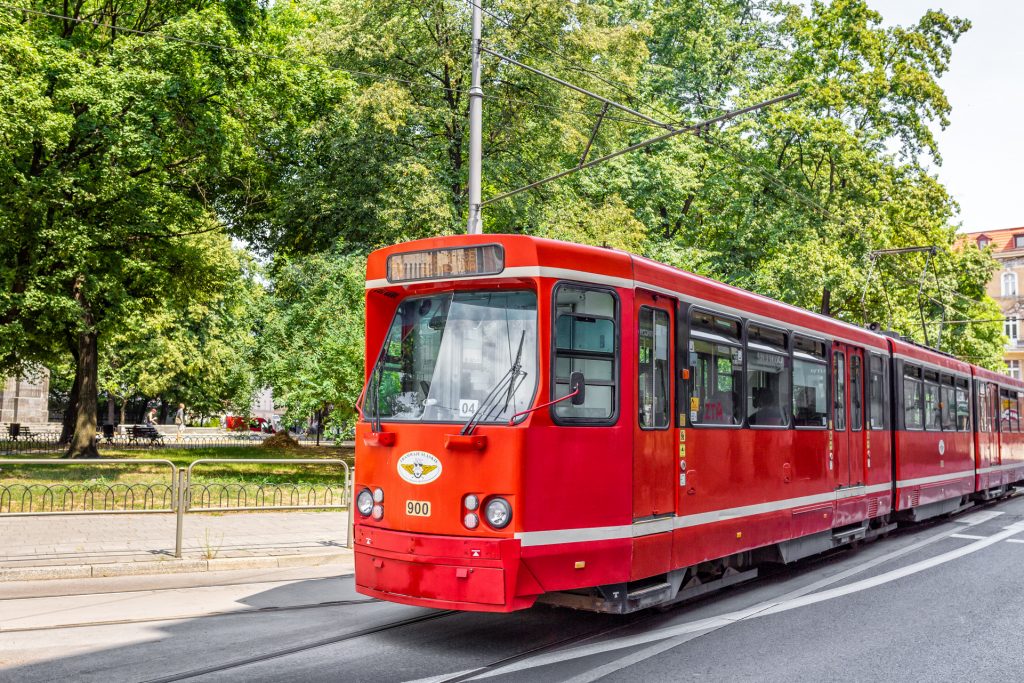 Take to the green
Forests are the lungs of our planet. They filter the air and tirelessly turn carbon dioxide into life-giving oxygen. But good news to all who like potted flowers: plants in your apartment work as a natural air purifier and bravely clean it of carbon monoxide, ammonia or nicotine. There is something for a fan of the common ivy, the good old fern or the more exotic date palm. Amateurs of unusual plants will appreciate the intricate asparagus, while greenery lovers should put their bet on spath plant.
You may not have green fingers, but do not give up on green window sill. Simply choose plants resistant to your forgetfulness and longer cuts in water supply. Aloes and dracaena are perfect for beginners – they do not need frequent watering, but still have the magic filtrating properties. The good-natured spider plant likes to be watered lavishly, but will adapt to every spot of your flat – from sunny sills to shadowed corners.
How many plants? At least one per 10m2. No upper limit. For potted plants we recommend a trip to Geszeft in Katowice Koszutka – they have truly beautiful green specimens.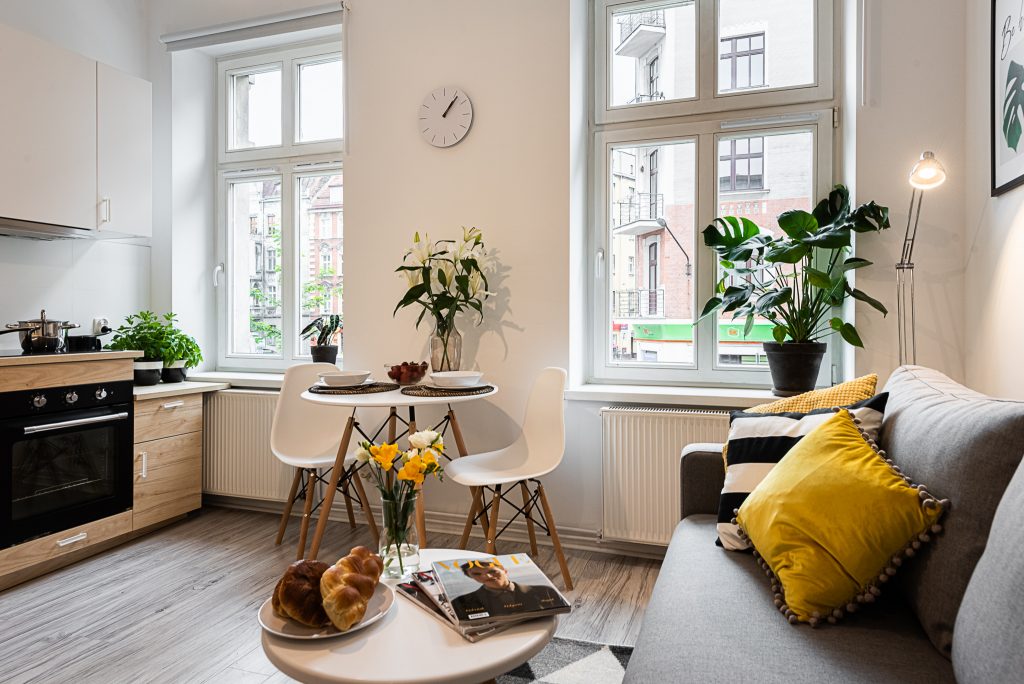 Mini eco-enthusiast guidebook:
Save -> water, electricity, paper. For the planet and your wallet.
Drink tap water -> straight from the glass, the filter pitcher, the bottle, the city aerator. Cheers to your health!
Plan ahead -> write a shopping list, check on your storage beforehand. Fewer impulsive shopping decisions mean fewer things landing in the bin.
Buy responsibly -> support small suppliers. Visit local markets and choose what is in season.
Share -> use everything up to the last piece. And what you cannot eat (especially after holidays), donate to those in need.
Cut down on plastic -> get reusable food containers, have cotton shopping bags at hand. Find stores selling products by weight and packing them in paper bags.
Give a second chance -> put the unused items up for auctions, renovate furniture. Look for DIY inspirations.
Sort your waste -> invest in convenient recycling bins. Start with putting aside larger things: glass bottles, cartons.
Get moving -> sometimes, switch from your car to tram or train. On sunny days, hop on the bike.
Take to the green -> Put the natural potted filters on your window sill. Ivies, ferns, aloes, spath plant – all are perfect choices.