Bike Routes Around Katowice. 6 Ideas For A Bike Trip For Everyone
Silesia and bike are a perfect match! And the end of summer and the beginning of autumn is a perfect time to explore our region on your two wheels. In and around Katowice there are multiple bike routes so every biker will find something suitable for his skills and possibilities.
Here we present 6 ideas of bike trips with a starting point in Katowice – from shorter and easier ones that will be perfect for a sunny afternoon, to much longer and more demanding but definitely worth the effort. Refill your water bottles and get ready for a trip!
Green Lungs of Silesia
Silesian Park Loop
A green oasis minutes from Katowice is a great place to hop on your bike. A trip to Silesian Park doesn't require any special preparations. All you need is nice weather and a free afternoon.
The route we propose is an initial loop of a Red bike trail no. 103. The loop itself is about 7 km long, so adding a distance from and to the center of Katowice, there'll be around 14 km in total. This distance makes the route easy and accessible even for beginners. And there's really a lot to explore along the way, as the area of the park is a popular recreation place.
The trip can be extended by following trail no. 103 through the Tysiąclecia neighborhood, then Załęże, and Witosa, until you reach Załęska Hałda. There, the Red trial crosses with the Back one (no. 122) that continues towards the Panewnickie Forests. Maybe this will be a good idea for another, a little longer bike trip?
Start: Silesian Park, "Legendia" Amusement Park
Finish: the same, it's a loop
Distance: 7 km. With a return trip from Katowice center it's about 14 km
Attractions and spots along the route: Amusement Park, ZOO, GKS Katowice Football Team Stadium, "Kapelusz" Exhibition Hall, Giraffe monument
Forest, Forest, Forest!
Three Ponds Valley – Las Murckowski
You don't have to leave the city of Katowice to ride in the woods. Here, in the city, you can get the same (or even better) bike routes!
Our trip starts in the Three Ponds Valley – we follow the Red bike trail no. 1 along the roller-bike path, then we go next to Muchowiec Airport and Park Leśny, until we enter the Murckowskie Forests. Here, the Red Trail converts into the black one (no. 101). Along the way, we can have a rest in Rybaczówka food place by the Janina Pond or, if we have our own picnic stuff, by the pond in Murckowska Valley.
Once we arrive to Las Murckowski, we can continue our trip along the black trail to Lędziny or explore the beauty of the nature reserve of Las Murckowski (more about the place can be found here).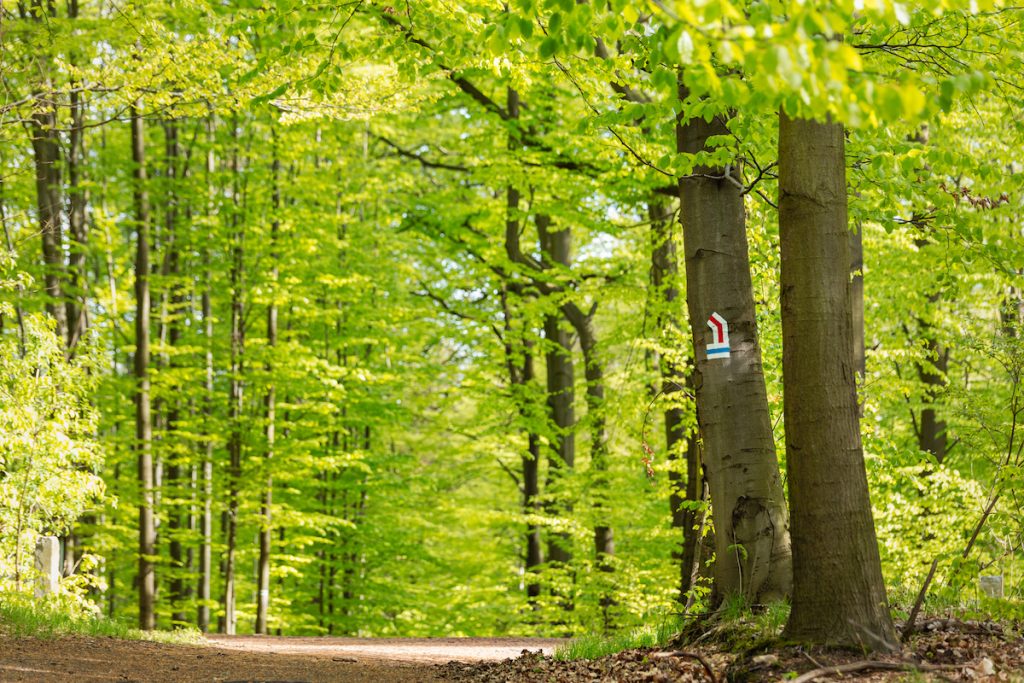 Start: Three Ponds Valley
Meta: Las Murckowski
Distance: 15 km
Attractions and spots along the route: Muchowiec Airport, Park Leśny, Janina Pond, Murckowska Valley, Las Murckowski nature reserve
Out of The City To Watch Birds
Katowice – Żabie Doły
Pretty close to Katowice, on the recultivated land between the cities of Chorzów, Bytom, and Piekary Śląskie, there's a "Żabie Doły" nature and landscape complex.
The 12 km route from Katowice is rather easy and not demanding. It goes along the DTŚ expressway next to Silesia City Center and "Legendia" Amusement Park, then we enter the green Silesian Park and go behind the Silesian Stadium.
When leaving the park, we go through Chorzów towards the "Dolina Górnika" park complex and soon we reach Żabie Doły.
The place is really worth spending a while or two. It's especially worth seeing the birds here – there are more than 100 different species you can observe from the dedicated viewpoints. There are also multiple alleys to walk (or ride) so you'll have a lovely time surrounded by nature.
Start: Katowice City Center
Finish: Żabie Doły
Distance: 12 km one way
Attractions and spots to see: "Legendia", ZOO, Giraffe Monument, Silesian Park, Silesian Stadium, "Dolina Górnika" complex , "Żabie Doły" complex
Through woods and by the water
Katowice – Wesoła Fala
Wesoła Fala is a water reservoir and recreation center located between the cities of Katowice and Mysłowice. It's beautifully hidden in the woods, so you can explore little paths and get lost in the pond area when it's too crowded (it can happen especially in the summertime). It's forbidden to swim here, but the views are definitely worth visiting any time of year.
Leaving the center of Katowice you have to head south, next to the Three Ponds Valley, Staszic Coal Mine in Murcki neighborhood. When entering the Black bike trail you can have a little rest at the Janina pond and then continue the route through Las Murckowski. Once in the reserve, you have only a 10 minutes ride to Wesoła Fala.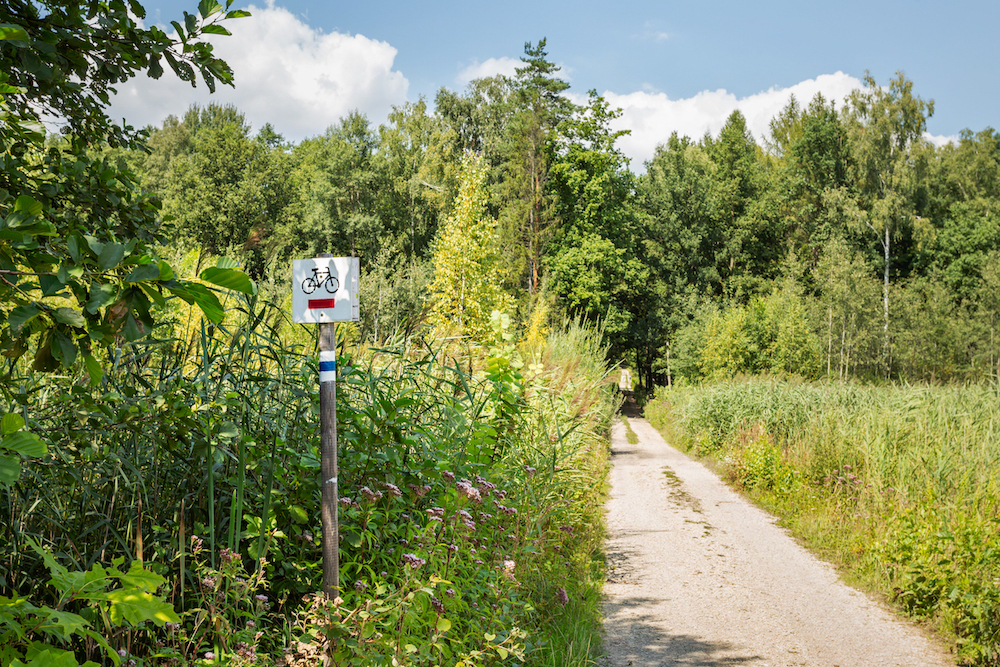 Going to Wesoła Fala you can also follow our trip no. 2, so it will be around 6 km longer. On the way back, you can change the scenery for a more urban one and go through Giszowiec and Nikiszowiec neighborhoods – the pearls of industrial architecture.
Start: Katowice City Center
Finish: Wesoła Fala, Mysłowice
Distance: 15 km (21 km if going through Muchowiec and Park Leśny)
Attractions and spots along the way: Three Ponds Valley, Janina Pond, Las Murckowski reserve, Wesoła Fala
Polish Croatia… by bike
Katowice – Park Gródek
Another idea we propose is a trip by the turquoise waters of "gródek" quarry in Jaworzno, called a little Polish Croatia (more about the place itself can be found here).
The route leads through the south of Katowice, Mysłowice, and Jaworzno and it's 40 km one way, which is already a nice distance to reach! Along the route, there are many interesting spots and the first bikeway in Poland – Velostrada. Riding the Velostrada is a pleasure you have to try.
On the way back, advanced bikers can make a loop through Sosnowiec and Stawiki Park. After visiting Gródek quarry, less experienced bikers can hop on the train at Jaworzno-Szczakowa station and easily return to Katowice.
Start: Katowice, Three Ponds Valley
Meta: Gródek quarry, Jaworzno
Distance: 38 km
Attractions: Three Ponds Valley, Kłodnica brooks, Janina pond, Giszowiec neighborhood, Velostrada bikeway, Jaworzno market square, Gródek
Off To Jura Krakowsko-Częstochowska
Katowice – Zawiercie
This is definitely the longest of all our proposals. And why do we choose it? Because it's one of the greenest and most convenient routes and it proves you can reach Jura Krakowsko-Częstochowska by bike. On the way to Zawiercie you pass through Sosnowiec, Będzin, Dąbrowa Górnicza – and these are not city centers but green paths filled with natural gems.
A 66 kilometers distance looks quite demanding, but more than 70% of the route is car-free and the rest is with very low traffic. Along the way we pass Stawiki, go along the Czarna Przemsza river and bike paths along Pogoria lakes – so many attractions make it worth going even for the route itself!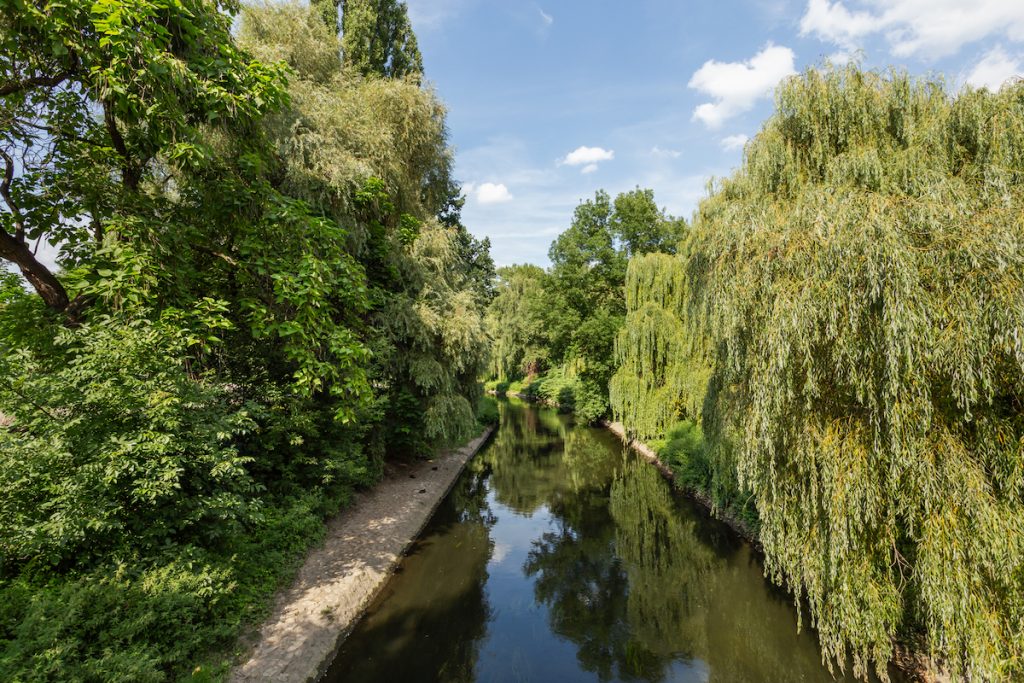 The trip ends at the Zawiercie Railway Station, where you can take your bike on the train back to Katowice or… stay in Jura Krakowsko-Częstochowska for a little longer and discover the beauty of this unique region of limestones, caves, and old castles!
Start: Katowice City Center
Finish: Zawiercie Railway Station
Distance: 66 km
Attraction on the way: Industrial Monuments Route, Stawiki, Będzin Castle, Czarna Przemsza river, bike path at Pogoria lakes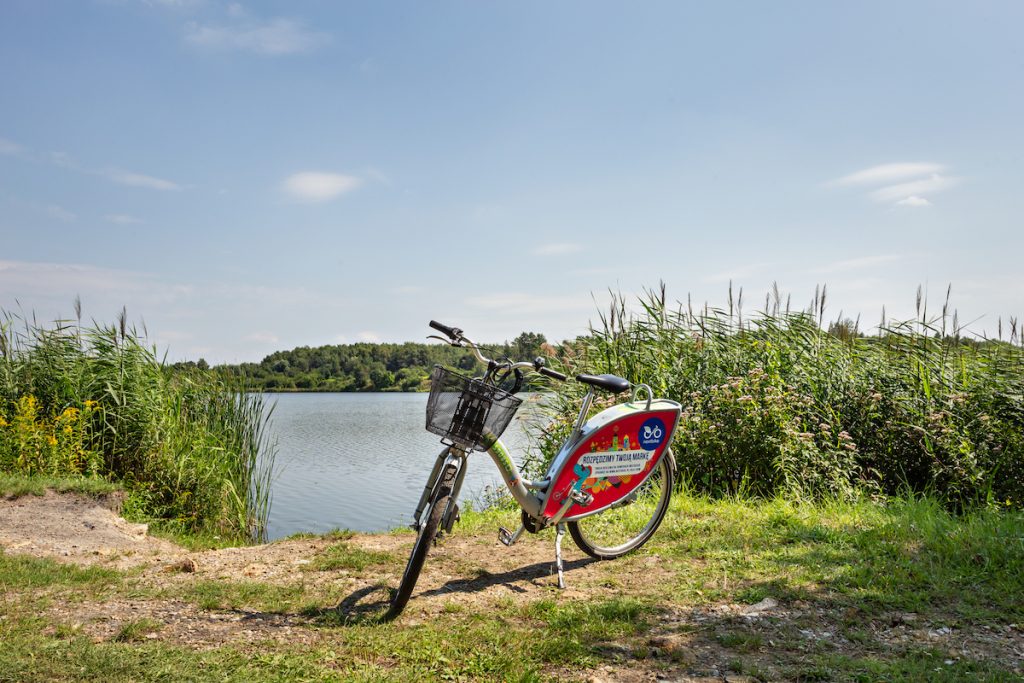 We hope our ideas will encourage you to hop on your two wheels and discover the beauty of our region. More trip recommendations will arrive soon because there's no better way to explore the places around than a bike. Do you agree?