5 Spots Around Katowice Perfect for Summer
Katowice is considered the most forested city in the Silesian province. It abounds in attractive squares, well-maintained parks, and even real forests and nature reserves. The capital city of the region is surrounded by greenery, but also the nearby towns have a lot to offer for those who enjoy chilling out in the bosom of nature. If you are an active person who takes delight in walking, cycling, swimming or sightseeing, you will not get bored there, that's for sure!
Its central location and excellent connections with other cities in the region means that Katowice is close to all other destinations. If you feel like and have some time to spare, you can avail of the attractions of the surrounding towns. You don't have to look far for ideas how to spend an afternoon in an interesting way. In the first part of our little 'cheat sheet', we present green areas located 30-60 minutes from Katowice, particularly known for their water attractions and ideal for a short, recreational trip.
#1 Tychy Paprocany: architecture in harmony with nature
If you are a cyclist and you get there on two wheels, following the red trail markings from Katowice, you'll be able to hop from your bike onto a pedal boat or dip into refreshing water for a little while. Anyway, it's also worth going to Tychy by other means of transport. Surrounded by forests, Tychy Paprocany is a popular summer spot with a safe beach with a lifeguards, which is particularly popular in hot weather.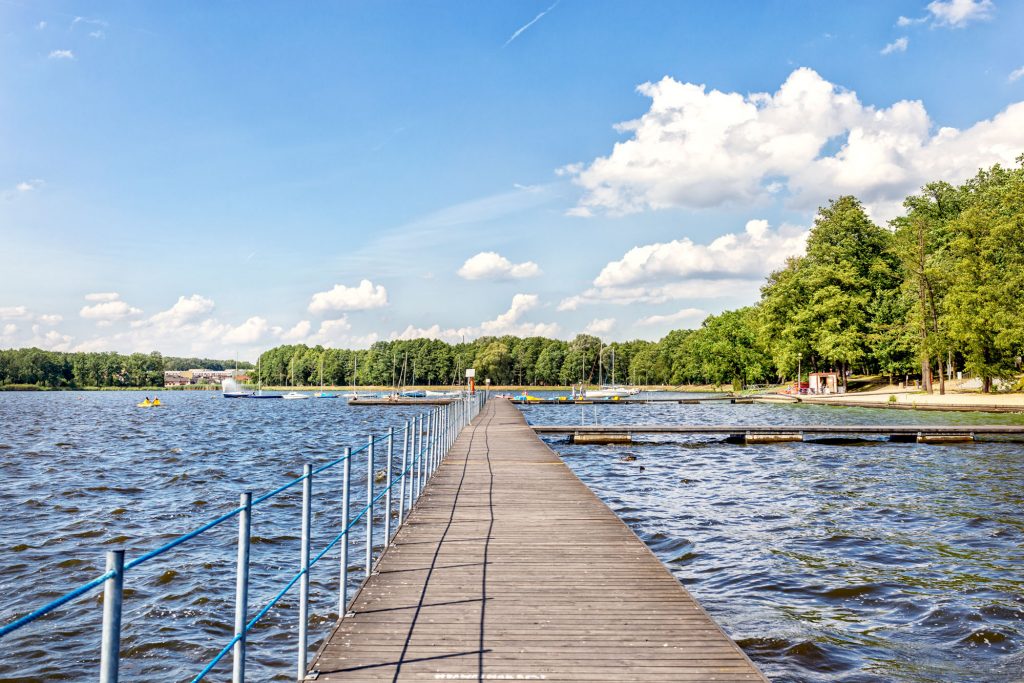 What exactly distinguishes this reservoir from others in the area? It's how perfectly Paprocany's nature harmonizes with modern architectural forms. Some time ago the lake underwent a complete transformation. An unusual beauty was created, the wooden promenade rich with interesting recreational facilities. People seeking relaxation can sit back on somewhat futuristic benches with sunshades or lie in comfortable hammocks integrated into the structure of the promenade. The youngest will be happy to avail of the offer of Poland's first water playground, and lovers of evening walks will feast their eyes on a multi-colored performance after dark by beautifully lit fountains.

Admission: free, fees apply to equipment rental
Access: approx. 30 minutes by car, Silesian Railways approx. 28 minutes, price: 4.50 PLN.
Website: https://mosir.tychy.pl/27-mosir-osrodek-wypoczynkowy-paprocany
#2 Sosnowiec Wake Zone Stawiki: emotions on a wave
If you are a fan of water activities, head towards Sosnowiec. The Wake Zone Stawiki park should be on the bucket list of people on a wave, who are looking for refreshment in summer. In 2013, a real Wake Park was opened in the water area near Stadion Ludowy. From that moment, the building was systematically retrofitted. Today, thrill seekers and enthusiasts of water attractions have at their fingertips a large wakeboard lift and a giant obstacle course created from inflatable forms floating on the water. Now, after a long and emotional struggle, visitors coming to Sosnowiec can finally sit in one of the gastronomic facilities to partake of the nutritious delicacies served there.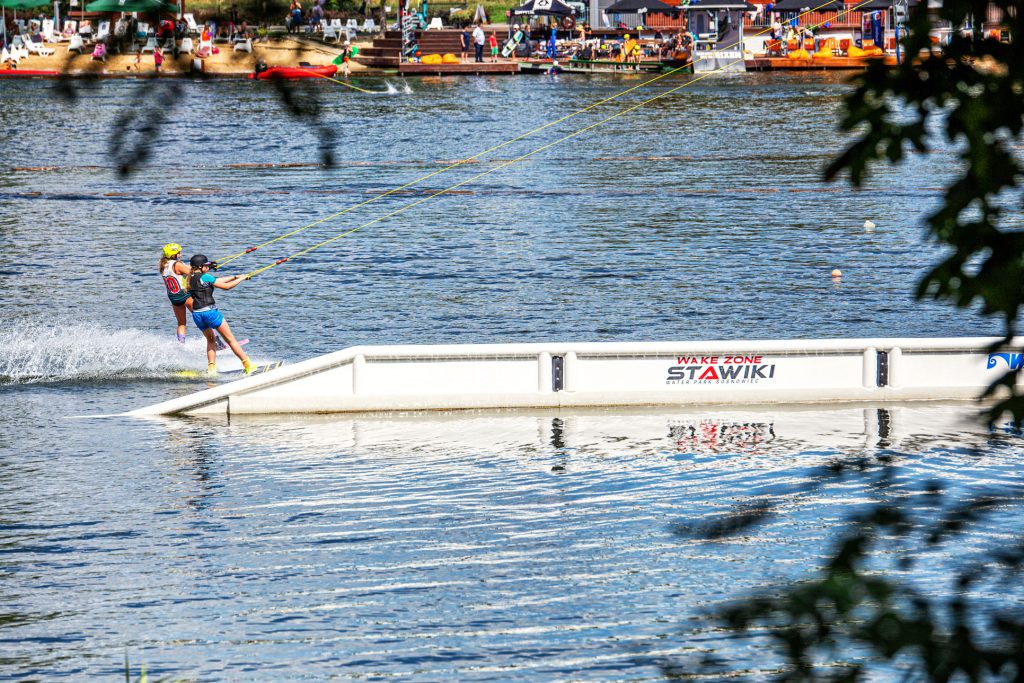 Admission: 50 min session – PLN 25
Access: By car 15 min, Silesian Railways approx. 10 min. (price PLN 5) then walk 20 min. Or by bus lines: 808, 811, 815, 835
Website: http://www.wake-zone.pl/
#3 Dąbrowa Górnicza: Biała Przemsza gorge: a favorite place for canoeists
Although it is not a typical highland river, it displays certain mountain river characteristics as it flows quite fast for a lowland stream. The Biała Przemsza river, which is quite an inconspicuous river flowing through towns such as Dąbrowa Górnicza, Sosnowiec, Mysłowice, and Jaworzno, used to share its riverbed with the Czarna Przemsza river and the Przemsza river, which together once marked the so-called Triangle of Three Emperors. We're not going to elaborate on that, though, as this is a topic for history enthusiasts.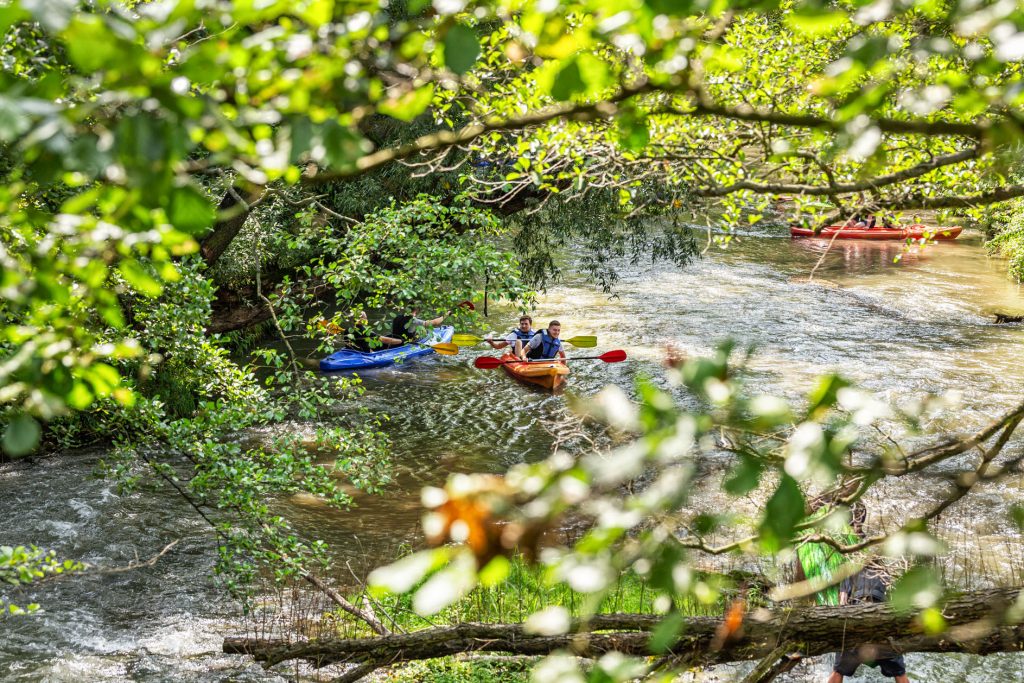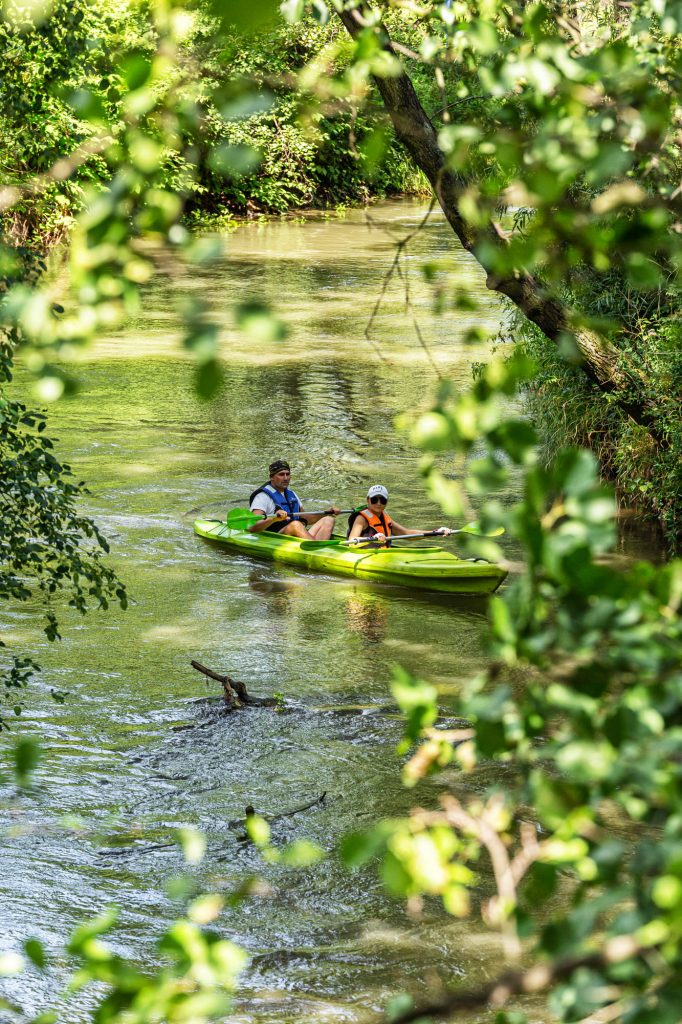 Today the Biała Przemsza appears mainly as a place created for leisure activity, for example canoeing! Enthusiasts of this sport can be found in different parts of the less than 64-kilometer-long watercourse, but the most popular is the gorge of the Biała Przemsza in Dąbrowa Górnicza -Kradzionów. At that point, the river is radically changing: it becomes wider and deeper, turns sharply and begins to meander. This sudden metamorphosis gives it charm and attracts paddling enthusiasts. If you are a canoeist, you will definitely be loving it!
Rafting on the White Przemsza River: prices from 70 PLN
Access: To Sławków, where most of the rafting starts, about a 30 minute drive by car from the center of Katowice.
Website: https://przemsza.pl/

#4 Pogoria: everyone gets active
Bicycling, rollerblading, Nordic walking, kayaking, jet skiing, sail boating, and many other outdoor activities. Pogoria is a complex of four water reservoirs formed in Dąbrowa Górnicza in the abandoned sand pits where sand used to be extracted for the surrounding mines. It's a real enclave of relaxation and a real green gem in the center of the metropolitan area. The ponds, which have a post-industrial origin, today form a protected landscape area and attract amateurs of outdoor activities from all over the region.
At two of them (Pogoria I and IIII) there are sandy beaches for swimming enthusiasts with a pier and numerous attractions in the form of playing fields, food and drink stalls, and rental of sports equipment. At Pogorii II you can see the unique fowl and vegetation inhabiting that area. On the largest reservoir (Pogoria IV), also called the Warężyńska Kuźnica Reservoir, you can try your hand at various watercraft. The whole area is encircled by a network of bikeways -both asphalt bike paths and field paths. There are also interesting restaurants and bars around the reservoirs, where you can replenish the calories burnt during the workout.
Admission: No fees, or rental of water equipment.
Directions: Car approx. 30 min., Silesian Railways approx. 25 min (Price 5 zł) to Dąbrowa Górnicza-Gołonóg station, then a 25 minute walk above Pogoria III. From Dąbrowa Górnicza bus lines 116 and 644.
Website: http://slaskiemiasta.pl/slaskie-kapieliska/pogoria-iii-dabrowa-gornicza/
#5 Jaworzno-Szczakowa quarry Gródek: "Croatia" for the weekend
Where would you head off to for the weekend? Maybe to "Croatia"… "Little Croatia". This nickname was given to the two picturesque lakes: Navy and Turquoise. Eagerly visited by people, the villages are just a bit closer than the popular Croatian beaches. In order to enjoy the views of the southern resorts, all you need to do is visit Jaworzna-Szczakic.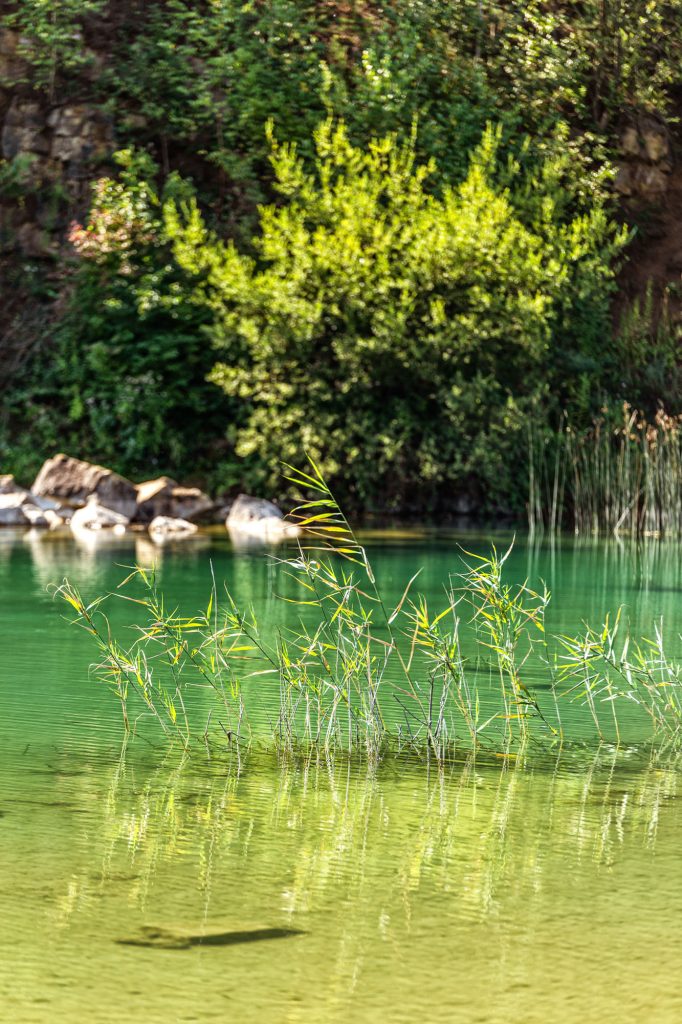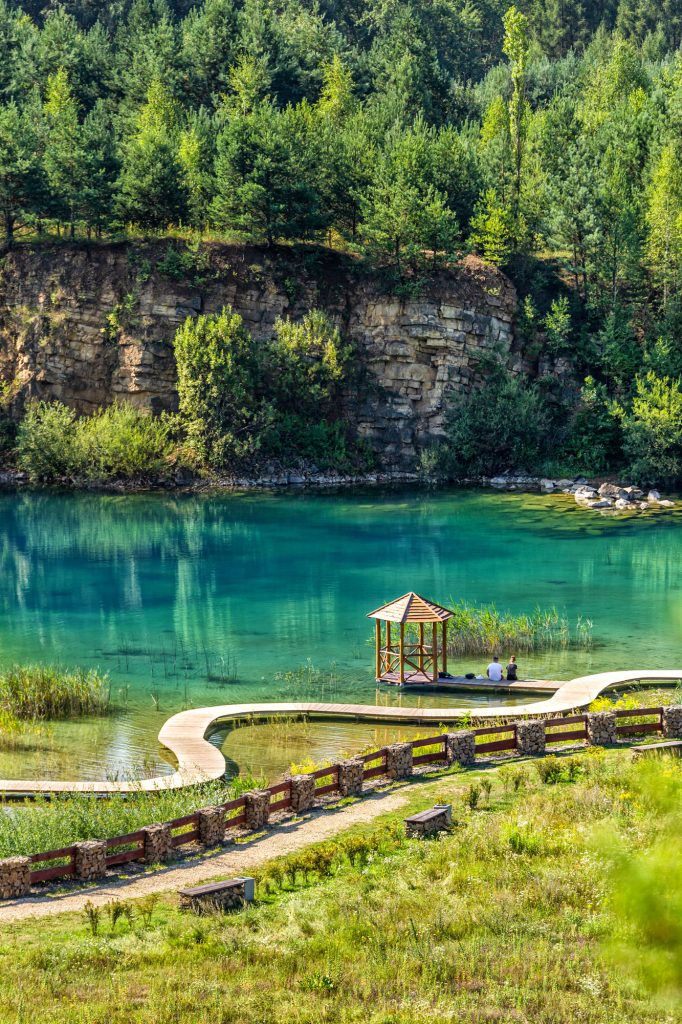 "Little Croatia" is a place specially arranged for you to spend a pleasant time. The wooden footbridges, the pier, the gazebo, and the vantage points are pleasant places to relax. Furthermore, they make a stylish background for pictures. Thanks to the convenient cycling paths, the lakes have become a popular destination for cyclists, and the underwater world tempts diving fans. The local tourist infrastructure is new, but it's not much older than… the lakes themselves. They were created completely by chance. The owners of the quarries did not pay their electric bills. When the electric company cut off the power, the pump ceased to work. It only took a few dozen hours for the quarries to turn into picturesque ponds.
Free admission
Directions: Car approx. 30 min, Polish railways approx. 30 min. (Price from 5 zł), get off at Jaworzno Szczakowa station and get on 314 bus , after 5 minutes get off at the stop at the Pieska Dive centre, and it takes just 15 minutes to get to the quarry on foot.