Katowice – The Perfect Base for Exploring. Train Trips
Are you wondering what to do with your free weekend? Get moving! Katowice is a great base for exploring, it's well-connected with other cities, not only in Poland but all over Europe. Let's go on a trip!
Katowice – the capital and the largest city in the Silesian Province. It's also the main transportation center for the region and one of the biggest in Poland. You can easily reach it by plane, by car or by train. One of our favorites is the train, taking you directly (and smoothly) to visit not only the entire Silesia, but all of Poland, and a large piece of Europe as well. Once you've made yourself at home and started exploring the near and far corners of the region, you'll have no problem finding many transport possibilities.
Get on the Right Train
Railway links to cities in Poland are offered by several companies. In our province, it's Koleje Śląskie [Silesian Railways]. To Kraków (located in the Lesser Poland Province) you can go by the POLREGIO train, while the long-distance and international connections belong to PKP Intercity.
Don't panic! You'll find all of the connections at http://rozklad.pkp.pl/en and it provides all the necessary information about the searched train ride. The service is also available in English, German, and Russian.
Are you ready to go?
It's hard to miss the Katowice Railway Station, as it's located right in the city center, near the marketplace. You can reach it from the Lecha i Marii Kaczyńskich Square (former Szewczyka Square), Kościuszki Street, and 3 Maja Street – directly or through the Galeria Katowicka.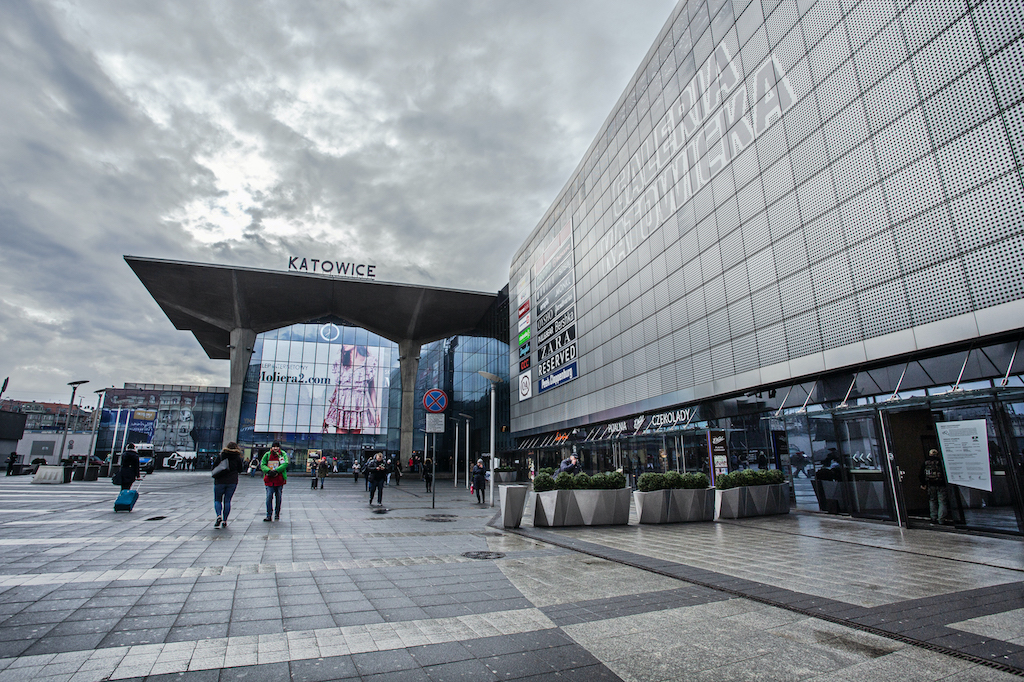 In 2012, a major renovation was completed. The main hall, ticket offices, and travel information point are open 24/7. What's important: PKP Intercity and Koleje Śląskie have separate ticket offices.
Discover the Silesian Province
Cities in our region are ideal destinations to visit on your day off. Check the timetable, buy a ticket, hop on the train, and in less than an hour you're there.
The regional Koleje Śląskie railway company offers direct train connections on more than ten routes and the detailed map is here.
The gems of our region are especially worth visiting on weekends and on holidays. With the SilesiaWeekend campaign, during the weekends prices of tickets are discounted (15% off for a one-way ticket and 20% off for a round-trip). You can buy them in the Koleje Śląskie ticket offices, in ticket machine or online.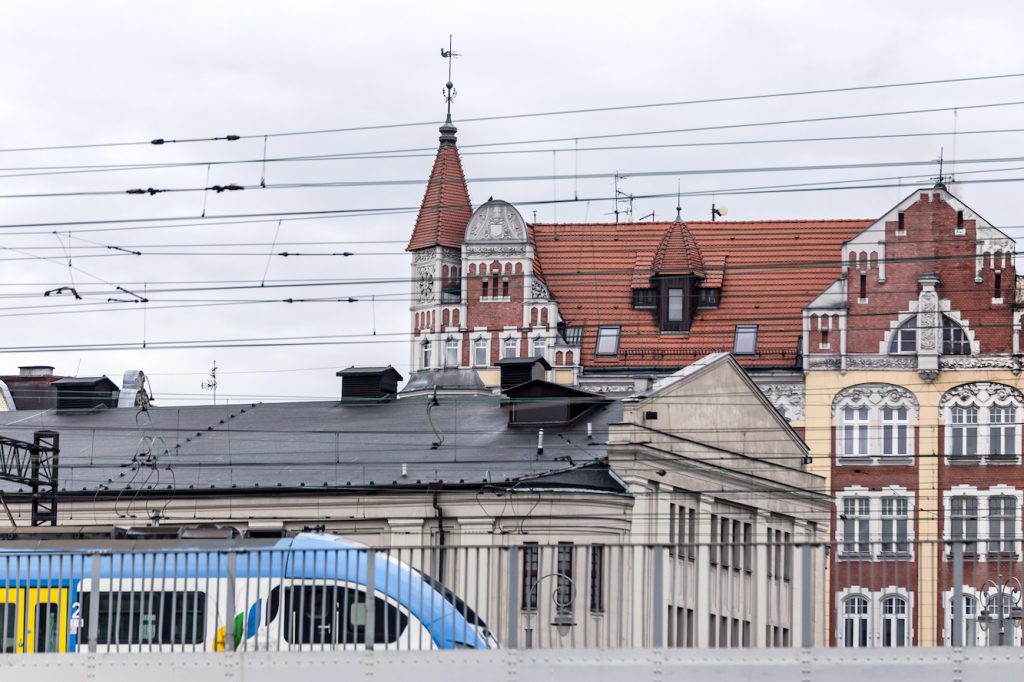 The cities we recommend choosing for a visit first are the small, but charming Pszczyna, with its little marketplace, beautiful palace, and expansive park (30+ minutes) and Bielsko-Biała, where you can roam the picturesque streets of the old town (1 hour away).
Just as worth visiting are Gliwice, Tychy, Zabrze, and Bytom. The ride will take less than 30 minutes and you'll find perfect places to visit on your trip regardless of the weather or season. Looking for foul weather attractions, be sure to check here. And when it's finally warm, you'll find a few ideas in this article and this one. We truly recommend getting out there and discovering the cities in our region.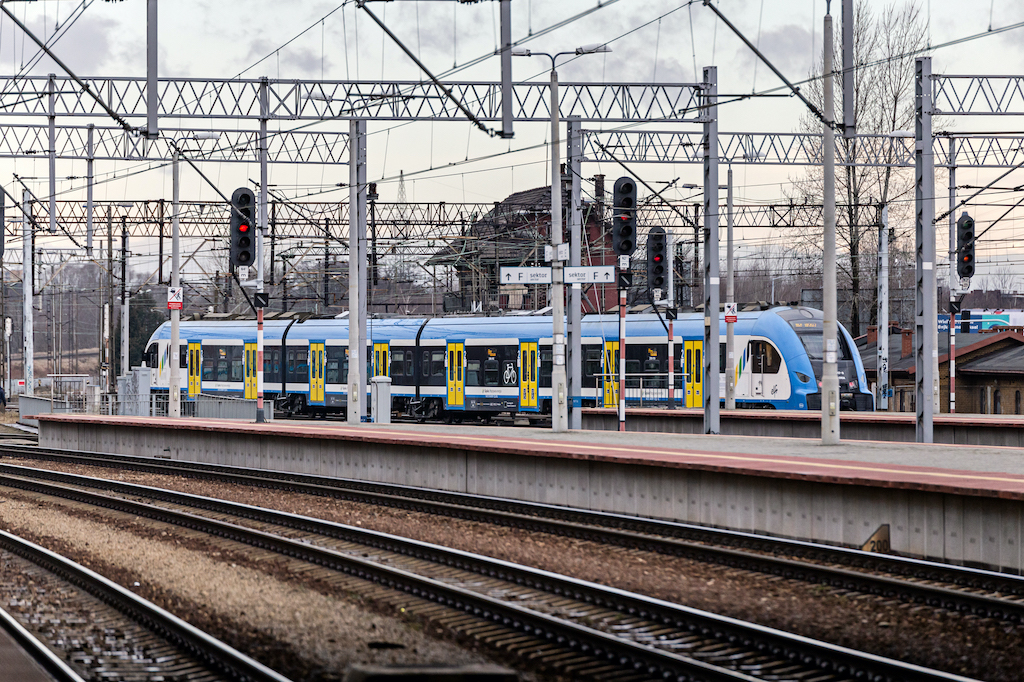 What's surely attractive about Silesia is how close it is to the mountains. You can get from Katowice city center to Ustroń in less than 2 hours by train, and 30 minutes later you can get off in Wisła. The city of Żywiec (especially tempting in the summer) is available by train in 90 minutes. Whether you're a fan of winter sports or prefer summer hikes, the Beskidy Mountains have a lot to offer. You can find a few inspirations for this skiing season in this post.
Go See Poland
Do you have a couple of days off or nothing to do this weekend? Those are perfect opportunities to go a bit further and visit some of the most popular Polish cities. Tickets for domestic train trips are available from the PKP Intercity ticket offices or online.
How about visiting beautiful Kraków? You can get there by Koleje Śląskie train. The ride takes around 1h and costs around 20 zł.
Although the distance to Wrocław is 100 km longer, you'll get there in less than 2,5 hours. A direct connection is offered by PKP Intercity and a 2nd class ticket costs from 30 to 60 PLN.
A trip to Warsaw – depending on the type of train you take – will take from over 2 up to almost 4 hours. The prices of tickets also vary. The fast Pendolino train booked 30 days in advance (as early as you can) costs 49 PLN. A ticket bought one day in advance will cost 140–150 PLN. If you can plan ahead, make sure you do. You'll save time and money.
How about the seaside? In under 6 hours? You hop on the train after lunch on Friday and you arrive in Gdańsk for dinner. The entire weekend in Trójmiasto [Tri-Cities] is yours. It's best to visit the Baltic Sea out of season and walk the nearly-empty beach in Gdynia Orłowo or enjoy the crowd-free Sopot. Booked in advance, a one-way 2nd class seat costs 132 PLN. Beautiful Gdańsk is surely worth the price and the trip.
See a Piece of Europe
Katowice is also a great starting point to take trips abroad. You can go directly to five European capitals (six, including Warsaw, as we mentioned before).
Let's begin the European jaunt with Prague. You'll reach the capital of the Czech Republic in under 6 hours by train that leaves in the morning. A one-way ticket starts at 34€.
You can also get to Prague by Chech Leo Express trains. All useful information and railway link can be found on their website.
Another capital totally worth visiting is Vienna. The number of connections a day: 4. Travel time: under 5 hours. Like Prague, fans of night travel can take the train from Katowice right after midnight. It takes a bit longer than a day ride (almost 7 hours), but it's cheaper as well (from 70 zł one way).
The distance from Katowice to Berlin is similar to going to the Polish seaside, the train also takes around 6 hours. A one-way 2nd class ticket is about 90 zł.
What about a trip to Slovakia? Bratislava isn't as popular as other European destinations. It's a shame – the city is worth a weekend visit, even more so because you can get there in about 5 hours. The fastest train takes around 5h.. Price? From70 zł one way.
Budapest in Hungary is the furthest European capital with a direct connection from Katowice, however, the train takes longer, 8 hours. It's the same Intercity Chopin, which departs for Prague, Vienna, and Bratislava 7 minutes past midnight. The price, just like in the case of Prague, starts with a 95 zł promotional price.
The timetable is available at the PKP Intercity website. Tickets for international trains can only be bought in ticket offices at the station, but up to 60 days in advance. In order to find the promotional prices given above, think of booking well in advance. Isn't it the right time to plan a few spring weekends? 🙂
Have a nice trip!