The Most Beautiful Shops With Gift Ideas In Katowice (Not Only For Christmas)
Giving a gift is an art – it's not only about the price, but also (or maybe above all) about the idea and uniqueness. But what to buy a capricious child, a friend who already has everything, or an uncle and aunt who announced their arrival for Christmas? We present our subjective choices of the most beautiful shops with gift ideas in Katowice.
The places and stores we're suggesting offer a wide variety of books, toys, handmade pieces, ceramics, natural cosmetics, jewelry, and food products. Here you'll avoid crowded malls and stressful shopping, but be careful! You enter all these charming places at your own risk! We can't promise you won't end up buying a gift for yourself 😉
Biksa
Do you think that giving a book is a good idea? Well, the one bought here is for sure. The items at Biksa are not accessible in chain bookstores, many of them are also in English. Here you'll also find many books about Katowice, Silesia, our culture and architecture. They're not just interesting, but they are also beautifully bound so they can be decorative.
And what if not books? Their inventory is wide enough to find something different so bet on Polish ceramics, jewelry from local craftsmen, stationery, or funny socks. The store's staff will also be happy to help and suggest the most suitable gift proposals.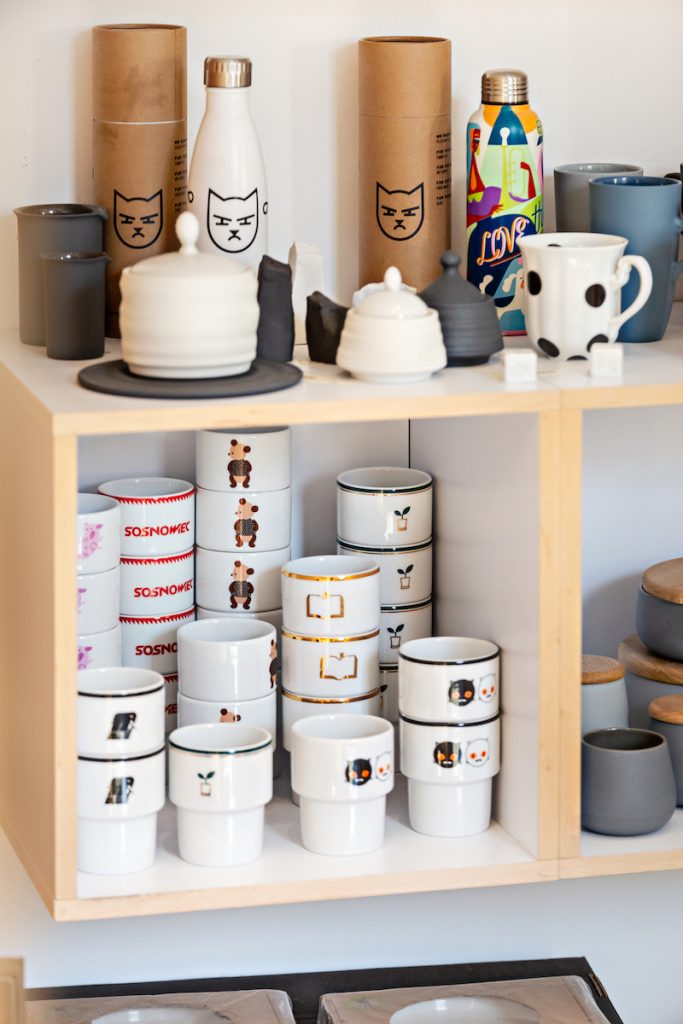 Faza Charity Shop
Do you like to wander through stores and hunt for treasures? Here, you can literally lose yourself in a jungle of ideas and inspirations. Faza is a charity store with a mission: on the one hand it gives a second life to products that someone no longer wants, on the other hand it helps those in need. Part of the profits from the sale of their treasures supports the FAZA Foundation and its furry wards.
We love such projects but, to be honest, charity is not the only reason why you should visit that place. The assortment has nothing in common with cluttered second-hand stores. At Faza every item is carefully selected and beautifully displayed so the place looks rather like an elegant boutique. Just look at this stylish furniture!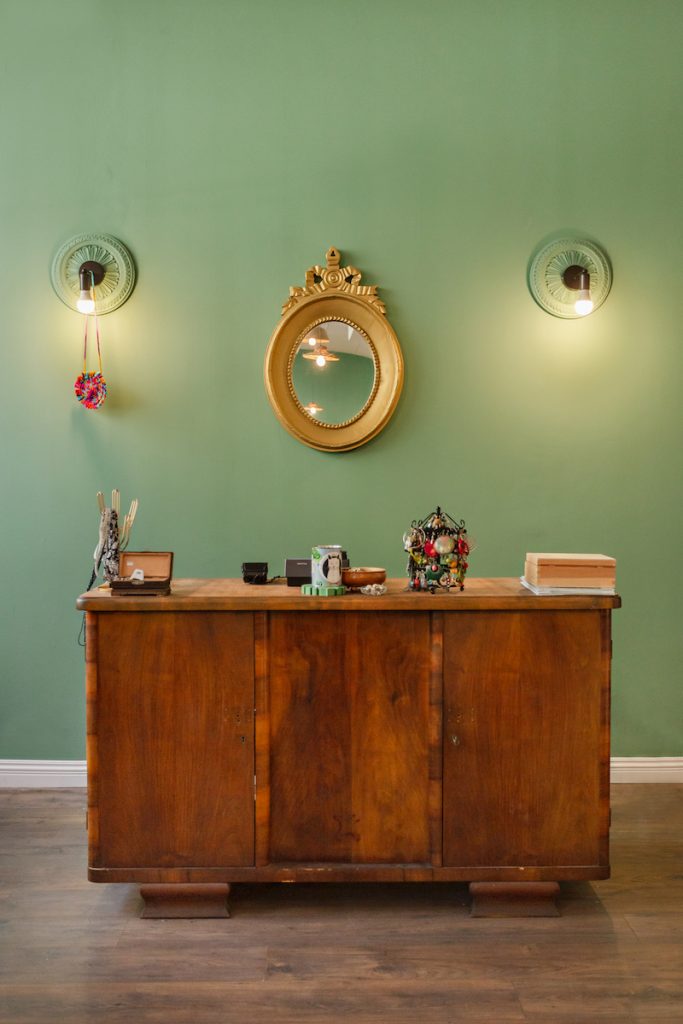 Another advantage is the affordable prices, which, given the amount spent on Christmas, it will certainly be a strong argument. We love this mix of no-waste idea, charity purpose, and unique pieces. And we feel you'll love it too.
Toskania na talerzu
Buying a gift for someone you barely know? We know it might be a challenge but we have a solution for this: deli food products. And we think this Italian place will save your life. At Toskania na talerzu you'll find high quality olive oil, pasta, sweets, and other treats straight from the Italian Tuscany region. Most of the suppliers are small, local manufactures and the coffee comes from a family roaster located in Florence.
We think a good bottle of wine (along with a chunk of cheese) is a nice gift for any occasion, but this little shop has something more to offer – traditional handmade Tuscan tableware. Sky blue serving bowls and plates with beautiful dots will be a gift that's not only pretty but also useful: they'll be perfect for serving Christmas dishes.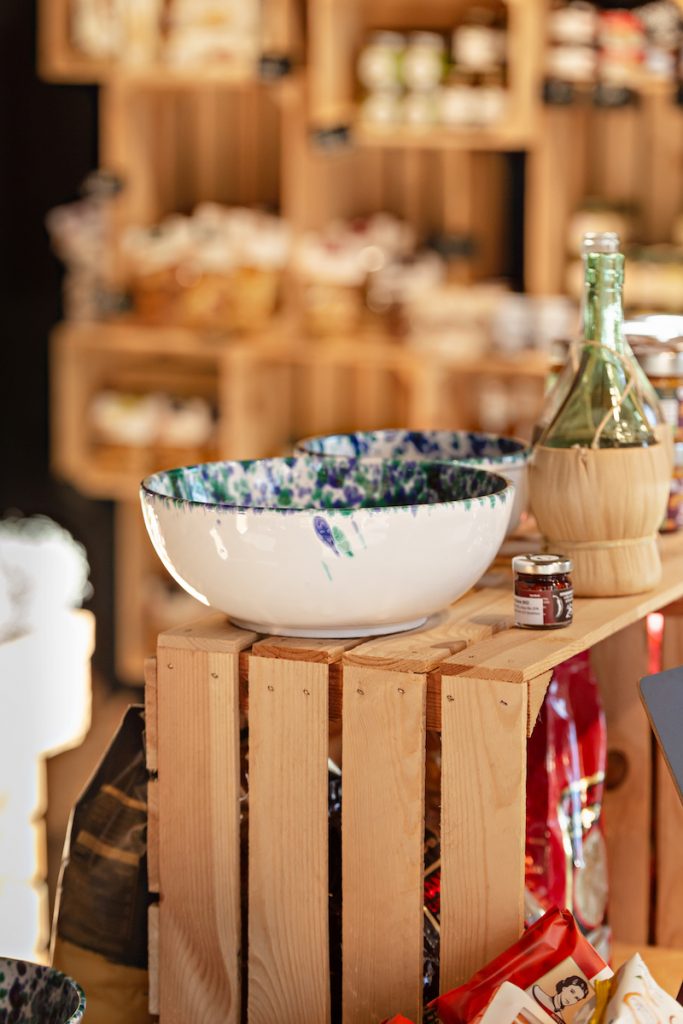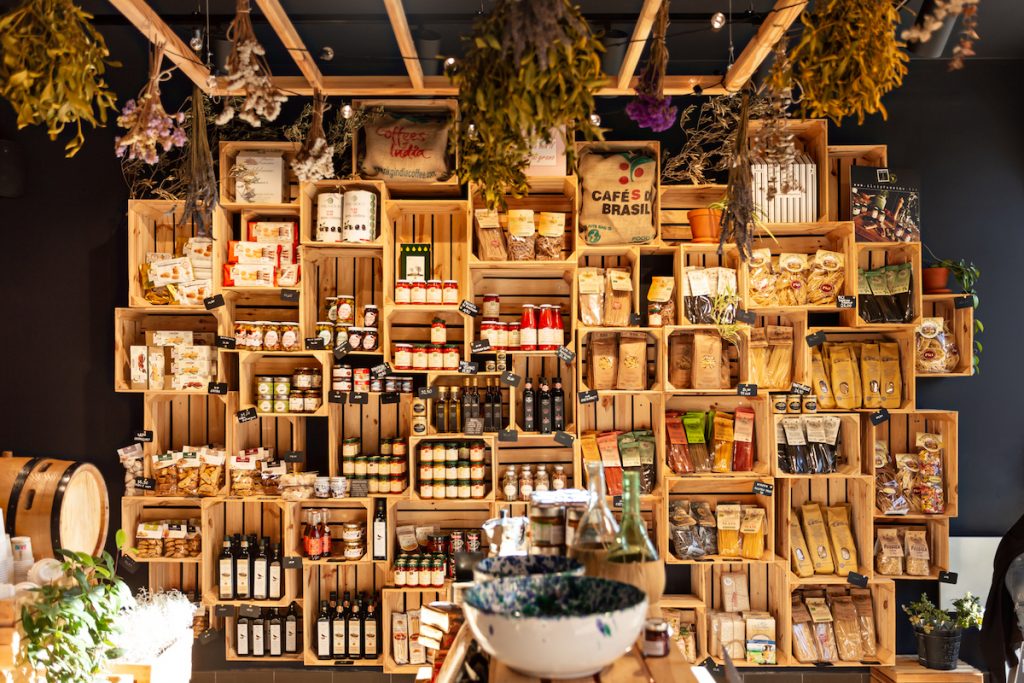 Zmysły&Co
In this place you'll find a variety of products that will please any woman: your mom, sister, friend, or girlfriend. The amount of natural oils, soy candles, perfumes, and creams will make your head spin! Of course, you'll also find gift ideas for gentlemen.
Zmysły&Co is a concept store that brings together a shop, a boutique, and a chic gallery. Every piece of jewelry or pottery has been carefully selected from small Polish brands and craftsmen.
The place itself is also stunning with its strong colors, original design, unique forms, and pieces of furniture. We do feel like we're in a modern art gallery here.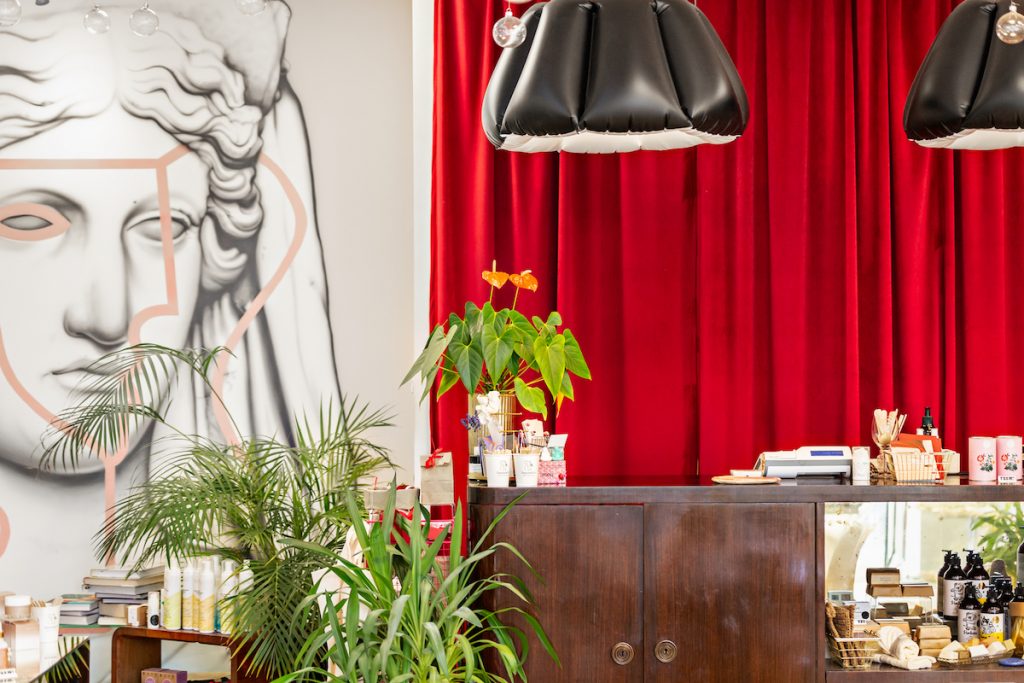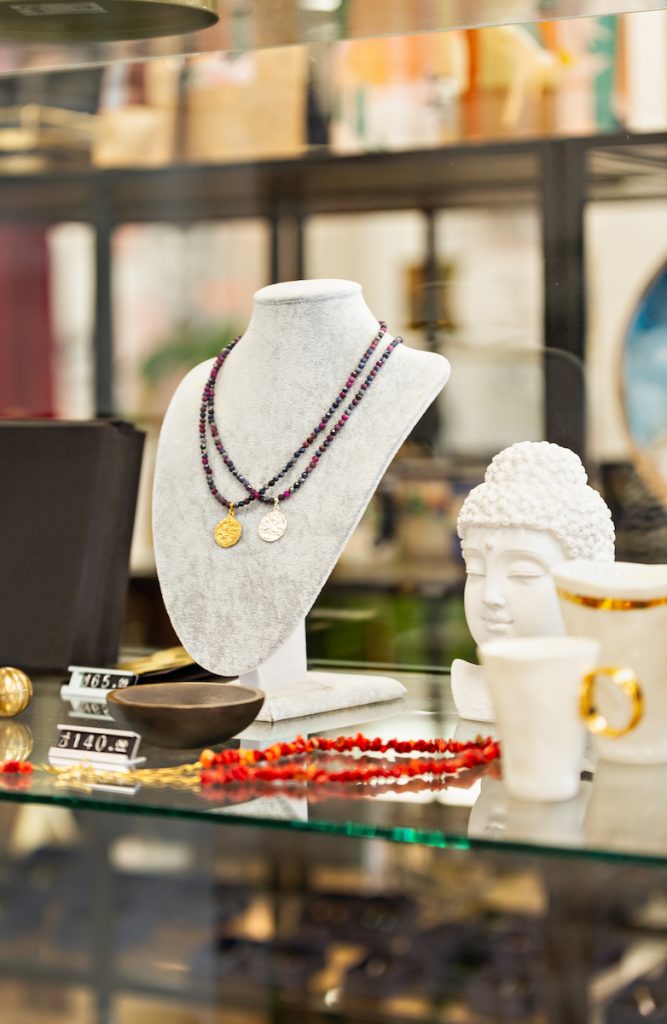 Kurka bez piórka
Let us invite you to the land of fairy tales. The Kurka bez piórka store is a truly magical place, full of gift ideas. The place has been run by two sisters and their artistic souls and love for art can be seen in every detail – from the unconventional interior design, to their unique website.

They offer graphic designs and posters, paintings, jewelry, pottery, and home decor items. Everything is, of course, handmade and equally stunning. The place will also be the best choice for all parents, aunts, and uncles who search for an alternative to plastic toys from China. Sweet cuddly toys or wooden educational toys will surely stay with a gifted child for longer than just a little while.
Walking through the gallery you can also feel like a child yourself and want to come home with one of these lovely gifts.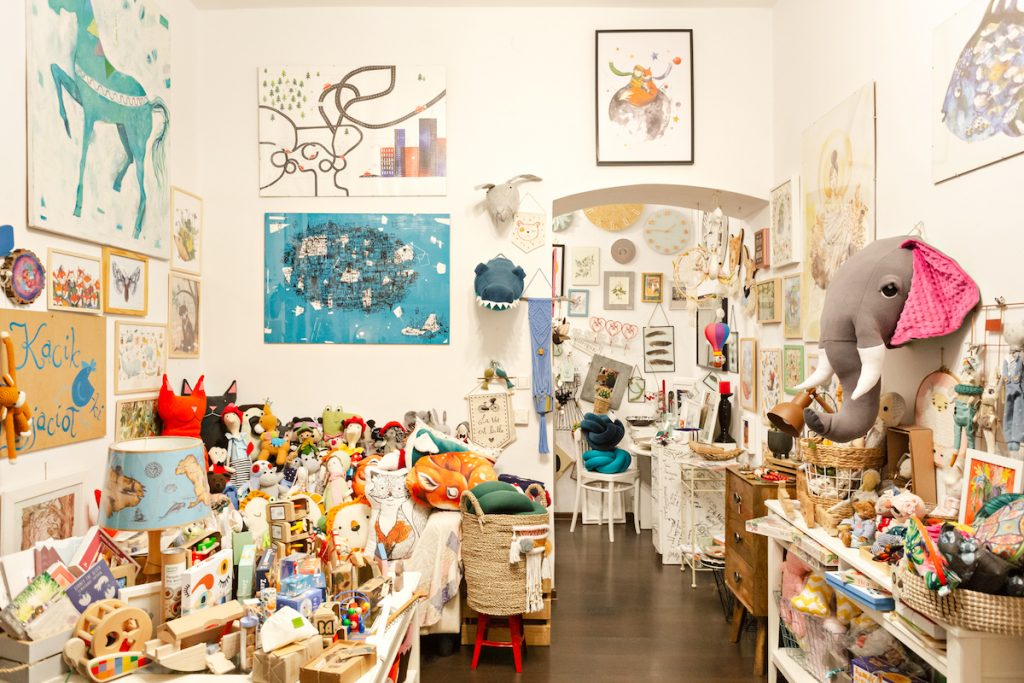 Gryfnie
You've already walked all over the city, but still have no proper gift? There's nothing left for you but to visit Gryfnie. Their T-shirts or sweatshirts with the funniest Silesian words or slogans will please not only people from Silesia. If you're afraid of not getting the right size, choose a tie or a hat. Gryfnie can make a masterpiece even from a cliché gift such as socks.
And for those who don't necessarily feel comfortable in gifting clothing, you can always get a mug, a calendar, charcoal soap or something else made in Silesia. In Gryfnie you won't run out of ideas!
We hope that this year's search for gifts, instead of a nightmare, will be an interesting excursion off the beaten track of chain stores. After all, gifting is about the gesture and memory, and not about the price. Shopping this way, you can also support small manufacturers and local businesses, and it's like giving a double gift!