Do You Know How (And Why) To Sort Your Waste?
Sorting your waste is not only good practice, but an obligation. Unfortunately, there's often doubt which bin to choose. How do you recycle according to the regulations and how does it serve our planet? Here are some explanations and tips.

Hats off to those who limit their daily waste production. Whether we call this the less waste trend, eco-awareness or internal need, each of us should reduce waste to the minimum. Let's face it though – less doesn't mean none. It's rather impossible not to produce any garbage in our daily life. Sooner or later, some of our shopping and everyday activities will result in filling the bin. And it should be the right one.
Why Recycle?
Do you know how much communal waste is produced annually by an average resident of Poland? 315 kg! This means nearly 1 kg of rubbish every day. What is equally disturbing is the fact that only 37% of that was recycled. It's far from enough, as 80% of our rubbish can be reused.
Environmental issues aside, from the economic perspective, recycling means considerable savings – not just globally, but also individually. Since January 1st 2020, all Polish cities are obliged to recycle 50% of communal waste. Simply put – half of the garbage that lands in our bins should be recycled. As people are easily motivated by awards (and, less fortunately, punishment), since 2020 the non-recycled waste costs us a pretty penny. And so in Katowice the charge per each person in a recycling household is 26.30 a month, while in the non-recycling ones – twice as much.
Unfortunately, the cost of non-recycling is also born by our environment. The spreading landfills, greenhouse gas emission, soil and water contamination, and fire hazards – are but a few of the considerable threats initiated by each of us.
How to Recycle?
The simplest answer is: do something, regularly and consistently, starting at home. Whether it's a small apartment downtown or a large country house, the obligation to recycle applies to everybody. A small kitchen is no excuse, as a wide range of recycling bins of various shapes and sizes are on offer in any hardware store and online. For recycling, you can also use paper bags and cardboard boxes, or simply put all recyclables in one place and sort them directly into proper bins. Done regularly, it surely won't garbage-swamp your apartment? If you collect your garbage in regular plastic bags, remember to deposit any paper, organic, or glass waste without them.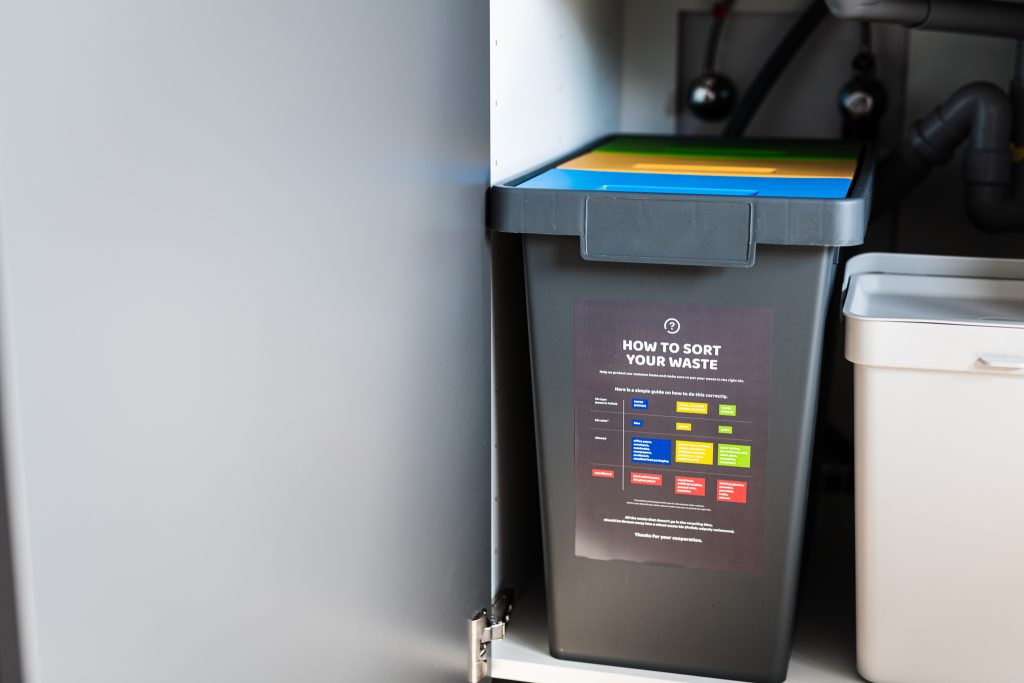 The important thing is to sort the waste into glass (green bin), paper (blue), metal + plastics (yellow), mixed (black) and bio (brown). It's not always obvious which bin to choose. Sometimes, the color doesn't match the use, but the bin is still marked in another way. No excuses, the ball is in our court. Let the sorting begin!
Not All That Shatters Is Glass
Glass recycling is one of the most economically and ecologically beneficial recycling processes. Its products maintain all the original properties and quality. Additionally, the cullet used for manufacturing new items melts at a lower temperature than the raw materials in the initial production. Recycling glass saves energy, water, and natural resources (including quartz sand).
What's important, not every item that shatters and is commonly considered glass can be recast. Various melting temperatures and compositions make some glass non-recyclable: window glass, light bulbs, also drinking glasses.

What glass goes in the green bin?
glass bottles – clear and color (yes, wine bottles also;))
food jars (without metal lids)
glass cosmetics containers
What is not allowed in the green bin?
drinking glasses
tableware
window glass and mirrors
bulbs
grave candles
What can be produced from recycled glass?
glass containers
optical glass
construction materials
Paper Fight For Trees
It's estimated that the world produces 10 tons of paper per second. Despite the increasing popularity of the on-line issues of our favorite magazines and books, as well as numerous campaigns against unnecessary printing of documents, paper use in Poland is almost twice the world average.
The good news is that paper can be recycled up to 4 times. The recycled material won't be as smooth and snow-white as the first grade, because the cellulose fibers gradually decrease in quality. However, grey paper or cardboard do have a range of applications, while recycling 1 ton of paper helps save 17 trees, that is 1 acre of forest (that's how much it takes to produce 1 ton of paper).
In order to sort paper properly, you need to pay attention to the daily rubbish that is usually thoughtlessly tossed into the bin. The blue recycling bin shouldn't contain tissues or paper towels, nor shopping receipts.

What paper goes in the blue bin?
newspapers and magazines
office paper: printed paper, brochures, leaflets, envelopes
books (which we suggest you give away rather than bin;))
unsoiled cardboard packaging
cardboard
What is not allowed in the blue bin?
used tissues and paper towels
shopping receipts
soiled and greasy cardboard packaging (like a pizza box)
milk or juice cartons
coated paper
What can be produced from recycled paper?
egg boxes
coffee filters
toilet paper and disposable towels
office paper
Metal Saves Energy
Metal is perfect for recycling. The most popular recyclables are steel and aluminium as they maintain their properties despite numerous reprocessing cycles. This is especially important in aluminium production which uses a non-renewable element – bauxite.
Metal recycling is not only a pro-ecological procedure, but also a business necessity. It responds to market demand, limiting the production costs, and saving the natural metal deposits. Do you know that 75% of aluminium manufactured to date remains in circulation worldwide? Disposing proper waste into the yellow bin you contribute to these statistics.

What metals go in the yellow bin?
metal bottle caps and lids
food tins
aluminium soda cans
aluminium foil
Remember that metal and plastics go in the same yellow bin!

What is not allowed in the yellow bin?
paint and oil cans
large-size scrap metal and wires
used batteries
What can be produced from recycled metal?
car parts
aluminium cans and containers
pipes
metal kitchenware
Plastic Deluge
Plastic is the plague of our times. Still, you must admit, they make our daily life easier and are hard to give up. Let's use them, but in moderation, knowing that once produced, plastic will remain on earth for many generations. That's how long it takes for a plastic bottle or a regular (and, unfortunately, also disposable) plastic bag to decompose.
The main problem with plastic – besides its unwanted longevity – is size. Although they constitute a mere 7% of total waste, their volume takes up as much as 30% of landfill space as enormous heaps of unwanted toys, old items, and plastic packaging. Fortunately, we're able to reprocess plastics into granulate for reuse. Once recycled, the popular plastic becomes material for infinite numbers of items which keeps it from unwanted circulation in the environment.

What plastic goes in the yellow bin?
PET bottles (remember to crush them)
milk and juice cartons (also crushed)
disposable shopping and foil bags (the less you use them the better!)
plastic cups and food packaging (no need to wash them, as long as they are empty)
Caution! Plastics and metals go in the same yellow bin.

What plastics are not allowed in the yellow bin?
paint, varnish, oil packaging (including eg. vegetable oil)
old toys
old household articles or electronic devices
panels, pipes, and other construction waste
styrofoam
rubber (eg. car tires)
What can be produced from recycled plastic?
plastic bottles and packaging
garden furniture
toys
fibers for textile and carpet production
Food For Soil
It would be ideal if we didn't waste any food and so never threw it away. Well… even with perfect fridge management, there are still some peelings, skins, and leftovers of fruit and vegetables. Fortunately, once put in the biowaste bin, they will become valuable fertilizer.
Organic compost heaps are popular in the countryside. It's easiest to have one for a detached house with a garden and the possibility of discarding biodegradable waste regularly. However, some urban neighborhoods also provide such a container. The fertilizer it produces is useful not only in the country. If there's a bin for biowaste by your apartment building, here are a few tips.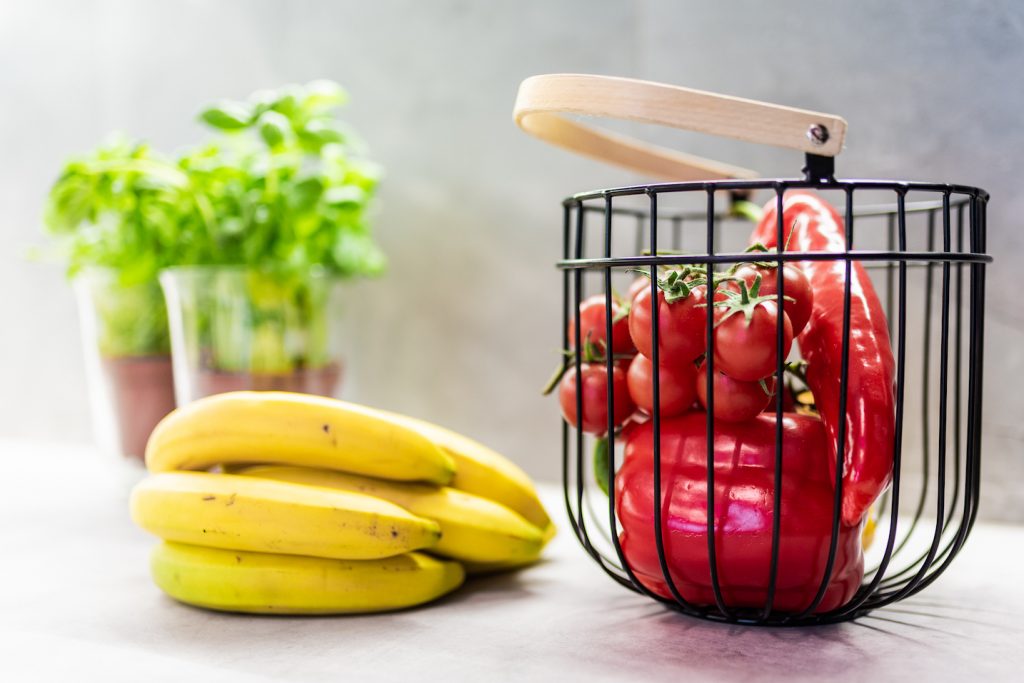 What waste goes in the brown bin?
fruit and vegetable leftovers
coffee and tea grounds
garden waste: leaves, branches, grass, flowers
What waste is not allowed in the brown bin?
non-green food leftovers
animal bones and feces
oil
How can the organic fertilizer be used?
as substrate for flower and vegetable beds
as fertilizer for lawns and greenbelts
for recultivating degraded and post-landfill areas
in parks and urban squares
All the "Mixed" Lot
Now you know what to put in the recycling bins. And you know what, unfortunately, mustn't go there and why. There is still a lot of rubbish that cannot be sorted (at least not directly by us). Most typically, all these land in the largest black bin labeled "mixed waste".

What else is allowed in the mixed waste bin?
food leftovers
hygienic waste
ash
Bulky, hazardous, or particularly sensitive waste cannot be disposed of into the black bin, but it must find its place. Electronic waste, used household articles, and other devices constitute a serious biohazard. Stored, they release toxic compounds, which make their way to the environment. Such waste should be given away during cyclical collections or brought directly to the Communal Waste Collection Points (GPZO). It's the same for bulky waste, furniture, construction waste, expired medicines, and toxic substances. Find the addresses of GPZOs and details of their operation in Katowice here.
No change happens overnight and on-demand. Both the cities and their residents need time to learn how to sort waste properly. However, there's no doubt that it's necessary and we all share this responsibility. Our grassroots work helps to manage the waste properly and therefore limit greenhouse gases emission, save water, energy, and natural resources. It's as if we're personally reaching out to our planet. How cool is that?