How To Arrange a Small Kitchen? 10 Methods Recommended By Our Architects
A small kitchen is quite a challenge: so much happens there after all. Luckily, we have proven ways to get the most out of even the smallest areas. See how easy it is!
Our apartments vary from tiny studios, where the kitchen and living areas merge, to spacious apartments, where each room's dimensions are almost "house-size." Regardless of the space at our disposal, each of our kitchens is always equally well arranged and equipped. There's a place to cook, to store things, and to eat. Each of them is different, but always beautiful! The dozens of apartments we've already designed allowed us to gain experience we'll be happy to share.
1. We aim high
And in the kitchen, as high as possible—that is, right up to the ceiling. Sometimes, they're almost 4 meters high in our apartment houses, but building cabinets up to the ceiling in a kitchen with a standard ceiling height still provides you with a lot of additional storage space. Blenders, large pots, cleaning supplies, additional crockery—these are things you can put in the higher cabinets freeing up space on the countertop or in the lower cabinets for your day to day items.
2. Our design is made-to-measure
In a small kitchen every centimeter counts. In order to make the most of the available space, we try different layouts—first on paper of course (or rather virtually). We check whether each drawer will open to its full extension or whether an upper cabinet door will hit a ceiling light. We also verify the distances between different work stations, and if needed adjust cabinet heights. The distances aren't big in a small area, so it's pretty easy to make a mistake. It's better to review the plan as many times as necessary than to correct something when on the battlefield (read. during renovation).
3. We hide and build up
In a small area even a standard-size fridge will dominate the kitchen "landscape." Consider hiding it behind a cabinet front that matches the rest of the cabinets. The same applies to the other appliances—a built-in oven at counter height will look much neater than a free-standing stove, and it will be much easier to access. If you're planning a built-in microwave put it above the creating a vertical line and you can add another cabinet above it for less used items.
4. We shatter the stereotype of the island
It's generally believed that kitchen islands are only for large kitchens. Well, no! A wisely designed custom kitchen island may be both an additional worktop and a place to eat. If you hide a few drawers underneath it, you'll even have more storage space—for example, for everyday tableware and cutlery, which should always be at hand. When a kitchen is open to the living room, an island will also create the impression of "separating" the spaces. Let's not forget about the fact that it can have any desired design, suitable for its intended purpose, and finished with any material. Let it be both aesthetic and practical.
5. We think about the technological sequence
Even if you don't realize it, preparing food involves a fixed and constantly repeated sequence of movements. First, you take the food out of the fridge, then you wash it, if needed peel it and maybe chop it, and then finally cook it. Therefore, you move between the fridge and the cabinets, the sink and the trash can, and the hob and the oven. It's good to have all these areas arranged in such a way so as to ensure that the entire process runs smoothly. What's important is there should always be a countertop between them, where the products can wait before the next stages of their preparation.
6. We use unapparent places
We can't stretch the interior surface area of a room, but sometimes we can use it in an unapparent way. If you have a window in your mini kitchen, the windowsill may be an extension of the worktop or a place to store things you like to have on display. You can also put up some shelves over a table by the wall or over a freestanding fridge: closed shelves will help you hide items you don't use regularly, whereas open ones will let you display your finest ceramic pieces or your favorite coffee or tea making accessories.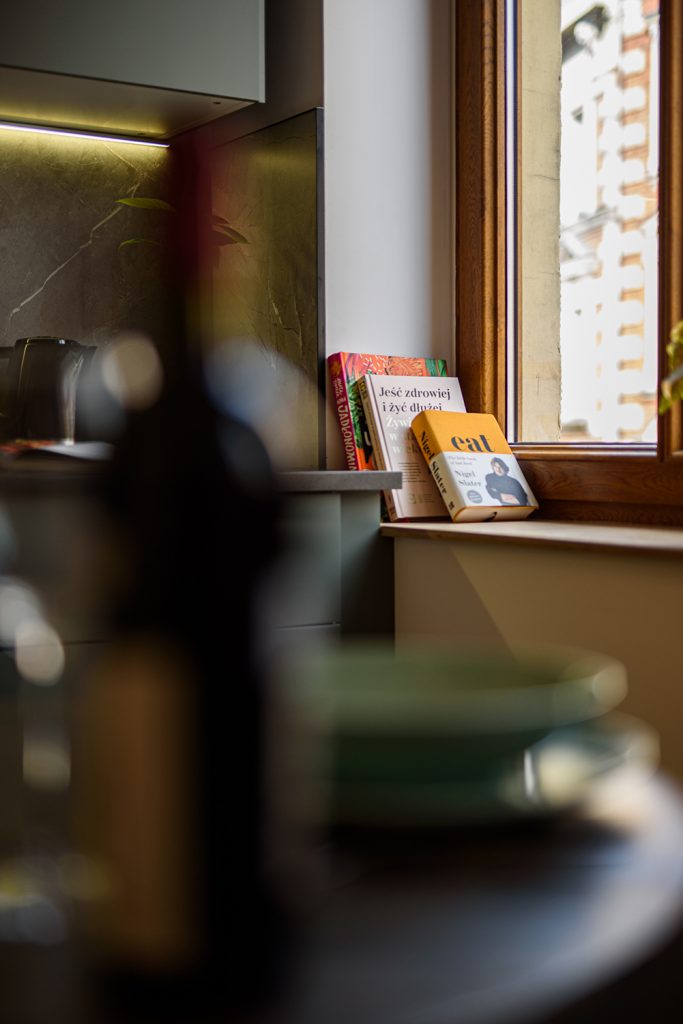 7. We love drawers. Lots of drawers!
What does the abyss of your deep lower cabinets hide? Most probably, you don't even remember the last time you looked in there… Thanks to full extension drawers you only need to pull to access their full capacity. When designing a kitchen you might want to consider different heights of the drawers: those for pots or glasses should be higher. However, when it comes to the ones meant for cutlery or plates, it's better to have more of them, but they should be shallow. If you don't want them to be visible, you can hide them all behind one shared front. Not only is it an aesthetic solution, but it will also allow you to close them all with just one push. Magic!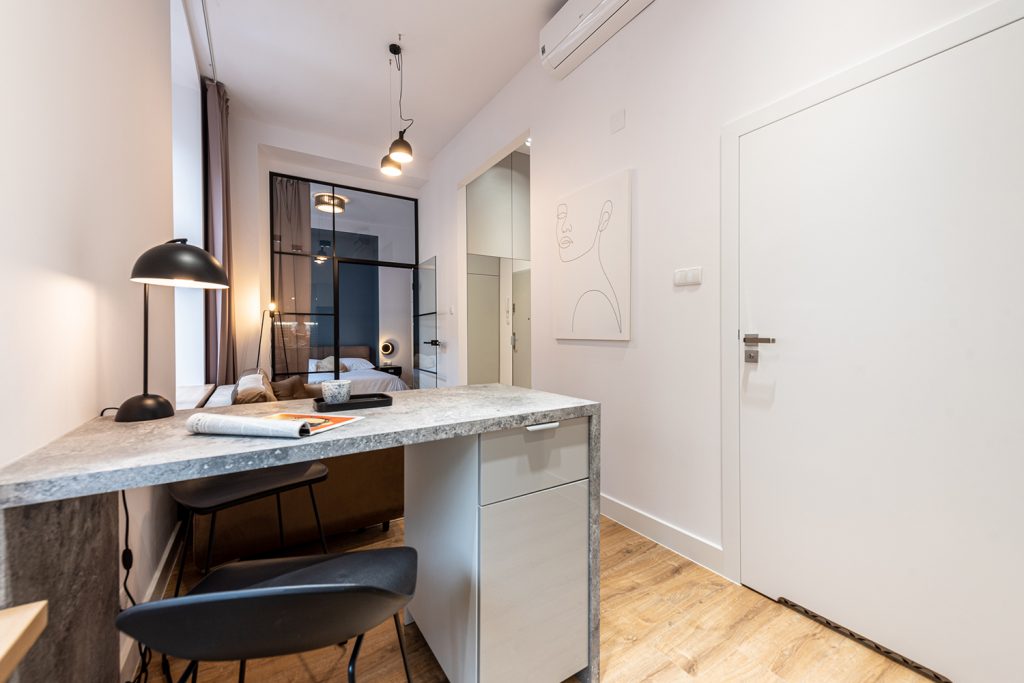 8. We look for mini solutions
If you really cook a lot, a four-burner cooktop will be essential for you. But if you merely cook noodles or make scrambled eggs, maybe a two-burner cooktop will suffice? The same applies to the dishwasher—instead of investing in a full-size 60 cm one, consider a narrower-width alternative. Don't underestimate an under counter fridge either. The latest models look tiny, but they can store quite a substantial amount of stuff. Pure math—smaller kitchen appliances mean more cabinets and a bigger countertop.
9. We play with light…
As we've already mentioned, the aesthetics and the final image of the kitchen are no less important to us than its functionality. Small kitchenettes are most often an element of the living area, which we can always see. Therefore, they must please the eye, but also match well with the rest of the room, and when necessary, nicely blend in. When arranging the spaces, it's best to properly arrange task lighting—placing it over the countertop and over the island / dining table is a must. While preparing food, we only light up the countertop, whereas the finished meal is placed under the light of a specially designed lamp hanging directly above the table. The spotlights will illuminate what we need while hiding what we don't want to show.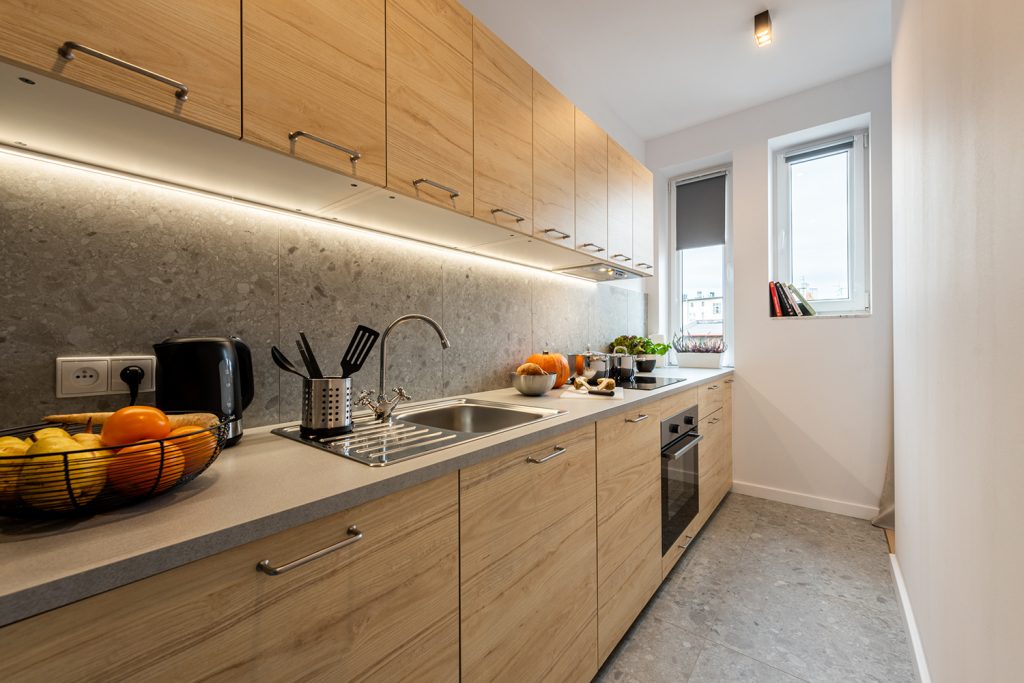 10. … and color
If the kitchen is part of an open living room make sure that it matches with it in terms of material and color. It can complement the living room color-wise or—quite surprisingly—be its bold opposite.
Color has great power and, just like light (or better in collaboration with it), it can visually arrange our space. Cabinets that go all the way up to the ceiling can look heavy and overwhelming if the color of their fronts contrasts with the color of the wall. White or any other light, the muted shade will be the safest choice here. The same goes for the color of the appliances—a black fridge may look classy, but with a small kitchen, it'll dominate the whole space. You can go wild with the color of the lower cabinet fronts, the shape of the handles, or the countertop material.
A small kitchen has this undeniable advantage: it allows you to use more expensive materials with no damage to the budget. It's much easier to opt for a stone countertop, natural wooden cabinet fronts, or brass knobs when our kitchen is three meters long, not thirteen.
Oh! And the most important thing! There's much less to clean in a compact kitchen 🙂