Beaches And Swimming Places in Silesia
Is the seaside too far? Is the Masurian Lake District out of your way? Luckily, Silesia can offer places where you can lie on a sandy beach and cool down in the water on a sunny day. Learn about our favorite lakes, ponds, and beaches near Katowice, ideal for a weekend or simply a hot afternoon. The information is updated in June 2023.
Hubertus swimming area, Mysłowice
Hubertus is actually a group of several ponds between the cities of Katowice, Sosnowiec, and Mysłowice. In the last place, Mysłowice, there is a body of water called Hubertus 3 – and a swimming beach.
The entire area is a park and recreational space. The shoreline is 100 meters long. You'll find a sandy beach with a pier and a dedicated swimming spot for kids. Nearby, there's also a special barbecue and/or bonfire site and walking paths, so visitors can do more than sunbathing itself.
The official swimming season is between June 1st and September 30th. Despite its short distance from the city the place is green and very pleasant.
Address: ul. Szabelnia, Mysłowice
Opening hours: 10 am – 9 pm, the swimming area is guarded until 5:45 pm
Entrance: adults – 7 PLN, children and teenagers under 18 – free
Access from Katowice: less than 12 km from the center, so we recommend bus 835 from Piotra Skargi to Sosnowiec Kościelna + 17-minute walk
Park Słupna, Mysłowice
Park Słupna is another swim area in Mysłowice where you'll find a sandy beach. It's situated at the pond of the same name and after a renovation in 2019 the residents of Silesia can enjoy this place in the summer.
It offers a pier, slides, and attractions for children, all under the watchful eye of lifeguards. Enthusiasts of more active recreation will find something for themselves as well. Besides sunbathing and swimming, you can rent a kayak, pedal boats, and team sport equipment. There's also a Beach Bar where you can refresh yourself with ice cream and gofry [Belgian waffles] or have a cool drink.
The complex is located in a very green and secluded area.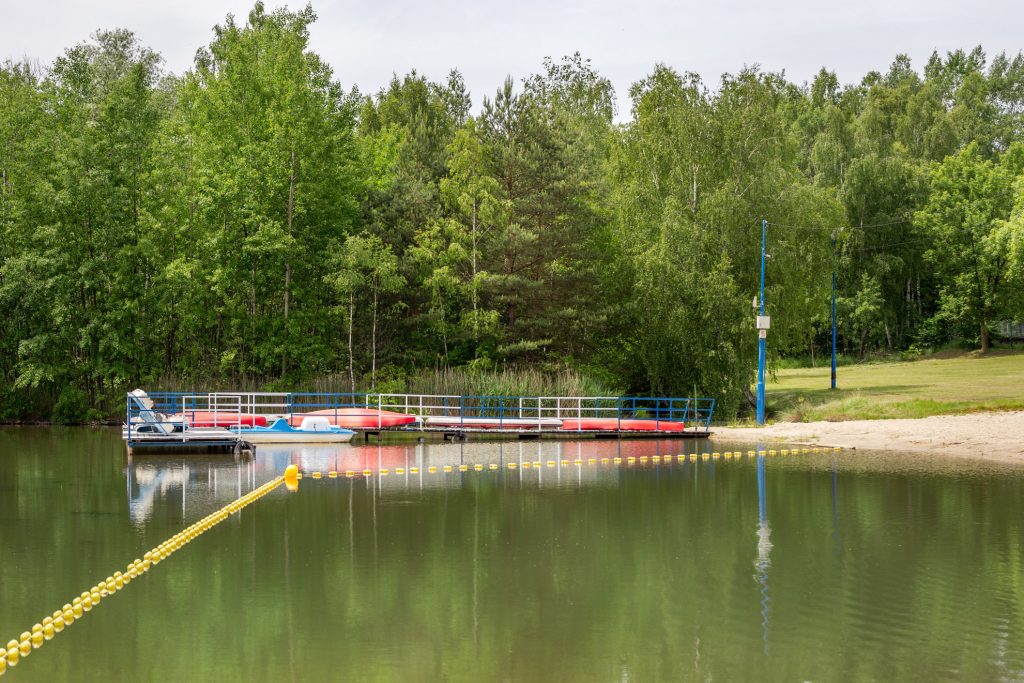 Address: ul. Stadionowa, Mysłowice
Opening hours: 10 am – 8:30 pm, weekends: 9 am – 8:30 pm
Entrance: free all season
Access from Katowice: less than 15 km it's fastest to go by car, but public transport will also take you there: take bus line M101 from Plac Wolności in Katowice to Brzęczkowice Słupna and then 5-minute walk
Stawiki swimming area, Sosnowiec
The Stawiki pond in Sosnowiec is popular mainly due to its Wake Zone complex described here. Even though the place is sporty, amateurs of less active recreation will be satisfied as well.
At the pond you'll find a 100-meter sandy beach, sunbed rentals, a recreation zone, and a playground for kids. There's also the Przystań na Stawikach marina bar serving nice food and organising classes and dance workshops in the summer. You'll also find Aquator – a huge water obstacle course attractive for children and grown-ups alike. What's important though is the course is closely watched by lifeguards.
The complex offers many different other activities throughout the summer. Visitors can enjoy various events, which you can follow on the Facebook fan page.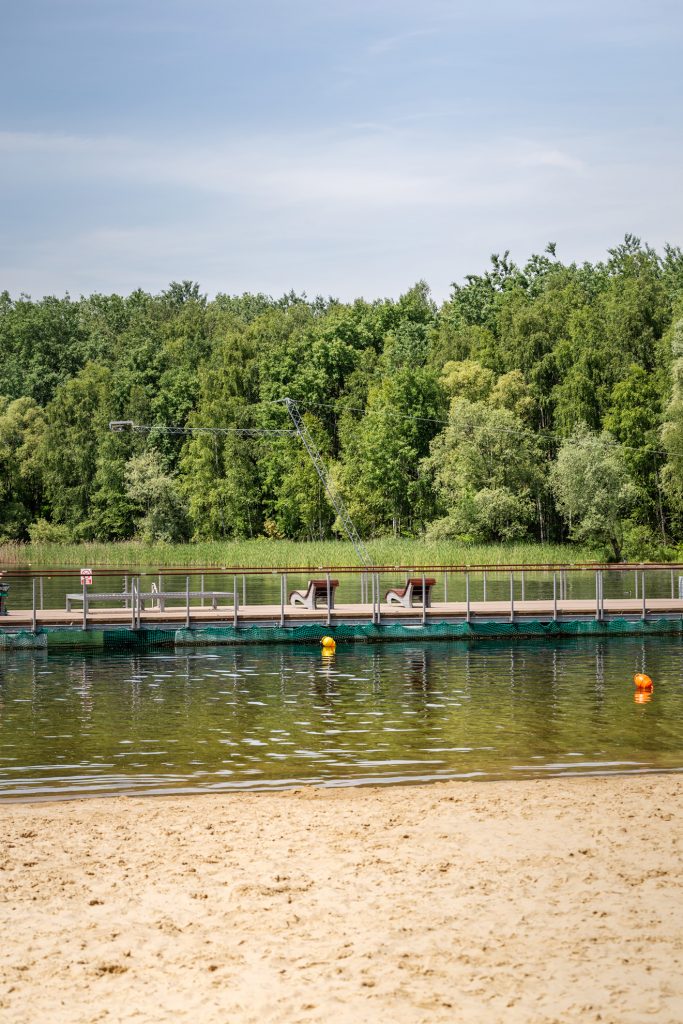 Address: ul. Sobieskiego, Sosnowiec
Opening hours: 10 am– 5 pm
Sunbed: 15 PLN per day
Access: only 10 km from Katowice center. Take a bus 808, 835 lub M4 from Katowice Piotra Skargi to Sosnowiec Osiedle Piastów
Zalew Sosina, Jaworzno
"Sosina" Holiday and Recreation Center is situated in Jaworzno on the western bank of the Sosina water reservoir with a total area of 50 ha.
Around the body of water there's a car-free cycling and walking path. You'll also find volleyball and basketball courts, a playground, and a gym. There are many cycling routes in the area.
Some time ago the swimming spot was renovated: the reservoir's bottom was cleared, the beach tidied up, and further improvements were made regarding facilities.
You can even rent a bungalow or put up a tent on the campground and stay longer than an afternoon. And it's worth every minute – the place is really beautiful!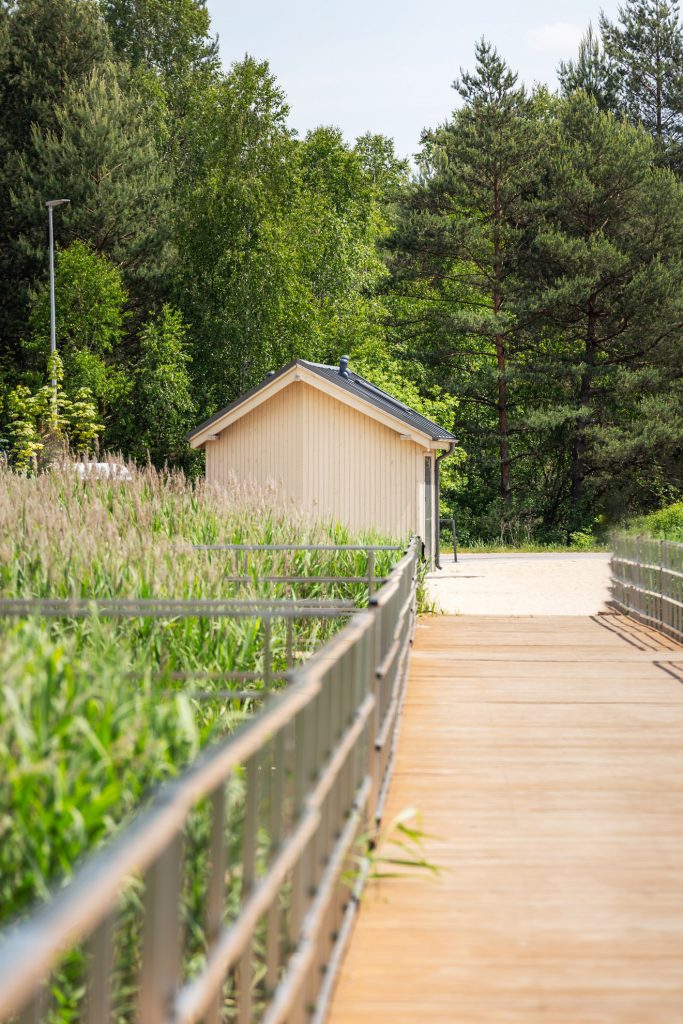 Address: ul. Bukowska, Jaworzno
Opening hours: 24/7, lifeguards are there between 8 am and 6 pm
Entrance: free; when there's more traffic, possible parking fee
Access: The 30-kilometer distance from Katowice is about a 40-minute drive. By public transport it's best to take a train or bus to Dworzec PKP Jaworzno-Szczakowa railway station and change for the bus no 390
Czechowice swimming area, Gliwice
This time we're going west of Katowice to Gliwice. The swimming area at Czechowickie lake, situated a few kilometres from the city center, is among one of the favorite summer destinations for local residents. 
Here you'll find a sandy beach with lifeguards and a dedicated swimming spot for children. The shoreline is almost 145 m long.
The Czechowice Recreation Center offers team sport fields, water equipment rental, food places, campsites, and a barbecue spot. You can also rent a bungalow. The swim season is long-lasting until the beginning of September.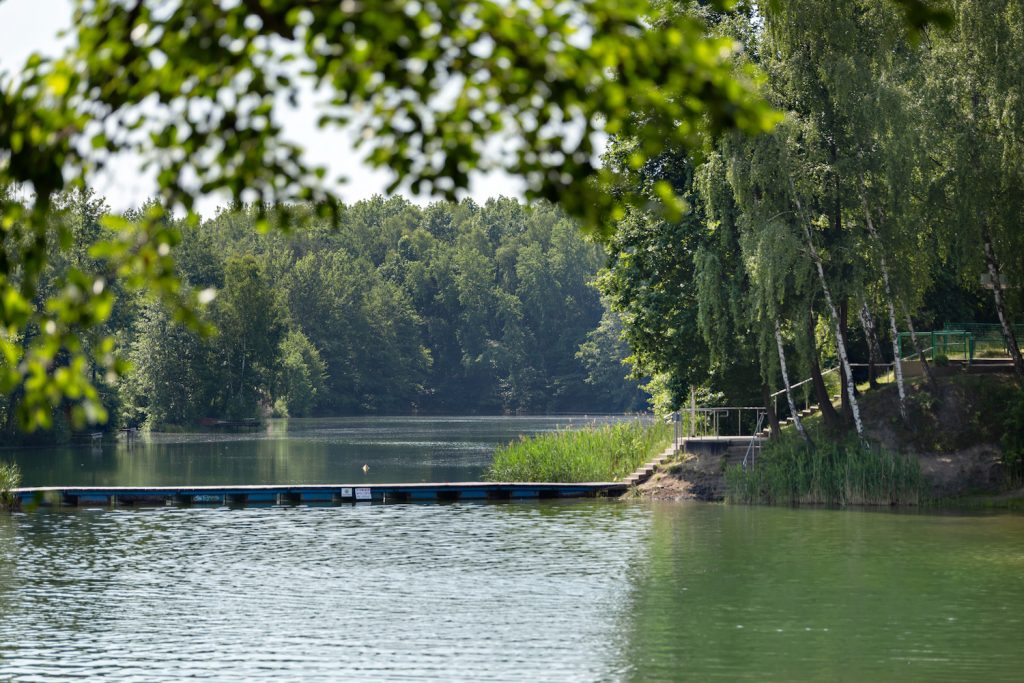 Address: ul. Ziemięcicka, Gliwice
Opening hours: the swimming area with lifeguards is open 10 am – 8 pm (in August till 6 pm)
Entrance: 8 PLN (free up to 16 yo), parking spot: 5 PLN for car
Access: less than 40 km from Katowice it's easier to reach by car (about 35 minutes); public transport: Koleje Śląskie train to Gliwice, then bus no. M2015 to Czechowice Kąpielisko [stop on request] + 12-minute walk
Słoneczna Plaża swimming area, Niewiesze
The Pławniowice lake enjoys a lot of popularity among the residents of our metropolitan area. And little wonder, as it's a truly beautiful place worth a visit!
It offers sailboat rentals, walking/baking trials, and fishing areas. Around the lake there are many recreational areas, but the best place is Niewiesze on the northern bank of the lake.
Here on Słoneczna Plaża [Sunny Beach], the swim season lasts from June 26th to the end of August. There's a swimming area with lifeguards and a dedicated space for children, playing fields, and a barbecue spot.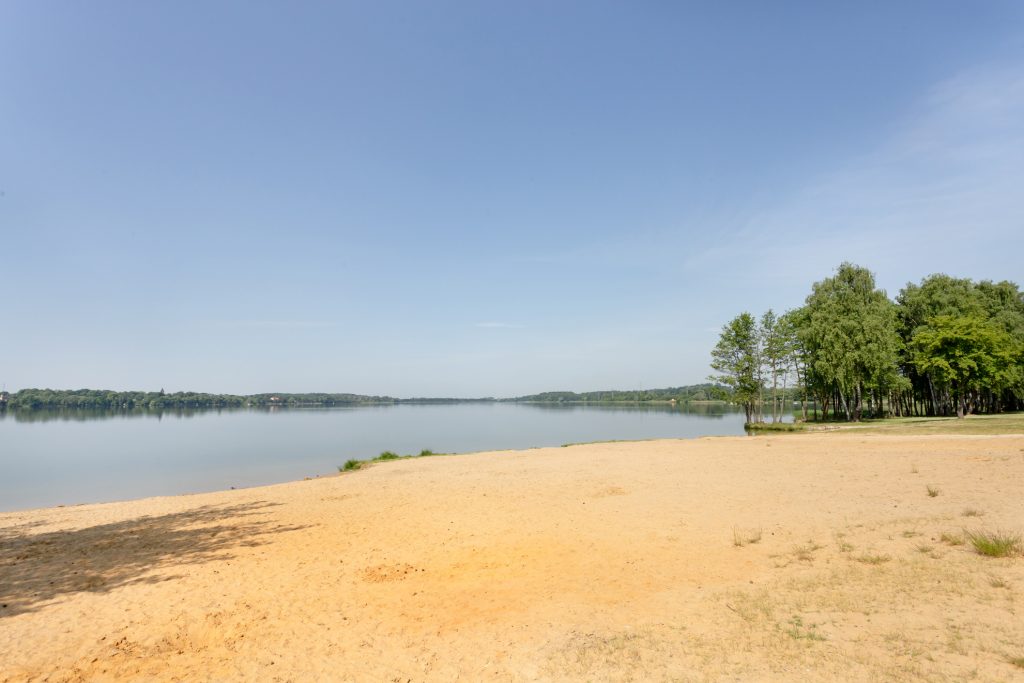 Address: ul. Plażowa, Niewiesze
Opening hours: swimming area with lifeguards is open from 10 am till 6 pm
Entrance: 6 PLN, parking spot: 15 PLN, toilet: 2 PLN
Access: the distance from Katowice is about 50 km so we recommend taking a car
Short-term swimming spots, Katowice
We're back in Katowice and here's some good news for all those spending their summer in the city. You can take a plunge in Katowice as well! Admittedly, the facilities of the short-term swimming spots aren't as developed as at the surrounding swimming areas, but the possibility of going to the beach without leaving the city can be tempting to many.
To enjoy the season by the like you can go to Dolina Trzech Stawów area or to Morawa pond in Szopienice.
Also, for summer 2023, Katowice has launched a water park at the Three Ponds Valley. Kids will love it. The entrance is free.
Address: ul. Lotnisko (Pond no. 4) and ul. Morawa (Morawa Pond)
Entrance: free
Access: it's best to reach Dolina Trzech Stawów by bike (only 15 minutes from the city center) or take a 40-minute walk; you'll get to Morawa pond by but no. 70 from Plac Wolności to Szopienice Osiedlowa + 8-minute walk
Whichever place you choose, stay safe. Use only designated areas and get in the water when lifeguards are around. Don't forget about some extra sunscreen.
Enjoy your sunny summer and rest. See you by the water!