Ciao Katowice! We Think These Are the Best Pizza Places Around
Do you happen to know anyone who doesn't like Italy or Italian pizza? Neither do we. Sunny Italia may be too far for a daily trip, but the real pizza is not. For a few years now, in Katowice (and nearby) you can have tasty and truly Italian food. We'll tell you where.
Some prefer the simplest version, with tomato sauce, mozzarella and fresh basil. Others like their pizza loaded – with different types of cheese, spicy meat, rucola and parmesan flakes. Regardless of your favorite pizza topping, it must be authentic – prepared from original ingredients, on hand-kneaded crust, from a wood oven. Let us take you on a journey to Italy. Andiamo, ragazzi!
Len Arte
Opened in December 2011, when the places on Mariacka Street could be counted on one hand, and our idea of real Italian pizza was still quite vague. They came first to teach us that pizza mustn't be topped with pineapple, drowned in garlic sauce and ordered half-in-half. And more! They don't serve latte or cappuccino, as it is not a breakfast place. In the afternoon, all the Italians drink is espresso (with a drop of milk maybe).
From the very beginning, Len Arte was faithful to their idea of a small Italian eatery, serving traditional food, which might have been prepared by an Italian nonna just as well. The short seasonal menu includes Italian antipasti, a few main courses and a sensational menu of the day. However, the most important spot belongs (and hopefully always will) to pizza, which has been like a Sèvres standard for Katowice residents for eight years.
A huge wood-fired oven, a real Italian chef in the kitchen, original products supplied straight from Italy. It might be a standard now, but when Len Arte set off, we could not believe our eyes while licking tomato sauce off of our fingers. If we had to leave with a bad taste in our mouths, it was because instead of the red-hot oven we were welcomed by a note on the door: the owners had left for Italy (attending their friends' wedding and collecting the ingredients on their way).
Len Arte has done a great job. And most importantly – they stick to their high standards. The place is authentic, and the seasonal menu tempts with rarities less known or available in Poland – cime di rapa or white truffles. Way to go, we love returning to their lovely outdoor seating in the summertime, to savor the perfect macchiato in the shade of olive trees. In the winter, we choose a little table by the window, where the coziness of herb-smelling place makes the winter quite bearable after all.
Mangia, bevi, ama [eat, drink, love] – the philosophy of happiness according to Len Arte.
Where? 25 Mariacka Street
Pizza z Pieca [Pizza From the Oven]
2017 was a real breakthrough on the culinary scene of Katowice. Within a few-kilometer radius, the city started to gradually enjoy new pizza places. And this is another one which has recently celebrated its second birthday and yet has already successfully joined our culinary repertoire. We are presenting Pizza z Pieca.
The concept – as with every good pizza place – is very simple. At its heart is a beechwood oven and a clean-cut menu, focussed on pizza itself. As the place is on the smaller side, the oven and bustling pizzaiolo are the center of attention. What else does it need after all. The homey interior and atmospheric spotlighting on the tables complement the picture. With good-quality original ingredients and several beers and wines, this Italian puzzle makes for a recipe for a successful eatery. The place has quickly gained faithful fans and it's not always easy to grab a table. Luckily, last spring they opened a new, much larger and covered outdoor seating area, where you can relax and sip your sunny Aperol spritz.
We like this place. We like it a lot. Mainly for its pizza, the sweetness of their San Marzano tomato sauce, and the delicacy of the mozzarella di bufala. We also like it for being a simple, genuine place, which cares for what's most important – the pizza itself. We're rooting for them and we'll keep coming back. Definitely drop by.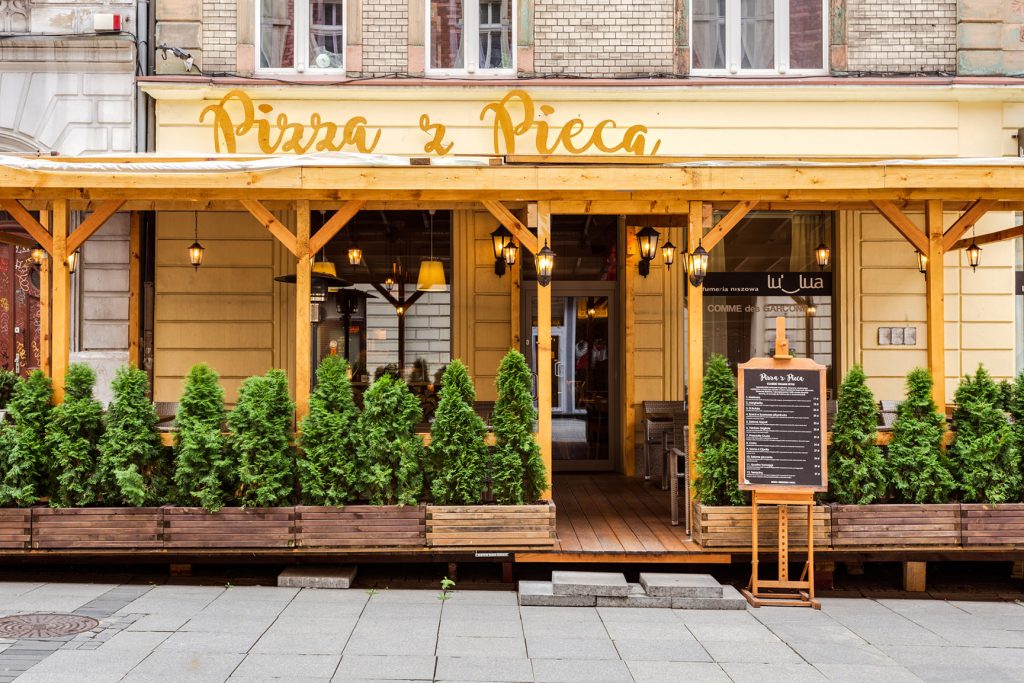 Big outdoor seating area is one of the greatest assets of that pizza place.
Where? 5 and ½ Mielęckiego Street
Ludzie Mówią Różne Rzeczy [People Say Different Things]
Searching for the pizza ideal, we are leaving Katowice, temporarily. In Chorzów, next door, we find a real gem, worth taking a longer walk across Park Śląski – the Silesia Park. People say different things, but about this pizza place – they have long been saying only good things. Opened in May 2017 (what a prolific year), this lovely eatery has gained a close circle of fans, who are willing to abandon Katowice for this pizza anytime.
The heart of "Ludzie" – traditionally: a huge wood-fired oven, which delivers right to our table – the pizza. On thin crust, with original ingredients and unconventional toppings (would you even think of topping your pizza with lovage? We tasted it and it did the trick!). Numerous options do allow for an easy choice. If you can't decide by ingredients, follow the names, which – as much as the name of the place itself – are far from obvious. "We ate at Nolio", "I'm out in my garden" or "Attacking Mediocrity" are only some of the "humane" propositions.
And if you don't feel like having pizza at all, there are quite a lot of other dishes on the menu: oven grilled veggies served with pizza bread, delightful gnocchi with a selection of sauces, and panini. For the less hungry (and more numerous at the table), it is worth ordering a board of original cheeses and cold meats. Those hungrier will appreciate the hand-made home-made pastas. In the summer, the guests have the front outdoor seating area at their disposal. Whoever hesitates whether to eat indoor or outdoor, may find their patch on the mini-balcony, with a small countertop and a few chairs. It's perfect to savor a little Italian bite.
It's nice that Chorzów has a place like that. And that it's next door!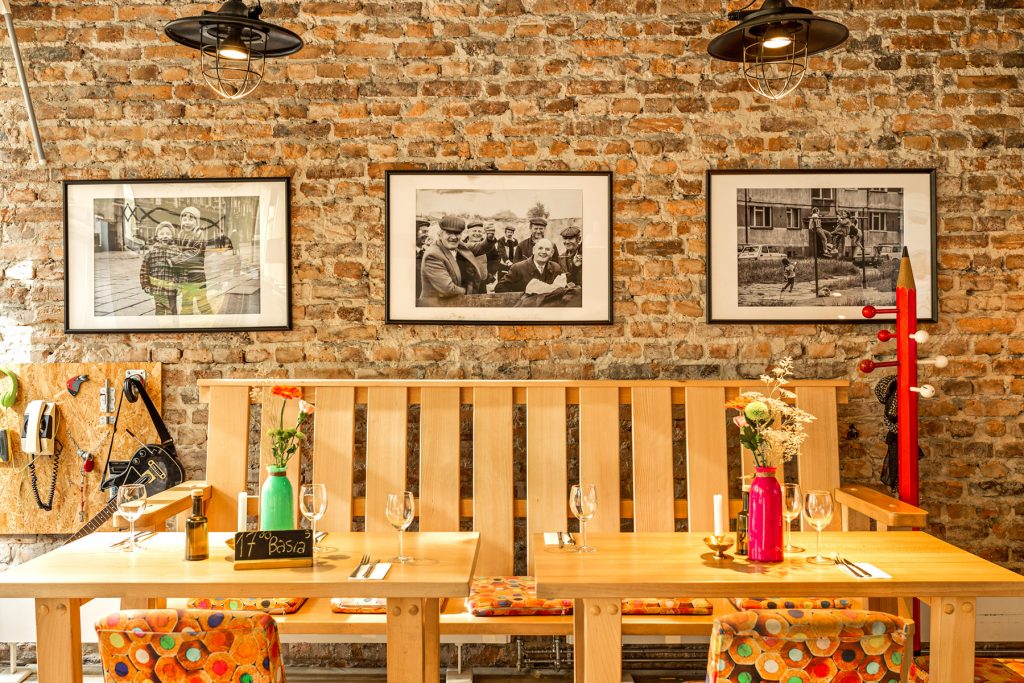 Exposed brick, wooden furniture, wood-fired oven, and pizza with a view – we like it!
Where? 52 Kościuszki Street, Chorzów
Vera Napoli
Had enough of gnocchi? It's time we returned to Katowice. Back to Warszawska Street. Passing by 'novo this time, only to lounge in another Italian place. Welcome to Naples!
First things first… There was the city of Tychy and the La Fontana restaurant. A traditional Neapolitan pizza place, with pizza a bit different from what we have just learned about. A soft crust, much more puffed at the edges, moister toppings – pizza napoletana in the flesh. The fame of the Tychy pizzeria La Fontana, about to celebrate its third birthday at the end of October, has been running through the air like the aroma of melting cheese. Katowice was waiting, a bit envious, but they came. Since March 2019 real Neapolitan pizza has been served by Vera Napoli – La Fontana's younger sister.
Its interior resembles an expensive restaurant rather than a cramped and buzzy Italian place. The decor of marble, large windows, golden accents – truly elegant and classy. Although the restaurant is extremely busy since their opening, its two floors offer quite a lot of room. The pizza itself surely differs from the ones discussed before, but the essentials remain unchanged – a huge wood–fired oven, original Italian ingredients, and hand-kneaded dough. In July, Vera Napoli also launched its "small kitchen" and serves home-made pastas and antipasti, which makes the fans of other Italian specialities quite content.
Whoever hasn't acquired a taste for Neapolitan pizza yet, make your way to Warszawska Street. Then, cutlery in hand (because that's how you eat pizza napoletana: with a knife and fork) and get to it! Buon appetito!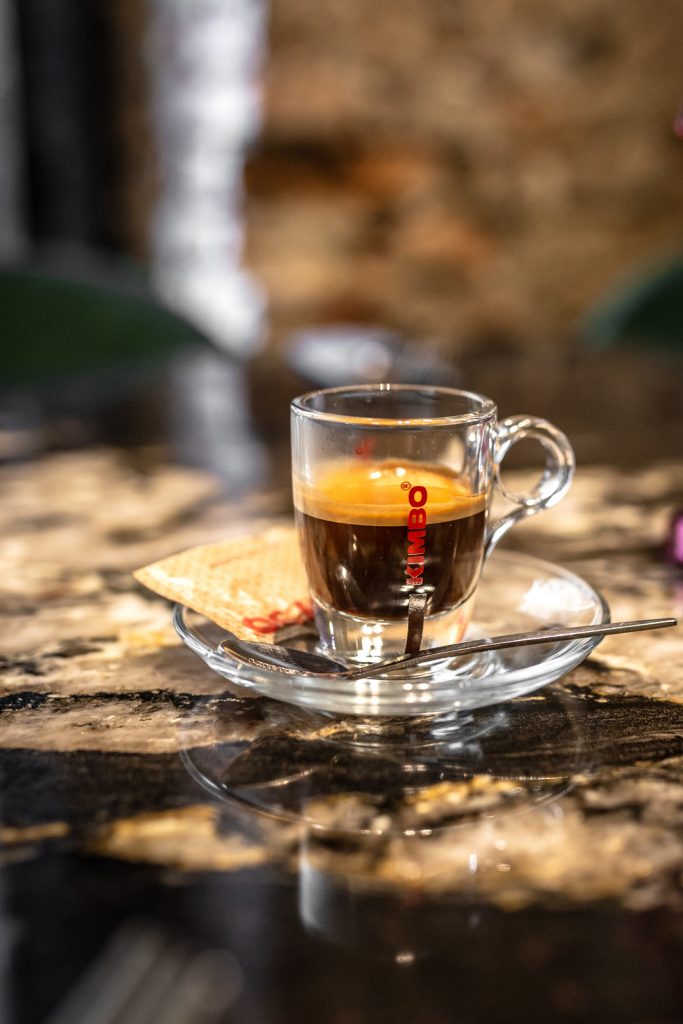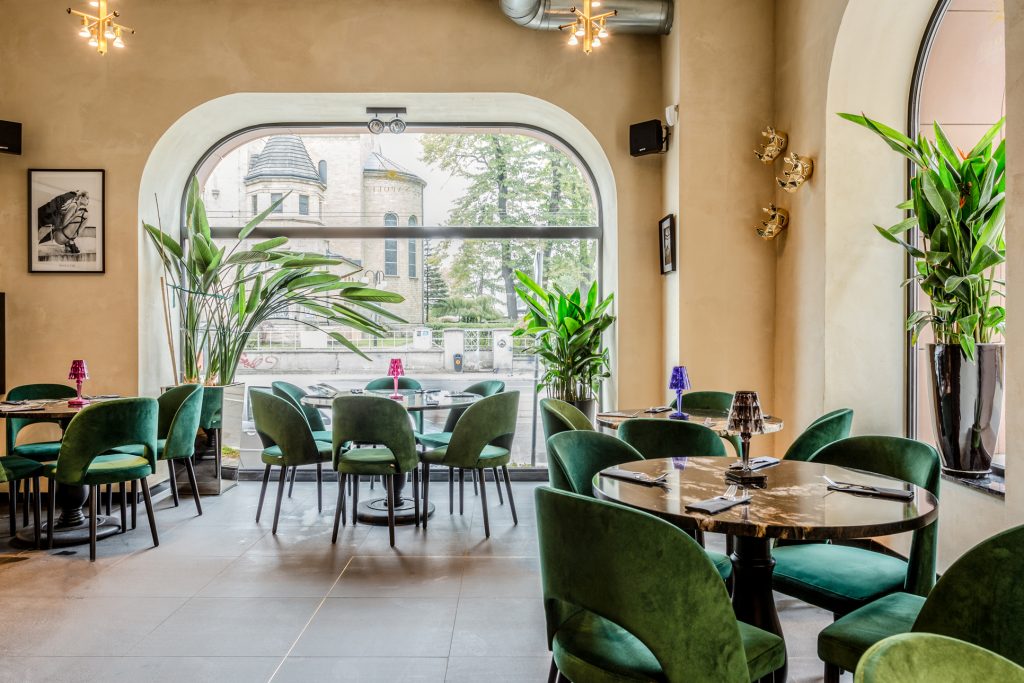 We are impressed by the elegant interior and stunning pizza oven.
Where? 23 Warszawska Street
Visit also their another pizza places: La Fontana in Tychy and Furore in Gliwice.