Top 9 Ski Resorts in Beskidy mountains
It's worth going skiing in both the Alps and… in Silesia! Regardless of whether you're making your first runs on the slopes or if your skiing passion has been with you for years, it's worth taking a closer look at the ski resorts in our region. We chose the 9 most interesting points on the Silesian winter sports map.
The season for white madness is gaining momentum and with it the growing interest in ski resorts. Novices are looking for equipment rentals and classes with an instructor, and experienced enthusiasts – facilities that meet their expectations. Experienced skiers and snowboarders have their favorite places in the Alps or in the Bethany Mountains (the Spanish Sierra Nevada is still gaining popularity). Yet, they're also interested in Polish ski resorts. The resorts located in the Silesia region are exciting. Investment projects, numerous modernizations, and expansions are a sign of considerable development in the area of ​​winter sports in our region. Just grab your winter gear and go!

SZCZYRK
Beskid Sport Arena
In Szczyrk, and more specifically in the picturesque Bila Valley, you'll find the modern Beskid Sport Arena. The resort offers 4 ski runs with a total length of 3.2 km and an area of ​​8 ha. Particularly noteworthy is the flagship blue trail with a length of 1200 m. Its attraction is a 50-meter tunnel that allows for a collision-free passage under slalom slope No. 3. All runs are equipped with modern LED lighting, which allows for pleasant and utterly safe skiing after dark.
The primary transport device of the resort is the Beskid Chairlift, a six-seater lift equipped with windshields. Guests of the resort can use 5 parking lots with a total capacity of 400 cars and 5 buses and parking is free. The Beskid Sport Arena ski resort participates in the Szczyrkowski Wspólny Skipass program, which connects up to 3 of the largest ski resorts in Szczyrk: the Beskid Sport Arena, Centralny Ośrodek Sportu, and Szczyrk Mountain Resort. Free shuttle buses run between the resorts during the high season. The resort also offers rentals and you'll find ski and snowboard equipment from reputable companies. In addition to the rentals, the resort also has a ski school, bicycle rentals, and the "BACHRATA" restaurant.
Szczyrk Mountain Resort
We'll stay in Szczyrk, but we'll move to the Szczyrk Mountain Resort, which is one of the largest ski resorts in Poland. This gem is located on the slopes of Małe Skrzyczne (1211 m a.s.l.) and Wierch Pośredni (1000 m a.s.l.) For years the resort has been considered an excellent destination for tourists from the Silesian and Lesser Poland provinces. It was also great option for skiing enthusiasts from the Czech Republic or Slovakia. The resort offers over 22 km of varied downhill runs (including 5 km of illuminated runs). Thanks to the cooperation with Centralny Ośrodek Sportu and Beskid Sport Arena, since the 2017 season you can use a joint ski pass covering up to 40 km of trails.
Currently, the Szczyrk Mountain Resort has completed the first stage of renovation. Thanks to this you can use the 10-seater gondola lift and two 6-seater chairlifts since the 2017 season. In the 2018 season another 6-seater chairlift for Zbójnicka Kopa was added, which is great for beginners. Last year the longest gondola ride in Szczyrk starts with a picturesque passage to Zbójnicka Kopa and the yellow walking trail. In the resort you'll find the largest ski and snowboard school in Szczyrk, equipment rentals and ski schools covering up to 1000 m2 of a separate training zones, in which everyone, regardless of age, can make their first runs.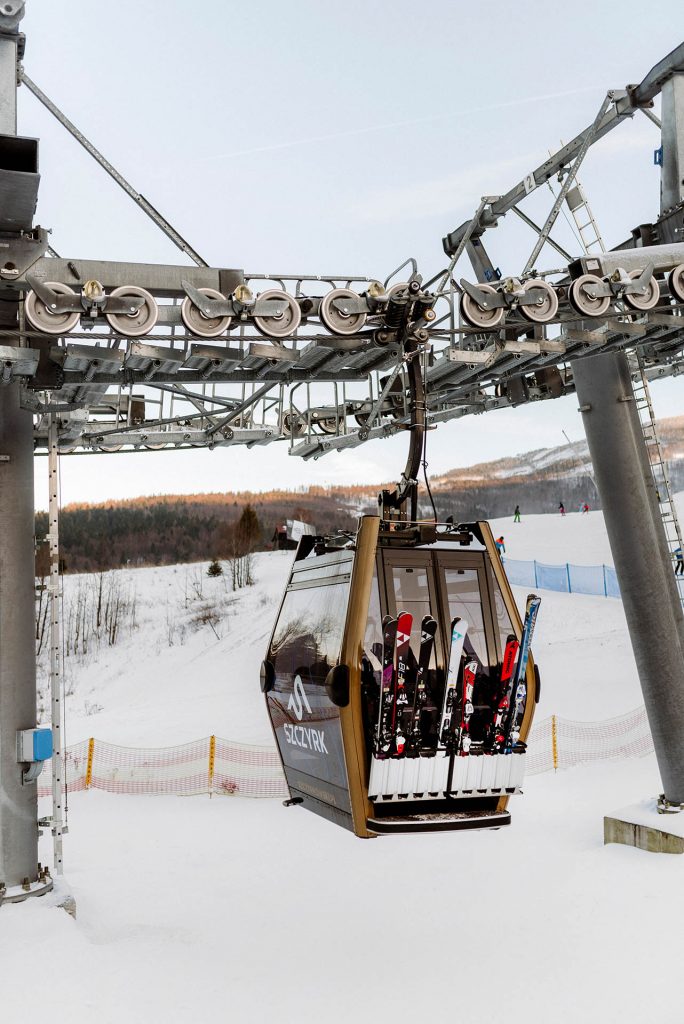 WISŁA
General information: if you're going to Wisła skiing, be sure to check out the Wiślański Skipass. Thanks to it, you can use 25 km of trails in 14 resorts. Below you'll find the 5 most interesting resorts in Wisła.
Stacja Narciarska Cieńków
The "Cieńków" Ski Station Resort in Wisła Malinka is a complex offering a modern chairlift with a length of about 1000 m and a capacity of 2,200 people per hour. Currently, the resort in Cieńków offers perfectly prepared ski slopes of various levels of difficulty. The ski runs are groomed and modernly lit so that you can ski into the evening. The resort also offers a ski kindergarten with a ski conveyor and a Rotondo ski carousel.
There you'll find equipment rentals and service, and ski schools. Ośrodek Cieńków also has excellent accessibility to ski lifts, large and free parking lots, as well as locally available comfortable accommodation. And after a day on the slopes you can use the wellness option at the Hotel Ogrodzisko.
Ośrodek Narciarski Klepki
Another resort in Wisła Malinka is Klepki. You can use the 200 and 600 m long lifts (chair and T-bar). Trails at the resort have been prepared so that skiers of various levels can use them. The resort is equipped with artificial lighting and many attractions for young and old alike. Parents with children can safely use the trail for intermediate skiers and a bunny hill for the youngest. Within the resort you'll also find numerous dining options, and a conveniently located free parking lot. Also, you can rent equipment and hire experienced instructors who will teach you the basics in a short time or help you get back to the slopes after a long break.
Ośrodek Narciarski Nowa Osada
Another option in Wisła is the Nowa Osada Ski Resort, which is an excellent proposition for people who are just starting or recent beginners who want to improve a bit more. You can use the three 4-seater chairlifts. The runs are intended for skiing lessons and intermediate skiers. Each slope has snowmaking ability and are fully illuminated (interestingly, they are open an hour longer than at most resorts, until 22:00). The Nowa Osada resort offers equipment rentals and service as well as a ski and snowboard school. Near the lower chairlift, you'll find 3 large and free parking lots.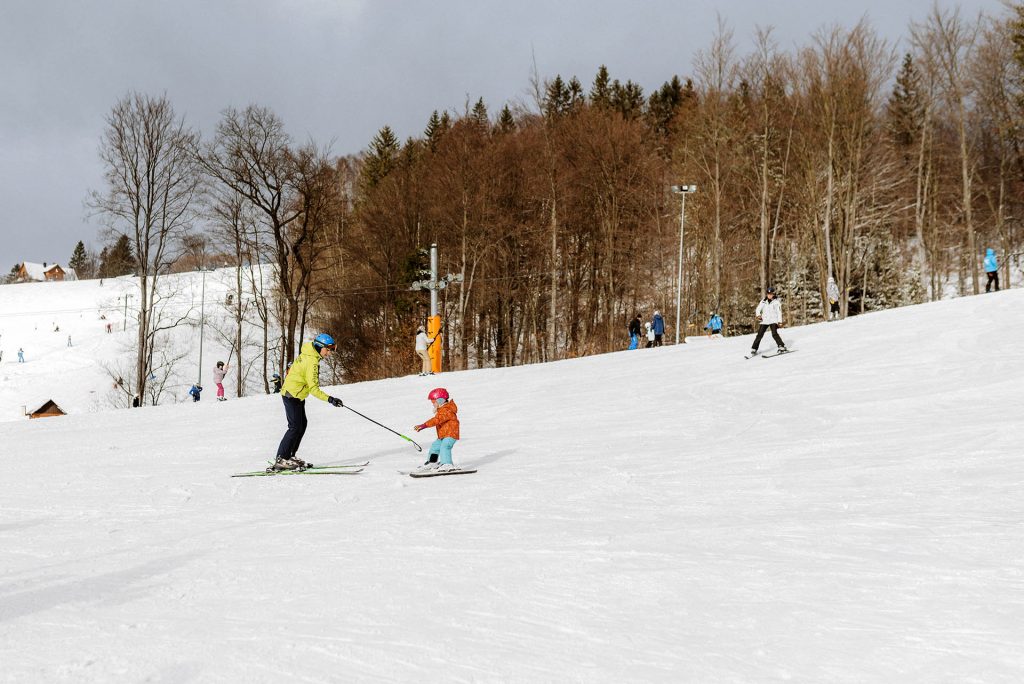 Stacja Narciarska Skolnity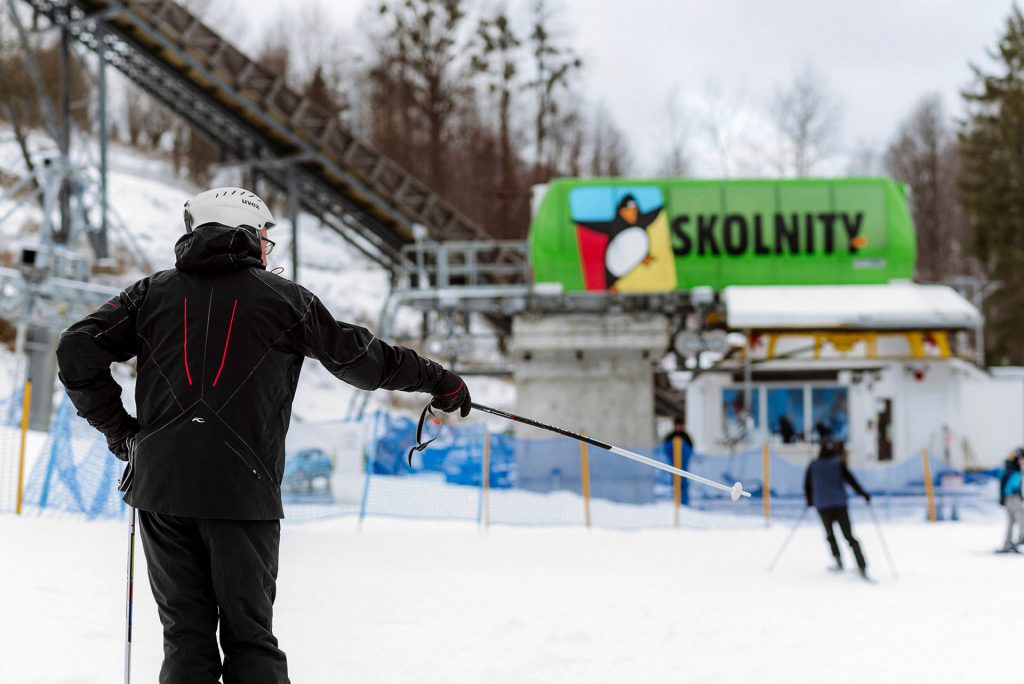 This facility is located practically in the very center of Wisła. You can use the 800-meter four-seater cable car 365 days a year. In winter, the resort offers two illuminated ski slopes of, differing difficulty and in summer it focuses on downhill bicycle paths. Standing at the upper cableway station you can enjoy a breathtaking view of the Beskid Mountains and relax on the terraces. At the summit, you can eat regional delicacies in "Karczma na Skolnitym" as well as meet with alpacas in the only alpaca pen in Wisła.
Skolnity Station resort also offers a ski school, ski kindergarten, equipment rentals, and free parking. Interestingly, in the winter season, you can use the option of a free bus that will take you from your hotel and give you a lift with your ski equipment to the ticket office.
Stacja Narciarska Soszów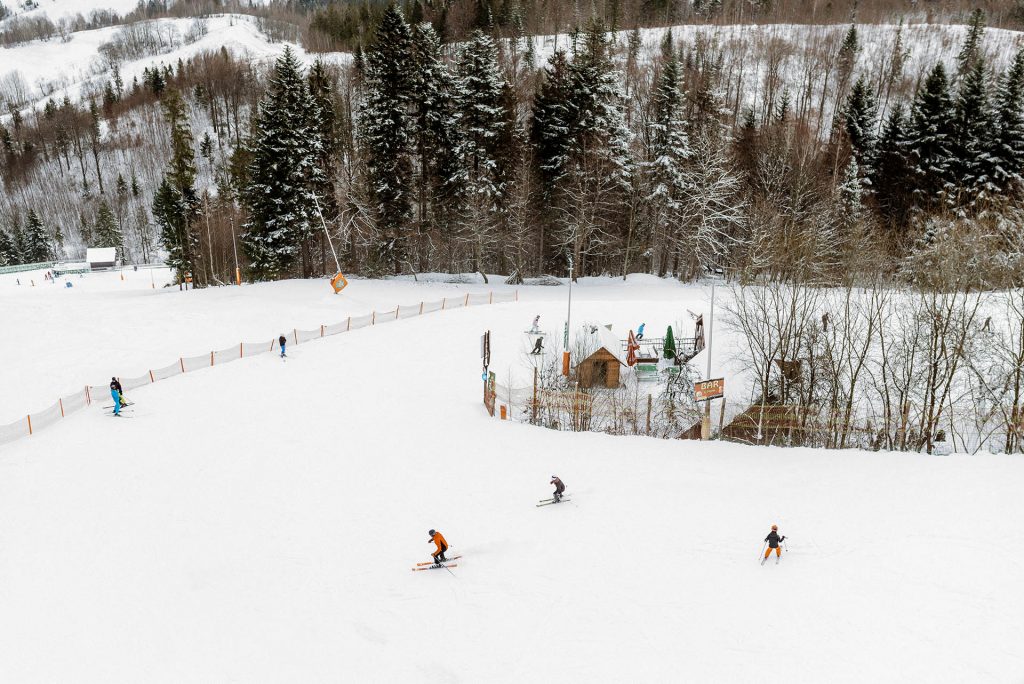 The Soszów resort is the most varied and the largest ski area in Wisła. This modern facility, whose lower chairlift is located at an altitude of 610 m a.s.l., is distinguished by perfect conditions on ski trails, whose total length is over 6 km. The specific microclimate and high snow cover allow for enjoyable skiing even until the end of April. Soszów offers a four-seater cable car and 4 ski lifts leading to 6 runs of various levels of difficulty. At the resort you'll find free parking lots for several hundred.
ISTEBNA
Kompleks Zagroń Istebna
If you're looking for a winter experiences in the Beskids, take a look at Istebna, where two great resorts await you: Zagroń and Złoty Groń. You can buy a joint ski pass for both. The Zagroń Istebna Complex, as the only resort in the Beskids, offers such a wide range of services in one place. The facility provides accommodation, dining options, and training facilities. Also, at the Zagroń complex, you can enjoy the OLZA Water Park and their Zagroń Ski Station. It's the widest slope in Poland and an ideal place for people who expect more pleasure from skiing. The resort has a chairlift with a length of 840 m and a T-bar lift with a length of 260 m.
In addition, the Zagroń Istebna Complex offers a lift with the possibility of riding on inflatable boats, rentals of modern ski and snowboard equipment, as well as a ski school with an interesting program of activities for children and professional courses for adults. The complex also offers SPA services that will help you relax after an eventful day.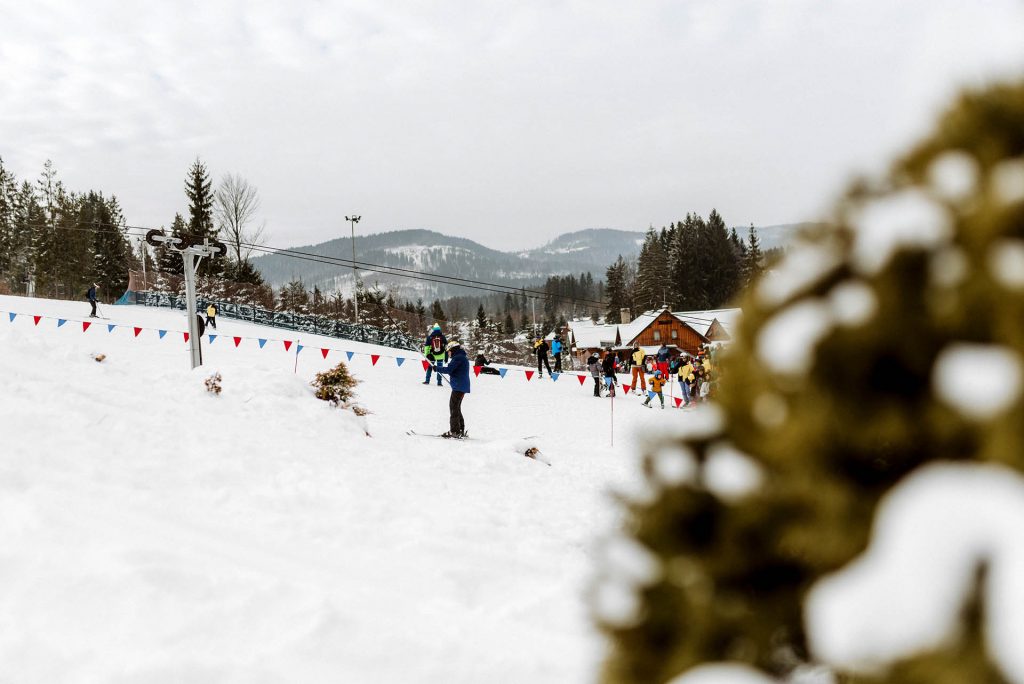 Ośrodek Narciarski Złoty Groń
There's a lot of talk about Istebna's unique microclimate and if you believe them, there are good skiing conditions from November to April. And all thanks to the temperature, which in Istebna is usually a few degrees lower than in neighboring towns. At the Złoty Groń Ski Resort, you have very well prepared and extensive runs of varying difficulty. Here you'll find a 6-person chairlift with a length of 800 m, the capacity of 2550 people / h and a speed of 5 m / s as well as a T-bar lift with a length of 290 m and a capacity of 900 people / h.
More advanced skiers can use the training route with electronic time measurement. The routes are illuminated and equipped with a modern snowmaking system. The resort also offers a ski school, a snowboard school, a rental shop, 4 food outlets, and free parking. The youngest winter sports enthusiasts can use the children's area with a carousel and a ski lift.